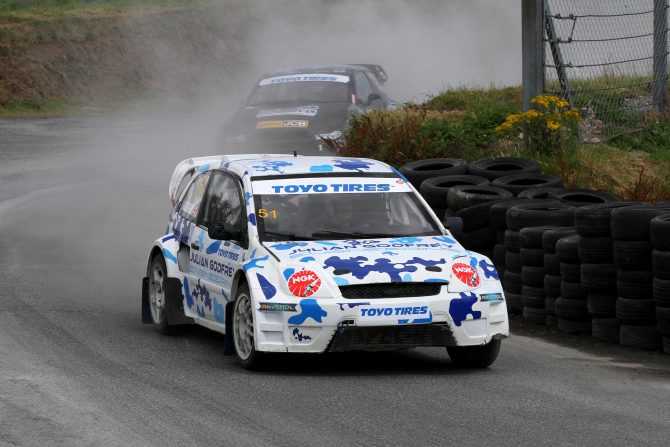 Godfrey doubles up at Mondello to take British RX points lead
Ford Fiesta campaigner Julian Godfrey (Heathfeild) moved into the lead of the Toyo Tires MSA British Rallycross Championship by claiming a pair of victories in rounds four and five at Mondello Park (July 22 – 23).
Following his maiden win of the season at Pembrey Circuit a month ago, Godfrey qualified for the front row of the final in both Irish rounds and by using near-perfect joker lap tactics, scored a brace of victories to turn a five-point deficit in the standings heading into the event into a three-point lead.
The five-time MSA British Rallycross Champion took his joker on the first lap of the final in round four and passed Steve Hill (Thame) and Jake Harris (Canewdon) before gaining additional positions when those ahead took their joker laps. In round five, Godfrey left his joker until the final lap of the race, having taken the lead when Oliver Bennett (Bristol) took his joker, to earn his third win of the campaign.
"Three on the trot is very satisfying and it's put my Championship on the right path. I really like Mondello, I've had a lot of experience here and it's really nice to win both rounds," said Godfrey. "In the last few rounds of the year I just need to stay consistent and we can fight for the Championship. It's going to be really close and tough battle right to the end. Now I think it's between me, Nathan (Heathcote), Ollie (O'Donovan) and Oliver Bennett."
In his first year in rallycross, Bennett continued to impress with his pace, racing an OlsbergsMSE-built Ford Fiesta Supercar. Despite a difficult series of qualifying races in round four, he ultimately finished third of the British RX runners. The circuit used an anti-clockwise layout in round four before switching to the more traditional clockwise route for round five, where Bennett started on pole position for the final by virtue of qualifying second in the Intermediate Classification and winning semi-final two. He led the race until lap four when he took his joker and eventually finished second. With four rounds remaining, Bennett lies just three points behind leader Godfrey in the standings.
"We had a great weekend. I led from the start of the final on Sunday and it was just a case of how quick I could get round. I was a bit sloppy in places," said Bennett. "It was my first time leading. I'm really new to this and it's really hard to know how hard to push when you're in front. I was a bit too cautious maybe so could have done better, but I'm really pleased that I can match the other guys pace. The next round is at Lydden where I have the most experience so I'm really looking forward to putting up a fight for that one."
Ollie O'Donovan (Iver) raced his European Championship Ford Fiesta Supercar in his native country and qualified top of the Intermediate Classification in both rounds. He finished second to Godfrey in round four after a first lap tussle with compatriot Derek Tohill (Dublin), but crashed out in the semi-final stages of round five, where he rolled the car after suffering from broken suspension.
Nathan Heathcote (Ashford) led his semi-final in round four but was forced to retire with a fire caused by an oil leak. Pat Doran (Dolton) deputised for fellow LD Motorsports driver Warren Scott (Buntingford) in round four and finished eighth, but with the damage to Heathcote's car too extensive to repair, Doran handed his seat to round one winner Heathcote, who finished fourth in round five on track and third of the British RX runners to climb up the Championship order.
Double European Rallycross Champion Derek Tohill (Dublin) finished on the overall podium in both rounds, racing a similar Fiesta to that of Bennett, but wasn't registered to score British RX points, the event running alongside a round of the Irish Rallycross Championship.
Kevin Procter (Northallerton) was twice fifth on-track in the two rounds. The former European Championship event winner set fastest time in Q1 in round five and moved into second position at the start of the final, but ran wide on the second lap and dropped down the order. Hill had a solid weekend of 100% reliability with his Mitsubishi Evo X and twice finished sixth.
Harris almost didn't make the start of the event due to rolling his Citroen DS3 in testing on Friday, but the LDM team worked hard to get the car repaired and former RX150 racer Harris was able to continue his Supercar learning through the weekend, in which he set a career-best time of second fastest in Q2, in round five.
Tony Bardy (Scotch Corner) returned to the British Rallycross Championship racing Team RX Racing's Ford Focus Supercar and showed good speed. He went out in the semi-finals in round four with damaged steering, but challenged Godfrey for semi-final victory in round five before being hampered by a boost issue in the final.
Mad Mark Watson (Barnard Castle) finished 10th in round four but suffered from steering problems in round five which prevented him from taking part in the latter stages of the event. Andy Grant (Barnstaple) also experienced a weekend of mechanical niggles. A misfire was cured in round four before he was forced out with transmission problems, and befell a similar fate in round five. 
Lynch and Ovenden claim maiden 2017 wins 
Reigning MSA Supernational Rallycross Champion Tony Lynch (Wigan) put a torrid start to the defense of his crown behind him by claiming his first win of the year in round four at Mondello Park. Lynch benefitted from slippery conditions in the final having qualified for the front row and leapfrogged Tristan Ovenden (Canterbury) by taking an early lap joker. Ovenden finished second for the second event in a row, with series leader Paige Bellerby (Lotus Exige) third of the British RX drivers. 
In round five on Sunday, Ovenden again took the lion's share of fastest times in the qualifying stages of the event, thanks to a series of fantastic starts in his Renault Clio V6, and led the final from the front to claim his first victory in the division. Lynch finished second with Bellerby, who was suffering from clutch problems in her Lotus Exige, again third of the British RX runners in a day of damage limitation. The result moves Ovenden to 18 points behind Bellerby in the standings. 
Mike Howlin (Haverfordwest) was fourth and fifth of the British RX competitors over the two rounds, while Todd Crooks (Royston) moved to third in the standings despite being forced out of round four with mechanical problems. He finished sixth in round five, while Guy Corner (Northallerton) raced with a new transmission in his Peugeot 206 but was caught out in another cars incident on Saturday, causing significant damage. His team repaired the car for round five, where he battled with Bellerby in the final to be fourth in the British RX classification. 
Steinsholt scores first Junior RX win 
Norwegian driver Ole Henry Steinsholt (Norway) dominated the fourth round of the MSA Junior Rallycross Championship to end Welshman Tom Llewellin's (Haverfordwest) unbeaten run. Llewellin failed to take his joker lap in Q1 of the event, which put him on the back foot for the rest of the qualifying races in the single-make category. He challenged Steinsholt for victory in the final and finished second, while Tom Constantine rounded out the podium. 
In round five on Sunday, it was Llewellin's turn seize the advantage to score his fourth win of the year and consolidate his lead in the series. Morgan Wroot (Doncaster) finished third behind Constantine, the pair consistently challenging for the podium in each leg of the 2017 campaign. Steinsholt was fifth in round five, Tom Middleton (Maldon) scored a brace of fourth place finishes across the two events, while James Constantine (Dalton-on-Tees) was twice classified sixth in a hard fought weekend for the 14-year old as he continues to build his rallycross experience in his maiden season. 
Shield follows in his father's footsteps 
Rob Shield (Cleasby), son of 1989 MSA British Rallycross Champion Michael Shield, closed the gap to Swift Sport Rallycross Championship leader Simon Ovenden (Canterbury) to just seven points by dominating the final in round four to score his maiden rallycross victory, and winning again in round five in a close-fought battle with Ovenden, who had also finished second in round four. Christian Hainsworth (Guernsey) and Max Maxted each claimed a maiden podium in rounds four and five respectably with accomplished drives, Maxted leading the final in round five before taking his joker lap in the closing stages. Experienced rally driver Martin Donnelly (Ireland) raced a Peter Gwynne Motorsport car and finished fourth in round four, while Chris Woollett (Herstmonceux) had a challenging weekend and scored a best result of fourth in round five. 
Former double-champion Marc Scott (Dumfries) won the RX150 Championship final in round four from Stephen Jones (Havant) and Brett Harris (Hawkwell) as Chrissy Palmer (Chichester) suffered brake problems and John Ward (Dublin) retired from the event with clutch dramas. Palmer made a last corner overtake on leader Kirk Langley (Liverpool) to win round five as Jones finished third. Scott retried from round five in the qualifying stages after a three-car incident where Jake Taylor was also put out of the event. 
Paul Coney (Dartford) once again won the amalgamated Super1600 / BMW Mini / Hot Hatch category final in both rounds, racing his Super1600 speciation car, but was hounded throughout by Citroen C2 driver Michael Boak (Jarrow), who twice finished second. Craig Lomax (Knottingly) completed the podium in round four and Darren Scott (Sittingbourne) recovered from a turn one incident in the qualifying stages of round five that damaged his rear suspension and also put Lomax out of the event, to finish on the podium. Drew Bellerby (Northallerton) and David Bell (Ferryhill) each claimed a BMW Mini Rallycross Championship victory in the two Irish rounds. 
Full results here.
Highlights of the MSA British Rallycross Championship will be broadcast on BT Sport, Motorsport.TV and online in 2017. 
The next round of the MSA British Rallycross Championship takes place at Lydden Hill in Kent [August 28].