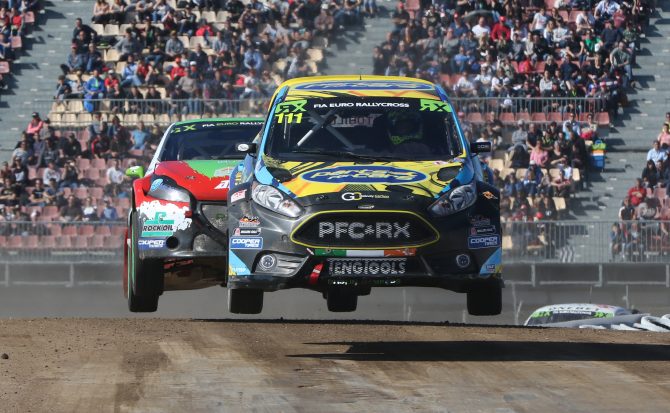 Irish Champion Tohill set to take on British RX Supercar racers at Mondello
Two-time FIA European Rallycross TouringCar Champion and reigning Irish Rallycross Champion Derek Tohill will take on competitors in the Toyo Tires MSA British Rallycross Championship this weekend at Mondello Park, for rounds four and five of the series (July 22 – 23). 
Tohill, who is racing in the Euro RX Supercar Championship this season, raced a Team RX Racing Ford Focus Supercar at Mondello Park in 2015, the last time British RX visited the Irish Republic and finished second. This time around, he will race his own OlsbergsMSE-built Ford Fiesta Supercar this weekend. 
"Many years ago it was events like this that motivated me to get involved in rallycross. It's fantastic that there is such a big entry for the event – there are lots of good quality cars and drivers," said Tohill. "It's a very, very long time since we had this many Supercars in Ireland, but racing in Europe I'm used to almost 35 top line Supercar competitors at each event, so the more the merrier. There is no real added pressure for me to succeed at Mondello as there is always pressure to win no matter where you're competing internationally." 
Although he and the rest of the Irish contingent in Supercar and Supernational will race together with the British RX competitors, Irish drivers will not score British Rallycross Championship points unless they register for the series. "I finished as runner-up to Ollie O'Donovan a few years ago at Mondello, so I think it's my turn this time to take the lead," continued Tohill. "In rallycross, anything is possible, I'll just go out and enjoy myself. I love driving this car and I love fast circuits, so I'm hopeful that we can be in the mix come the finals." 
Read the official event preview and see the entry list here.