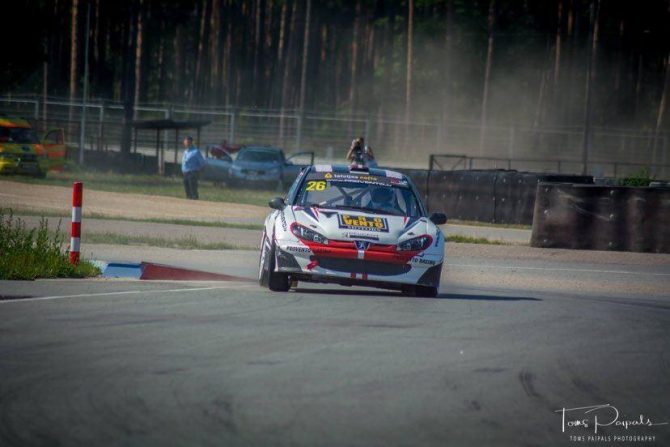 Vītols moves up to 5 Nations BRX Super 1600 for 2020
Latvian Super 1600 Champion Roberts Vītols is the latest driver to commit to Super 1600 in the Motorsport UK British Rallycross Championship 5 Nations Trophy Presented by Cooper Tires. The 17 year-old will drive the same Peugeot 206 in which he clinched the championship.
The Provento Racing driver competed in the Motorsport UK Junior Rallycross Championship last year in a Swift, finishing third. In the popular one-make series the cars are all identically prepared by the established Peter Gwynne Motorsport outfit. Roberts' decision to move up into Super 1600 is a significant step in the youngster's career; the Super 1600 cars are substantially faster and more powerful but his impressive performance so far in the Peugeot means he should have no trouble adapting.
"During the winter break we considered several options for 2020." explained Roberts. "When we went into the British Championship, the goal was to look for ways to develop my career through the country's rich sporting traditions and its opportunities. This year's new 5 Nations championship has already succeeded to some extent, because of Pat Doran's involvement as the new promoter. He has also been on hand to assist me personally, which will hopefully open a few doors in the future.
"Undoubtedly, competing in Super 1600 is a big step forward compared to the Junior class, and I'd like to thank Peter Gwynne Motorsport for all their support last year, which they continue to offer even though I am no longer part of their family. And a big thank you to my own family, who continue to join me on this journey. Finally, thank you to Pat for his trust, I must not disappoint him!"
Competing in the British Super 1600 class offers a change in approach regarding both the technical preparation and the logistics. Previously Roberts would arrive at the track with his car ready to race; now the team must prepare ahead and plan its season carefully. The car, together with a comprehensive spares package will be shipped to the UK ahead of its first outing and will stay in Britain between races. All of this offers a new and interesting challenge for the Provento Racing manager Ugis Vitols. "We have been working very closely with the Super 1600 class co-ordinator, who has provided a lot of help and has a great positive attitude. We are now ready to face the challenge."
The new-for-2020 5 Nations BRX celebrates the competition between England, Ireland, Scotland, Wales and the Netherlands, although sadly due to the travel restrictions as a result of the COVID-19 pandemic, the Dutch event is postponed until 2021. Super 1600 will therefore consist of seven rounds over four weekends: a single-header round at Lydden Hill on August 30/31 (England), followed by three double-headers on September 26/27 Knockhill (Scotland), October 17/18 October Pembrey (Wales) and November 14/15 Mondello Park (Ireland).