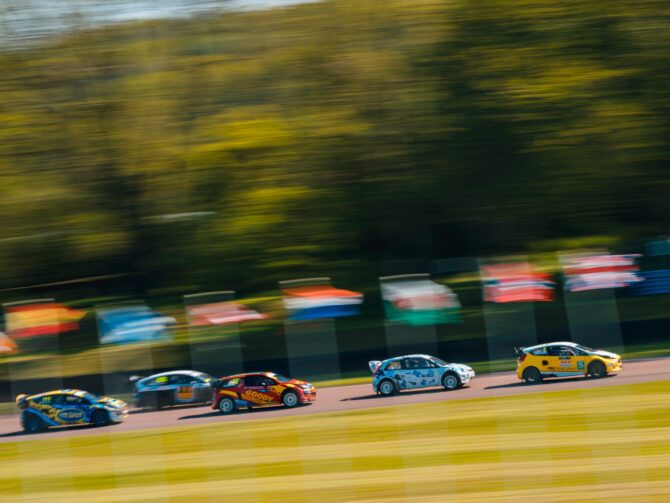 5 Nations BRX prepares for first Pembrey appearance
The Motorsport UK British Rallycross Championship 5 Nations Trophy Presented by Cooper Tires prepares for its first event away from the host circuit when it heads to Pembrey Circuit in Wales this weekend. Six champions from three classes head the Supercar entry, with a strong line-up across the other classes for rounds three and four of 5 Nations BRX.
Reigning champion Mark Donnelly (Citroen DS3) looks to extend his slender one-point advantage over 2007 champion Ollie O'Donovan (Ford Fiesta), with Irish champion and round two winner Derek Tohill (Ford Fiesta) and round one winner Roberts Vitols (Citroen C4) each just a couple of points adrift. Completing the Supercar entry is triple Supernational champion Tristan Ovenden, six-time Supercar champion Julian Godfrey, Welsh ace Roger Thomas and the rapid Steve Hill all looking for their first win of 2021.
The MSUK Junior Rallycross Championship brings nine juniors to Wales, with championship leader Max Langmaid heading the entry of 1300cc Suzuki Swifts. Round one winner Owen Robbins returns looking to turn the tables but will face a tough challenge from the similar cars of Caitlin May and Finley Scott who took a podium apiece at Lydden. The entry sees a new face in the form of Laura Vitola who will no doubt be looking to emulate the success of her big brother Roberts.
The MSUK Supernational Championship leader Jason Bleasdale (Vauxhall VX220) heads the entry for rounds three and four. Slawomir Woloch (BMW) will be looking to go one better in Wales after twice finishing second in the opening two rounds. Reigning champion Paige Bellerby (Lotus Exige) suffered a blown engine in round one but bounced back with victory in the second to keep her in contention to retain her title. John Ward makes a welcome return to BRX, as he makes his first appearance outside Ireland since 2019. He brings his stunning Vauxhall VX220 looking for victory and joins Lee Keeler (Vauxhall Astra).
Darren Scott heads the Super 1600 line-up, holding a three-point lead over the returning Phil Chicken with reigning champion Craig Lomax looking for his first win of the year to bring him back into the fight.
Another solid entry of BMW Minis will line up on the grid, including 2019 champion Drew Bellerby who returns to race action following the birth of her daughter, much to the dismay of championship leader Dave! Drew won't have it all her own way though with a quality entry including Dave Ellis, Ben Sayer, Stephen Brown and Darren Bleasdale who all fared well in the opening rounds. The marque is also represented by the All4 Super Minis of reigning BMWMiniRX champion David Bell, Martin Hawkes and Adrian Turner.
In Retro Rallycross, Tony Lynch (Toyota MR2) Barry Stewart (Porsche 911) and Andy Grant (Ford Focus) are determined to hold on their respective Retro, Super Retro and Retro 4WD championship leads. However reigning Retro champion Stephen Cozens (Citroen AX), Super Retro champ Vince Bristow (BMW E36) and 4WD champion Ian Flitney (Subaru Impreza) have other ideas. New for 2021 is Paul Smith in his VW Polo in the Retro class.
Luke Constantine heads the Swift Sport entry, topping the points after a strong opening couple of rounds. The 2020 runner-up is determined to take the title this year, but faces tough competition from his cousin James, James Chisman and Max Weatherley who were all impressive in the season openers. New to the grid in Wales is Finnish stunt driver Ansko Pitkanen.
Patrick O'Donovan took a clean sweep in the opening two rounds to lead the RX150 championship ahead of reigning champion Stephen Jones.
Track action begins at 9am on Sunday and Monday, with fast back-to-back races set to keep fans enthralled. Tickets are available at https://bit.ly/3gw0aNL