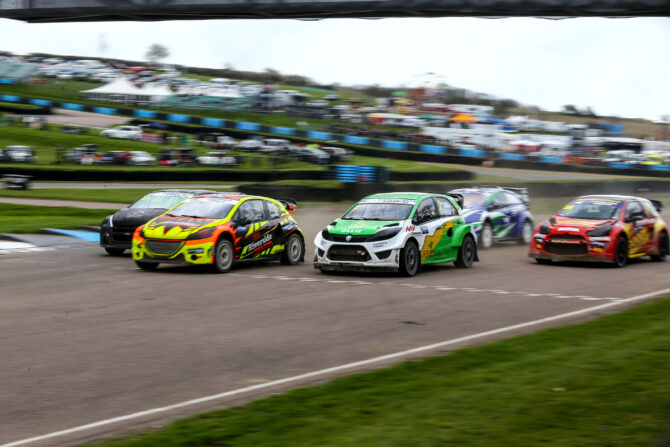 5 Nations BRX reveals record-breaking Supercar entry for Lydden Hill World RX event
A record-breaking Supercar entry in the Motorsport UK British Rallycross Championship 5 Nations Trophy will support the UK's round of the FIA World Rallycross Championship on July 22-23.
The 18-strong entry list – the biggest Supercar entry for 5 Nations BRX in the modern era – includes brand new drivers to the series, former champions, regular victory contenders and international names.
Lydden Hill local Tristan Ovenden (Citroen DS3) leads the 2023 5 Nations BRX standings following a consistent run through the opening four rounds, including victory last time out at Mondello Park. Six-time Champion Julian Godfrey (Citroen DS3) lies second, despite rolling his car in round four, while reigning title-winner Patrick O'Donovan (Peugeot 208) heads to the event on the back of a maiden European Rallycross Championship victory in Sweden earlier this month, and double wins in the opening 5 Nations BRX weekend.
Jack Thorne (Peugeot 208) finished second in the first two rounds of the season at Lydden Hill and has won at the circuit before, while former champion Ollie O'Donovan (Proton Iriz) also appeared on the rostrum earlier in the campaign. Meanwhile, electric Mini RX racer Jake Harris twice finished on the 5 Nations BRX podium at Mondello Park last month.
British Olympic legend Sir Chris Hoy returns to a 5 Nations BRX Supercar for the event, following his appearance in the same Citroen C4 in 2020, while former event-winner Oliver Bennett returns with his popular BMW Mini.
Traveling from Ireland, Michael Leonard (Ford Fiesta) and Shane Murphy (Volkswagen Polo) raced against 5 Nations BRX drivers on home ground at Mondello Park last month and now venture to Lydden Hill for more of the same, while German pairing Rene Munnich – a Euro RX event-winner and team-mate Mandie August will also start among the favourites for victory with their Seat Ibiza RX1 machines, run by the ALL-INKL.COM Munnich Motorsport team.
Steve Hill (Mitsubishi Evo), Dom Flitney (Volvo C30) and Michael Boak (Skoda Fabia) will aim to get their campaigns back on track after difficult opening rounds, while Roger Thomas (Ford Fiesta) is always a driver to watch in his M-Sport built machine and Mike Sellar (Citroen DS3) returns to the venue where he set career-best pace so far in the opening rounds of the 2023 season. Colin Anson will once again return to Supercar with his Ford KA.
The 5 Nations BRX competitors will race in a single round over the two days, joining the World RX and RX2e series, and the Rallycross Celebration on-track demonstrations for period machinery.
The joker lap on the revised Lydden layout has been moved to the outside of the first corner for the World RX event, with 5 Nations BRX runners allowed to take the joker on lap one of each race.
Drew Furlong, 5 Nations BRX Championship Manager:
"We have worked hard to support the World RX event at Lydden with a strong entry from 5 Nations BRX and it is a pleasure to reveal this Supercar entry list. It's fantastic to have some new and returning drivers join a strong line up of our regular contingent and we are looking forward to the weekend's action. It's great for Lydden Hill to be returning to the World RX scene and to be part of this special event will live long in the memory of drivers, teams and spectators alike I'm sure. It's certainly an event not to be missed and there are tickets still available for those who are yet to book theirs."
Get tickets here: https://bit.ly/worldrxuk