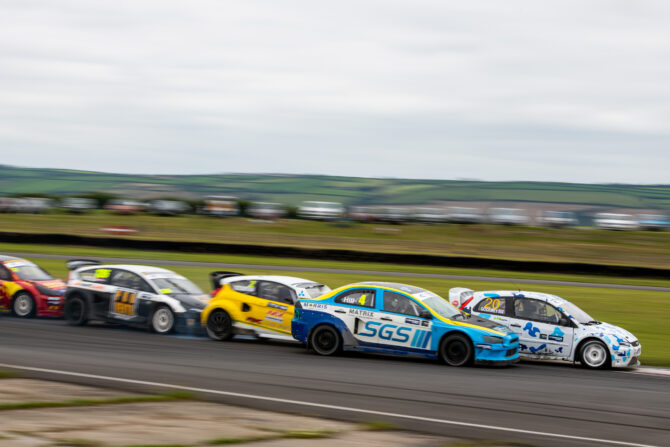 Godfrey victorious in Pembrey thriller
Rounds three and four of the Motorsport UK British Rallycross Championship 5 Nations Trophy Presented by Cooper Tires saw glorious racing in the Welsh sunshine over the bank holiday weekend. Competitors from around Europe enjoyed two action-packed days of racing that delivered the promised thrills and spills that only rallycross can. Supercars competed over both days for round three, while the rest held championship rounds on each day.
Supercar
Six-time champion Julian Godfrey (Ford Fiesta) showed his class in round three of the Motorsport UK British Rallycross Championship with a dominant performance from pole. Semi-final two winner Roberts Vitols was the sensation of the day though with some superb passes including a move up the inside of Steve Hill (Mitsubishi Evo), but the Latvian couldn't quite close the gap to the leader and eventual winner. 2007 champion Ollie O'Donovan brought his Ford Fiesta home in third ahead of Welshman Roger Thomas (Ford Fiesta) who recovered superbly to take fourth on his home event.
Supernational
Jason Bleasdale (Vauxhall VX220) didn't have it all his own way in Sunday's Supernational Final despite winning all three qualifying races. Reigning champion Paige Bellerby (Lotus Exige) left the rest behind from the start to take the win. Bleasdale claimed second with Slawomir Woloch (BMW M3) third. Monday's round four provided a second dominant victory for Bellerby, ahead of series newcomer Bleasdale, with Woloch's long-wheelbase motor not suiting the track as much as its more agile rivals. Lee Keeler struggled with no power steering for much of the weekend, but his improved lap times shows the progress he is making with his new-build Vauxhall Astra.
Junior
Max Langmaid dominated Junior Rallycross with a trio of qualifying wins and victory in both rounds across the weekend. Owen Robbins twice finished second with Caitlin May joining the duo on the podium on Sunday. In Monday's round four Will Ovenden capitalised on May's spin in a race that provided non-stop action by the 14-17 year-olds across the six laps.
Swift Sport
Luke Constantine made it a double celebration with victory in both Suzuki Swift Rallycross rounds this weekend. On Sunday he led home Max Weatherley and his cousin James Constantine. On Monday he repeated the feat after winning all three qualifiers, with James finishing second in every race he started. Weatherley was the closest challenger to the duo, crossing the line just 0.5 seconds behind to complete the podium.
Super Retro
Barry Stewart and his Porsche 911 dominated the qualifying races with Allan Tapscott second on the grid for the Final. Tapscott (Ford Escort) made a great move on Stewart but couldn't quite make it stick, losing out to Vince Bristow (BMW E36 328) for second. Ray Morgan made up for his Q3 tussle with Stewart in round four that pushed him down the order to dominate the final and take the win ahead of Tapscott. Stewart was looking strong but lost drive out of the hairpin and dropped to third while Bristow bogged down from his front row start following his Q3 win and couldn't recover to make the podium.
Retro
Steve Cozens (Citroen AX) and Tony Lynch (Toyota MR2) were first and second in all three qualifying races. In the final, on a newly watered circuit, Lynch spun leaving Cozens' lead unchallenged. Terry Moore (Austin Mini) was quick to take advantage of Lynch's misfortune to claim second. The Toyota driver gave his MR2 its first outright victory on Monday, making a lightening start ahead of Cozens and Paul Smith. Cozens' dominant straight-line speed was not quite enough to catch the flying Lynch, crossing the line just 0.4 seconds adrift with Smith third.
BMW Mini RX
The BMW Minis produced more dramatic racing with Stephen Brown and Tom Constantine taking the qualifying race wins on Sunday. Bradley Turner took a great semi-final one victory, while the second proved a decisive one for Constantine – a re-run following Drew Bellerby's roll while leading. In the final, Brown and Constantine battled for the lead before a spin for Constantine gave Brown breathing space to cross the line first ahead of Darren Bleasdale and Ben Sayer. Monday's round four saw a repeat performance from Brown ahead of Turner with Sayer racking up his second podium of the weekend. Abbie McGuinness just missed converting her front row start to third despite an early joker.
All4 Minis
The development class of 4 wheel-drive Minis had another strong battle over the two rounds, with current BMW Mini Champion David Bell coming out on top on both days ahead of Martin Hawkes and Adrian Turner.
Super 1600
Darren Scott (Citroen C2) had a strong day in Super 1600 and claimed the final ahead of Phil Chicken (Citroen C2) and Craig Lomax (Citroen C1) despite a spin at the start. Their efforts came to nothing however, as the race was later declared void when all three were penalised for non-compliance with camera regulations. On Monday the spoils were shared by Chicken winning the day's opening qualifier and with Q2 and Q3 taken by Scott. After an overtake on round three winner Scott, Lomax went on to win the final. Scott challenged Lomax for the lead but had to settle for second ahead of Chicken.
RX150 Championship
Stephen Jones and Tommi Caldwell won the qualifying races on Sunday, but it was Patrick O'Donovan who overcame technical issues to take his third straight win of the season. Caldwell pushed hard and crossed the line just 0.2 seconds behind with Jones finishing third. In round four Caldwell took the lead from O'Donovan who tried but failed to make the undercut work on his joker lap. A spin from O'Donovan resulted in him losing second to Jones with Caldwell going on to take the round four win.