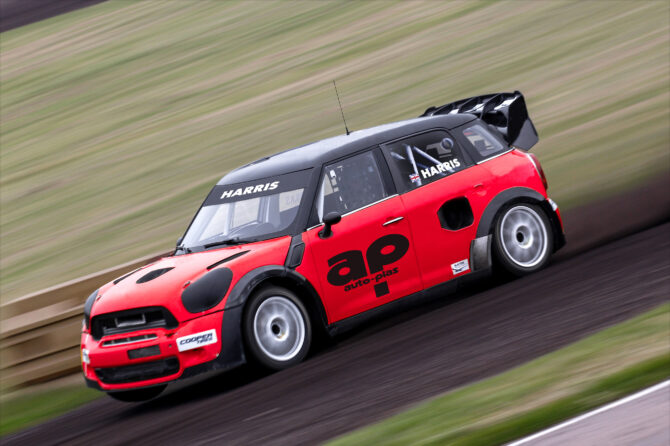 Harris joins 5 Nations BRX grid with electric Mini RX Supercar
The first all-electric Supercar has signed up to the Motorsport UK British Rallycross Championship 5 Nations Trophy, with experienced racer Steve Harris set to join the competitive Supercar field in a converted Mini RX for 2022.
Based on the Mini RX first developed by Prodrive, and later run by JRM for drivers like Guy Wilks, Guerlain Chicherit and Liam Doran, Harris' car will be powered by a four-wheel-drive ERX electric powertrain kit produced by Austrian company STARD.
The powertrain boasts 450kW (613bhp) combined power, 1100Nm of instantaneous torque with a top speed of 240km/h from three road car electric motors, comparable to that of the leading ICE [internal combustion engine] Supercars.
Harris is the latest driver to commit to racing in the headline 5 Nations BRX category this year. The experienced Supercar and Retro Rallycross competitor joined several drivers including Liam Doran and Sir Chris Hoy in testing an all-electric STARD Ford Fiesta ERX at Lydden Hill last year, and has since begun a cooperation with Sim-Tech Solutions Ltd to work on the development of the electric Mini RX.
"I've had the Mini for a while, but it needed money spending on it to fit an [ICE] engine and transmission to make it competitive, which could have been out of date in two or three years' time," said Harris.
"The initial price wasn't a lot different to convert the car to using an electric powertrain, and then the running costs are less too, so I thought I'd jump in to have the first electric Supercar on the grid in the UK. The Mini's chassis is proven so together with STARD's electric powertrain, it should be an interesting package. When I test drove the STARD Fiesta at Lydden Hill last year, like everyone who drove it that day, I just had a big smile on my face. That's what rallycross is all about. The acceleration was unbelievable and the running cost is about 60% cheaper than a petrol Supercar. I'm a petrol head, I've still got my Group B Ford RS200 but this is a way to embrace the future and the electric technology fascinates me, so it's the best of both worlds!"
Sim-Tech Solutions Ltd CEO Simon Levett is leading the re-engineering of the Mini RX ahead of its return to competition in a new guise. "As a company we have been heavily involved with various EV related projects within the automotive sector, so when Steve [Harris] presented the opportunity to combine both [rallycross and EV] with his project, it was an easy decision to make," he said. "Although I've worked in top-level rallycross is the past, my involvement in the world of rallycross from an engineering perspective has been quite limited over the past few years as I have worked to build my Sim-Tech Solutions company, so it's a very nice project to be involved with. We're working closely with STARD in Austria for the integration of the ERX kit into the Mini RX to ready for the 2022 season."
The British Rallycross Championship 5 Nations Trophy will get underway at Lydden Hill for a double-header weekend on April 16-18. See full calendar below.
Provisional 2022 Calendar*
April 16 - Lydden Hill, England
April 18 - Lydden Hill, England
May 14 & 15 - Pembrey, Wales
June 4 & 5 - Mondello Park, Ireland
July TBC - TBC
August 27 - Pembrey, Wales
August 29 - Pembrey, Wales
November 5 & 6 - Lydden Hill, England
*The calendar remains provisional and subject to Motorsport UK approval.