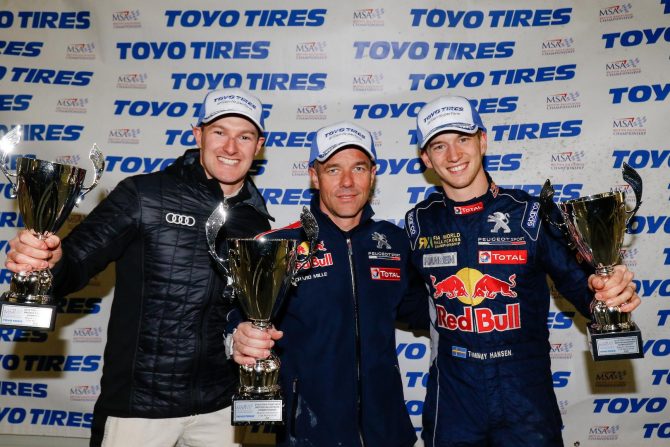 Loeb wins British RX season-opener at Silverstone as Godfrey takes points lead
Peugeot Total driver Sebastien Loeb (France) won the opening round of the 2018 Toyo Tires MSA British Rallycross Championship at Silverstone Circuit [March 17] as five-time British RX champion Julian Godfrey (Heathfield) took the points lead.
World Rallycross contender Loeb led on the brand-new Silverstone rallycross circuit for the duration of the six-lap final, claiming victory ahead of team mate, Timmy Hansen (Sweden), in a pair of World RX specification Peugeot 208 WRXs. EKS Audi Sport driver Andreas Bakkerud (Norway) had dominated the qualifying stages of the event held in freezing cold and snowy conditions, but finished second to Hansen in semi-final one, before losing second place in the final to Hansen as the joker lap strategies played out. 
With the top three using the event to prepare for the British round of the FIA World Rallycross Championship that will be held at Silverstone in May and racing as guest entries, not eligible to score points, the top British Rallycross contender was Godfrey in fourth, who took maximum points. Racing a Spencer Sport Mitsubishi Mirage RX for the first time, Godfrey endured a turbulent series of qualifying races, setting seventh time in Q1 and Q2, before retiring from his Q3 race with a master switch issue. He finished third to Loeb and Kevin Procter (Northallerton) in semi-final two, before running as best British driver throughout the final.
Steve Hill (Thame) drove his redeveloped Mitsubishi Evo X Supercar to fifth, and second of the British RX runners to lie second in the standings after round one. Like Godfrey, Hill didn't have a straightforward day, non-starting Q2 after an alternator problem in pre-grid, but he fought back as others fell by the wayside to score his best points finish of recent years. Making his maiden Supercar appearance in British RX, Welshman Roger Thomas (Llandysul) progressively improved his pace throughout the day, finished fourth in semi-final two to make the final and took third in the points with sixth place, as Mark Higgins (Montgomery) and Kevin Procter (Northallerton) ran into problems.
Making his debut in a rallycross Supercar, three-time MSA British Rally Champion Higgins ran fifth on the opening lap of the final in an Albatec Racing Peugeot 208, but suffered a driveshaft problem on the second lap. Procter meanwhile didn't complete a lap having joined Higgins on the second row of the grid for the final, the Yorkshireman was left on the start line with mechanical problems.
"For me it was the first time in the rallycross car this season. It was a first test and finally a first victory, so it was a great start," said winner Loeb. "I had a successful day, it's never easy to win even if it's a national championship. We didn't really have big ambitions, it was more to get used to the car, to get used to the track and for the team to learn rallycross. The conditions were really tricky in the morning but better in the afternoon so we had the chance to try different setups, it was a good weekend."
Hansen was pleased with the one-two finish for the Team Peugeot Total outfit. "I had a good launch at the start of the final, but Seb did as well so down to the first corner I wanted to brake later than him and he wanted to brake later than me, so we both overshot and Andreas nearly took the lead," he said. "I was following Andreas but with a good strategy with the joker and good rhythm, I was able to pass him. It's a good first result for Team Peugeot Total to finish first and second. It's so different to do a race than a test, when you have the increased pressure, so I'm happy that we came to race in the British Championship. The team had a very challenging day so it was the best possible practice they could get for World RX."
Bakkerud had competed in British RX events in recent years in the RX150 buggy category, but enjoyed racing a Supercar at Silverstone. "We learned a lot this weekend and it was great being here at Silverstone," he said. "The Peugeot team was just a bit too fast for us today but I had a lot of fun in the car. I really felt I was on it, it's a shame we didn't put it all together but it was still good to be on the podium."
For Godfrey, a maximum points haul was mission accomplished. "In qualifying things didn't go very well at all, but I got a brilliant start in the semi-final. Then I got hit in the first corner and broke a wheel, but managed to get into the final,"said Godfrey. "I got a good start in the final, got tucked behind Loeb and things were quite straight forward from there. I thoroughly enjoyed it, I got maximum points which I came here to do and I'm very pleased with the new car."
Former British RX Champion Ollie O'Donovan (Iver) was forced out by first corner contact and broken suspension on his Ford Focus in semi-final two, while Andy Grant (Barnstaple) was slowed by technical gremlins in semi-final one. Mad Mark Watson (Barnard Castle) only completed one qualifying race distance with his Citroen Xsara and didn't start the semi-finals, while Frenchman Guerlain Chicherit (France) drove a G-Fors Renault Clio RS RX in the event but was blighted by a broken intercooler.
Thorne fights back for Supernational victory
Jack Thorne (Umberleigh) scored a stunning victory in the opening round of the MSA Supernational Rallycross Championship, racing a European Championship specification Super1600 Renault Twingo. With Super1600 cars sharing the track with Supernational competitors in 2018, it was the smaller capacity front-wheel drive racers that dominated the qualifying stages, Paul Coney (Dartford) taking a pair of fastest times to Thorne's one, both drivers starting on the front row for the final.
But, in the opening corner it was reigning champion Tristan Ovenden (Renault Clio) who took the lead, while Thorne was spun backwards into turn two, dropping him to the rear of the field. As Coney pressured Ovenden up front, before taking his joker lap, Thorne climbed back up the order and by the third lap was on the tail of the leader. He took the lead as Ovenden took his joker lap, extending his margin to claim victory. Coney finished second with Ovenden third.
"It was a very good final, the spin didn't help at the start but it gave me something to push for and chase. I'm very happy with the new car, it's mega,"said Thorne. "When it started to spin at the second corner I thought there was no coming back, but I took some lunges and managed to make some passes. If any car could do that, I believed in the Twingo, I'm very, very impressed with the car. It's great to be back"
Former champion Tony Lynch (Wigan) finished fourth ahead of Super1600 driver Craig Lomax (Knottingley) in fifth. Kirk Twyman (Nottingham) scored a personal-best result in sixth with his front-wheel drive Renault Clio.
Solberg Hansen wins on Junior RX debut
In the MSA Junior Rallycross Championship's first event of the season it was a pair of debutant drivers that finished first and second. Marius Solberg Hansen (Norway) was twice third fastest in the qualifying stages, before setting fastest time in Q3 to secure pole position for the final. As the lights went green for the final, Solberg Hansen took the lead, but second-place starter Tom Constantine (Richmond) was spun at turn two, in a move where Morgan Wroot (Doncaster) also lost time. Wroot climbed the order as those ahead took their jokers, but dropped to fifth when he too took his joker, as Luke Constantine (Richmond) climbed to second to finish as runner-up on his debut. His cousin, James Constantine (Darlington) completed the podium.
"I'm so happy! I did not expect to win in my first race. The conditions were difficult, it was very slippery in the morning," said Solberg Hansen. "The racing was very close and the Suzuki Swift is so much fun, even compared to the crosskart I've raced before. I'm looking forward to the next race already."
Tom Constantine climbed back to fourth to finish ahead of Ben Sayer (Northallerton) in fifth, with Wroot classified sixth. Matilda Procter (Northallerton) finished seventh on her British RX event debut.
Ovenden, Hudson, Palmer and Harrold claim Silverstone victroies
The final result in the first round of the Swift Sport Rallycross Championship had a familiar look, as 2017 title-contenders Simon Ovenden (Canterbury) and Rob Shield (Darlington) finished first and second, Shield making it to the finish despite flames emitting from the underside of his Swift. Reigning MSA Junior Rallycross Champion Tom Llewellin (Haverfordwest) began his Senior rallycross campaign and briefly held the lead, before finishing third. Former autograss racer Morgan Bailey (Lincoln) was fourth, with World RX television commentator Andrew Coley (Bexhill-on-Sea) fifth.
Keifer Hudson (Harrogate) won the opening round of the BMW Mini Rallycross Championship, leading home a trio of former rallycross champions in the single-make category. Reigning BMW title-holder Martin Hawkes (Stockton-on-Tees) was second with former Junior RX champion Bradley Durdin (Nazeing) completing the podium. Former BMW Mini champion David Bell (Ferryhill) just missed out on a podium place when the joker lap tactics played out.
Three-time RX150 champion Chrissy Palmer (Chichester) had to work hard in the single-make buggy final to maintain the lead, following a strong challenge from World Rallycross race-winner Kevin Eriksson (Sweden), making his inaugural rallycross buggy start. 2017 title-contender John Ward (Dublin) ran fourth on lap one but climbed a position when Leo Foster (Chichester) spun to finish third. Reigning MSA British Rallycross Champion Nathan Heathcote (Ashford) made a one-off appearance and was fourth.
Volkswagen Beetle campaigner James Harrold (Norwich) returned to the Retro Rallycross Championship fold for the first time in almost two years and dominated. Fastest through the qualifying stages, Harrold fended off the attentions of Steve Cozens (Lifton) in the final to score victory. Gary Dixon (Lincoln) finished third.
Highlights of the MSA British Rallycross Championship will be broadcast on BT Sport, Motorsport.TV and online via BARC TV in 2018. Programme times will be published when available.
Full results can be found on here.