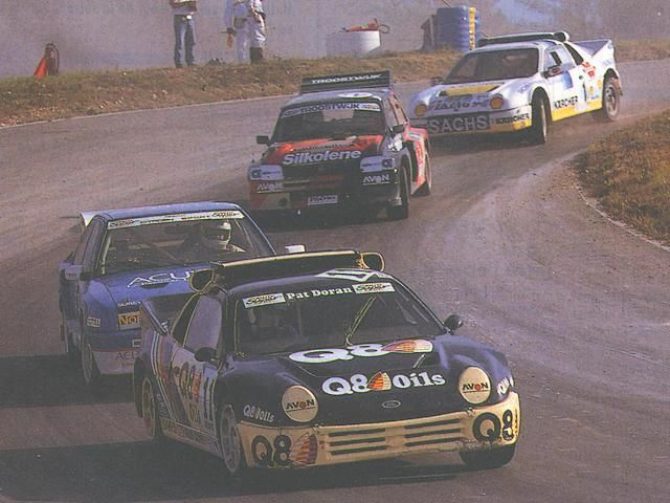 Pat Doran to turn back time at Lydden Hill World RX this weekend
Winkleigh, 22 May 2014 - To mark the UK round of the 2014 FIA World Rallycross championship presented by Monster Energy, hosted at Lydden Hill, multiple British Rallycross champion Pat Doran is to drive his iconic Ford RS200 as part of the Group-B rally era demonstration this weekend.

Re-sprayed in the distinctive Q8 Oils livery that the car ran in the early 90's, as well having been extensively rebuilt by the LD Motorsports workshops which prepares Liam Doran, Krzysztof Skorupski and Derek Tohill's World Rallycross cars, this will be the first time that the historic Ford RS200 has turned a wheel in over five years.

The iconic 800bhp machine took Doran from stage rallies to Rallycross, and also helped the Englishman fight for the win in his first ever British Rallycross Grand Prix.

"It's a big bit of history in a car," explains Pat Doran. "She's known as Rosie - because of the RS200 model name - and was part of a generous deal Ford gave me when I moved from rallying to Rallycross.

"The car is an absolute animal. It's sitting at about 800 horsepower, 0-60mph in 1.9 seconds, and weighs just shy of a ton with a driver. There's no anti lag on it, you have to put your foot on the throttle before you get to the corner, and wait for the boost to come in.

"It will be fantastic to show the car off. It will be great to demonstrate how different these cars are to the modern breed of Rallycross cars. I think it's going to make the ground shake! When you get in cars like the RS200 - you really know you're in something different.

"You've got an engine that is only six inches from your shoulder and you can feel it breathing in your ear. You're not as detached as you are with the modern cars, where the engine is out in front. You're part of that car - you sit in it the car. It's a bit of a frightening feeling."

The Autosport World RX of Great Britain runs on the 24/25 May at the Lydden Hill Circuit in Kent. For more information on the FIA World Rallycross Championship presented by Monster Energy, or to purchase tickets please see www.lyddenhill.co.uk.