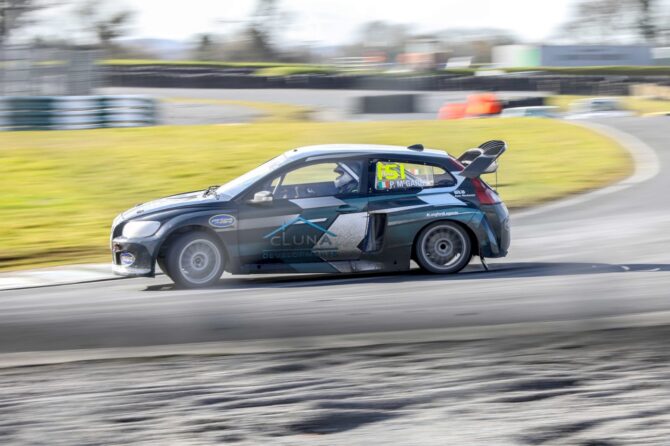 Peter McGarry geared up for return to 5 Nations BRX in 2021
Dubliner Peter McGarry is gearing up for a return to the Motorsport UK British Rallycross Championship 5 Nations Trophy Presented by Cooper Tires in 2021. Providing travel restrictions have eased and vaccines have been rolled out sufficiently, the former Irish Supernational champion armed with a Volvo C30 will be on the grid for the opening round at Lydden Hill on Saturday 29 May.
"The 5 Nations BRX Championship has been unlucky in its debut season due to the Covid pandemic but it has the makings of building into a brilliant championship once up and running properly. Having a double header in Mondello Park is fantastic for both the British and Irish championships and also the introduction of Spa-Francorchamps in Belgium will make it an unbelievable finale to the year.
"2020 was a non-runner really for everyone involved in Motorsport so we spent the time giving the Volvo a refresh. We knew the engine had done a good few events when we bought the car so it was a great opportunity to send it back to MotorDesign in Sweden and let them tinker away with it.
"There is always a very welcoming atmosphere in the British Rallycross Championship paddock, and we have certainly missed the craic over the last 12 months. Lydden Hill is a fast track and I really enjoy driving it. We have been a bit unlucky there in previous seasons with mechanical issues in both the VX220 and when we brought Derek Tohill's TouringCar in 2019 but hopefully this year everything will stay in one piece!
"We can only hope that there is a safe return for rallycross on both shores in 2021 and I for one am chomping at the bit to get back racing."
MSUK British Rallycross Championship 2021 Provisional Schedule
May 29 - Lydden Hill, England
May 31 - Lydden Hill, England
July 10/11 - Mondello Park, Ireland
August 29/30 - Pembrey, Wales
September 25/26 - Knockhill, Scotland
November 6/7 - Lydden Hill, England
December 4/5 - Spa-Francorchamps, Belgium