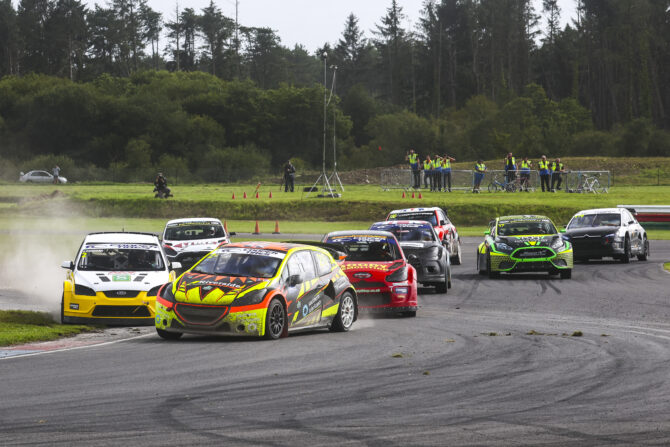 Thorne claims Pembrey double to move into 5 Nations BRX points lead
Peugeot 208 campaigner Jack Thorne delivered a strong performance to claim double victory in the seventh and eighth rounds of the Motorsport UK British Rallycross Championship 5 Nations Trophy as the series made an annual visit to South Wales.
With upgrades undertaken to the Pembrey Circuit layout for the 2023 instalment of 5 Nations BRX, the series was joined by competitors from the Irish Rallycross Championship for a weekend of fierce competition.
Without a win to his name in 2023, Thorne entered the Welsh event with a trio of second places to his name, but qualified for the front row of the grid for the final on Saturday, alongside pole starter Tristan Ovenden (Citroen DS3), and took the lead at turn one with the best start. Thereafter Thorne was never headed en-route to victory. Ovenden initially dropped to third but retook second later on lap one, a place he would hold to the end, while Ollie O'Donovan (Ford Focus) made places early on then lost ground, but re-passed Julian Godfrey (Citroen DS3) when the 6-time champion spun and secured third of the 5 Nations BRX registered competitors.
Jake Harris (Electric Mini) finished fourth, ahead of 4-time champion Pat Doran (Citroen C4) and Godfery.
With the circuit running a revised anti-clockwise layout for round eight on Sunday, O'Donovan took pole position for the final, but the 2007 champion made a slow start and dropped down the order. Thorne would finish second on track to Irish driver Derek Tohill (Ford Fiesta), who was not registered for points, and thus take his second 5 Nations BRX top score of the weekend. O'Donovan wound up second, with Ovenden third. Harris and Godfrey completed the order.
Pat Doran had an incident during the opening heat and was taken to hospital, but is in a stable condition.
Motorsport UK Junior Rallycross Championship
Title protagonists Will Ovenden and Tyler Mcalpin claimed a victory each in the single-make Motorsport UK Junior Rallycross Championship at Pembrey, Ovenden topping the order on Saturday ahead of Ryan Smith and a second podium in three events for Cayden Harris, while Ovenden finished second to Mcalpin on Sunday, with Benjamin Bartlett claiming a first podium finish of the campaign. Kenyan driver Amaan Ganatra made a maiden Junior RX final appearance on Sunday and finished fourth.
Swift Sport Rallycross Championship
Reigning champion and series leader Max Weatherly was the class of the Swift Sport series on Saturday but was chased all the way to the finish by Chris O'Hara, who had been fastest in Q1. Daryl Chaffey was classified third. O'Hara again took the first session on Sunday, but thereafter Weatherly led from the front to win again and extend his points lead, ahead of O'Hara and Chaffey.
RX150 Championship
Former champion Stephen Jones came out on top of a nose-to-tail final in the RX150 buggy division to claim victory on Saturday, ahead of reigning champion Ben Hardy and former Supernational rallycross champion Paige Bellerby. It was Nick Priddy who claimed victory on Sunday, just two tenths ahead of Bellerby at the finish of the final, while Hardy was third. British Rally Championship star James Williams was classified fourth after being handed a penalty.
BMW Mini Rallycross Championship
Title protagonists Ben Sayer and Dave Bellerby both took fastest times in the heats on Saturday in the BMW Mini category, but having qualified on pole for the final, more experienced driver Bellerby drove to a narrow victory, flanked by Sayer. Wesley Wickens finished third. The same trio shared the Sunday podium, but it was Wickens who twice went fastest in Q1 and Q2 to start on pole, but lost out to Bellerby in the final. Wickens was second with Sayer third.
Reigning ALL4 Mini champion David Bell and reigning Junior RX Champion Max Langmaid took a victory each in a strong field for the ALL4 Mini category, the pair trading places on each day, while Martin Hawkes twice finished third.
Retro Rallycross Championship
Ford Escort racer Lee Wood won twice in the Super Retro double-header, only beaten in one heat race all weekend before winning both finals. Ray Morgan (Ford Escort) and David Ewin (Ford Fiesta) finished second and third in a day of attrition on Saturday, while it was Morgan and Paul Pascoe (Ford Sierra) that completed the podium in Sunday's final. In the Retro Rallycross division, Tony Lynch (Toyota MR2) won on Saturday ahead of Pip Davey (Peugeot 205) and Rob Buckmaster (Ford Fiesta), while it was Davey who claimed a maiden victory in the class on Sunday ahead of Paul Buckmaster (Vauxhall Nova) and Lynch, third place enough for the reigning champion to secure the 2023 crown.