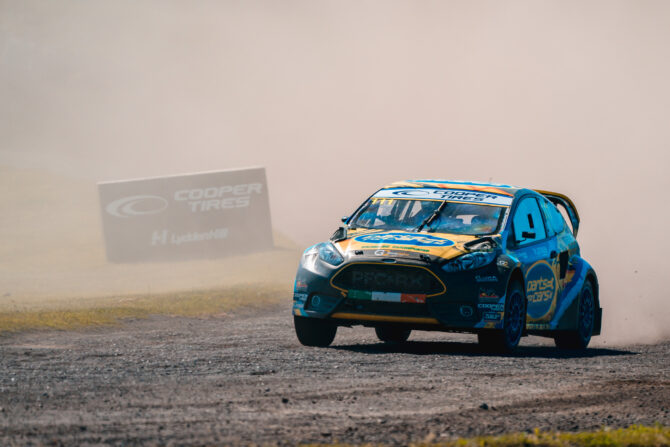 Tohill takes Bank Holiday spoils at Lydden Hill
Round two of the Motorsport UK British Rallycross Championship 5 Nations Trophy Presented by Cooper Tires delivered a fantastic day's racing at the Home of Rallycross in Kent for a capacity 4000 crowd. The racing was every bit as glorious as the Bank Holiday Monday weather.
Supercar
Irishman Derek Tohill (Ford Fiesta) took victory in round two of the Motorsport UK British Rallycross Championship at Lydden Hill on Bank Holiday Monday. The Irish champion slotted into second at the start behind semi-final one winner and pole-sitter Roger Thomas and passed the Welshman for the lead before the completion of lap one. Ollie O'Donovan finished second after a ding-dong battle with semi-final two winner Andy Scott (Peugeot 208), that saw the Dumfries racer ran out onto the grass on the exit of the hairpin. Reigning champion Mark Donnelly (Citroen DS3) suffered turbo issues in his semi-final that dropped him down the grid for the Final. Six-time champion Julian Godfrey (Ford Fiesta) struggled with a lack of power but came home fifth ahead of Thomas and Tristan Ovenden (Citroen DS3) who tangled on the final lap.
Supernational
Paige Bellerby upheld family honours with a solid victory in the Motorsport UK British Supernational Championship. Starting from pole position, the reigning Supernational champion leapt into the lead at the light to take the win, holding off the challenge from Q2 winner Slawomir Woloch and Q1 winner Jason Bleasdale.
Junior
Max Langmaid took top spot in the Motorsport UK British Junior Rallycross Championship round with a lights to flag victory. After winning two of the three qualifying races he earnt himself prime position for the Final to lead home Caitlin May. Rallycross newcomer Finley Scott won the day's first qualifying race and pushed May hard in the final to take third, his first podium finish.
Swift Sport
Max Weatherley capitalised on his qualifying form to win the Swift Sport Championship Final ahead of round one winner and today's opening qualifying race winner Luke Constantine. James Chisman, second in Saturday's round came home third.
Retro Rallycross
Andy Grant dominated the Retro 4WD class, powering his Ford Focus to three race wins and victory in the Final. John Cross took his Lancia Stratos to a resounding victory in Super Retro ahead of Barry Stewart (Porsche 911), and Ray Morgan (Ford Escort). Terry Moore followed up his Saturday win with victory in his Austin Mini, leading home Tony Lynch (Toyota MR2) and Rob Buckmaster (Ford Fiesta RX2). Last year's champion Steve Cozens (Citroen AX) was forced to retire from the event due to front suspension damage.
BMW Mini RX
Dave Bellerby completed a clean sweep across the day, winning all three qualifying races and the six lap final in BMW Mini RX. Dave Ellis finished a strong second after taking the runner-up spot in two of the three qualifiers, ahead of Darren Bleasdale. Tom Constantine had a dramatic exit in Q2, when the throttle pedal snapped and stuck open pitching him into the first corner and onto his roof. David Bell took his second successive win in the All4 Super Mini class, backing up his round one victory from Saturday. Adrian Turner recovered from an off in the first qualifying race, to win the third and finish runner-up in the Final. Martin Hawkes was sadly unable to take the start after suffering mechanical issues after a solid start to the day netted two race wins.
Super 1600
Darren Scott overcame all manner of technical issues to take a convincing win in Super 1600 after winning all three qualifying heats in his Citroen C2. An oil leak and broken oil sensor on Saturday were quickly rectified on Sunday ahead of today's second round which he led from start to finish. 2019 champion Craig Lomax brought his stunning new Citroen C1 home in second ahead of Phil Chicken's C2. First round winner Nick Snoeys was unfortunately forced to return to Belgium early to ensure he adhered to the strict Covid regulations.
RX150 Championship
Patrick O'Donovan took his fourth consecutive RX150 win, with a lights to flag victory in the final today. Current champion Stephen Jones came home second, having won the second qualifying race, while Ewan McGuinness took his first podium finish, to the delight of his 23-time Isle of Man TT winning dad John.
Electro Rallycross Championship
Three different race winners in the all-new Electro Rallycross Championship ensured it was all to play for in the final. Retro Rallycross racer Dave Halford swapped his Audi Quattro for the Fiat 500e, winning the day's first qualifying race and then the Final. Dom Flitney won Q3 and went one better in the final taking the runner-up spot ahead of Q2 race winner Rob Gibson.