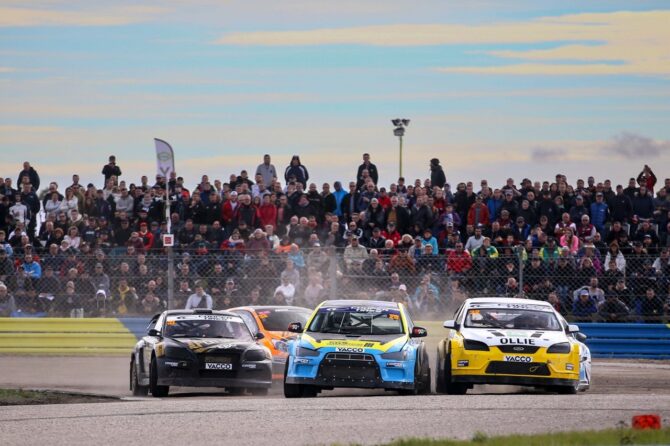 5 Nations BRX champion to be crowned at new-look Lydden Hill in fireworks extravaganza
The final installment of Motorsport UK British Rallycross Championship 5 Nations Trophy action for 2022 will unfold this weekend at Lydden Hill [November 5-6], where the Supercar title will be awarded as part of a bulging entry and dramatic floodlight racing on Saturday evening.
With strength and depth across the classes, drivers in the final event of the year will race on the new-look Lydden Hill circuit. Although debuted in the UK's Nitro Rallycross Championship round in the summer, competitors this weekend will be among the first-ever to race on the new opening corner, large jump and last-corner joker lap section at the Kent venue.
Four drivers are in the fight to become the 2022 5 Nations BRX champion in which…
- 18-year-old Patrick O'Donovan (Ford Fiesta) leads the points race in his maiden Supercar campaign, thanks to six wins from nine rounds.
- Six-time champion Julian Godfrey (Ford Fiesta), multiple Supernational champion Tristan Ovenden (Citroen DS3) and Derek Tohill (Ford Fiesta) remain in the battle to claim the 2022 Supercar crown.
- Former champion Mark Donnelly (Citroen C4) returns to Supercar action for the first time in over 12 months while 2007 title-winner Ollie O'Donovan (Ford Focus) eyes a maiden win of the campaign.
- Regular racers Steve Hill (Mitsubishi Evo), Michael Sellar (Citroen DS3), Dom Flitney (Volvo C30) and Bradley Sampson (Mitsubishi Evo) target strong results to end their campaigns on a high.
- Colin Anton (Ford KA) and Roger Thomas (Ford Fiesta) return to 5 Nations BRX action, while Swedish racer Daniel Thoren (Volkswagen Beetle) joins the fold in a Per Eklund Motorsport-run machine.
- The leading two-wheel-drive Motorsport UK Supernational Rallycross Championship enjoys its strongest entry of the season, including champion Jason Bleasdale (Vauxhall VX200) and brother Darren (Vauxhall VX200), former champions Dave Bellerby (Lotus Exige) and Stuart Emergy (Peugeot 206), FIA CEZ title-winner Slawmoir Woloch (BMW M3), Irish star Peter McGarry (Volvo C30), a brand-new Mercedes SLK V8 driven by Richard Moore and many more…
- The stars of the future in the Motorsport UK Junior Rallycross Championship will race door-to-door in single-make 1300cc Suzuki Swifts, the points led by Max Langmaid, with Owen Robbins hot on his heels.
- Junior World Rally Championship title-contender Jon Armstrong and Extreme E star Hedda Hossas join the RX150 Rallycross Championship grid for single-make buggies, in which Tom Brooks, Charlie French and Colin Phelan will also make their 5 Nations BRX debuts.
- Supernational front-runner Paige Bellerby joins the bulging BMW Mini Rallycross Championship grid in a field packed with competitive regular competitors and newcomers including Michael Amlin, Harvey Harman, Charley Moroney and Samuel Noye. Meanwhile champion David Bell leads the field in the ALL4 Mini Rallycross Championship
- Daryl Chaffey re-joins the single-specification Swift Sport Rallycross Championship grid, where Luke Constantine and Max Weatherly are separated by just one point in the battle to become the 2022 champion.
- Rallycross' rich history is celebrated by a brilliant entry in the Retro Rallycross Championship sub-classes, including 2022 class champions John Cross (Super Retro - Lancia Stratos) and Tony Lynch (Retro RX - Toyota MR2), former overall champions Barry Stewart (Porsche 911) and Ray Morgan (Ford Escort) and a host of podium-contenders from the UK and overseas.
- See full entry list below.
- Find out more about attending the event, and buy tickets, here.