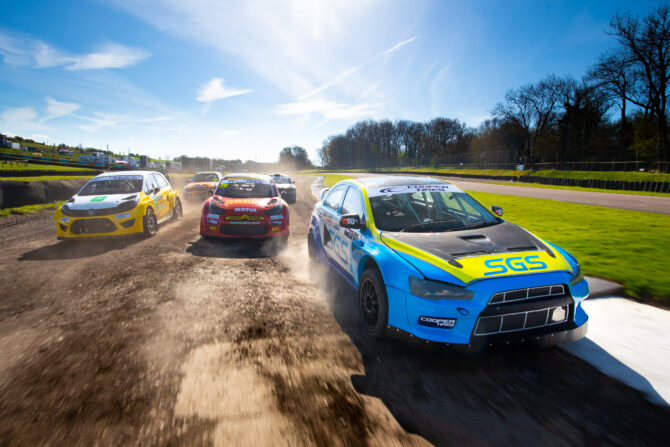 5 Nations BRX heads to revised Pembrey Circuit for double-header weekend
The second instalment of action in the 2022 Motorsport UK British Rallycross Championship 5 Nations Trophy takes this weekend (May 14 – 15) at Pembrey Circuit in South Wales, which features a revised track layout for the new season.
Not only will competitors experience a new loose-surface layout and revised Joker Lap round at the 'Home of Welsh Motorsport', but will race in two different directions across the two days.
On Saturday, for 5 Nations BRX round three, the circuit will be used in an anti-clockwise layout, before it is switched to a Clockwise route for round four on Sunday.
Following a fantastic opening weekend of the season at Lydden Hill last month, the Pembrey double-header poses a new challenge for drivers and teams across the classes in the 5 Nations BRX roster, where…


2021 Supercar Champion and double Lydden Hill podium-finisher Derek Tohill (Ford Fiesta) continues the defence of his crown eyeing a first victory of the campaign.
18-year-old Patrick O'Donovan (Ford Fiesta) targets repeat showing of his round one run to an emphatic podium from his Supercar debut.
23-time 5 Nations BRX event-winner Julian Godfrey (Ford Fiesta) returns to the scene of his most recent victory, at Pembrey last year.
Irishman Ollie O'Donovan focuses on scoring maiden podium for the world's first Proton Iriz RX.
Tristan Ovenden (Citroen DS3) seeks to climb up the points table with a strong weekend in Wales.
Dom Flitney (Volvo C30) looks to build on strong event at Lydden Hill, in only his third start with famous Volvo and first visit to Pembrey with the machine.
Steve Hill (Mitsubishi Evo) returns following a mammoth effort by his team to keep him in the round two event, with engine repairs made in record time before the final.
Fellow Mitsubishi racer Bradley Sampson makes his second Supercar start with his revised-for-2022 Evo.
Unfortunately Supercar contenders Roger Thomas (Ford Fiesta), Colin Anson (Opel Astra) and Mike Sellar (Citroen DS3) have been forced out of the event due to mitigating circumstances, but will return for following rounds of the season.
Reigning champion Jason Bleasdale (Vauxhall VX220) leads the Supernational standings heading to Pembrey but will face stiff opposition from brother Darren Bleasdale (Vauxhall VX220) and former title-winner Paige Bellerby (Lotus Exige).
Owen Robbins leads the points race in the Motorsport UK Junior Rallycross Championship, ahead of 2021 title-winner Max Langmaid in the single-make Suzuki Swift class designed to highlight talented young drivers with equal machinery.
British Rally Championship leader Osian Pryce returns to rallycross in the RX150 Championship, joined by fellow BRC rally competitor Rauiri Bell and World Rallycross Championship front-runner Krisztian Szabo.
Former champion Max Weatherley tops the order in the Swift Sport Rallycross Championship, but with just six points separating the top three in the standings, will face a tough challenge at Pembrey to maintain his advantage.
David Bell and David Bellerby lead the respective BMW Mini and ALL4 classes for single-make BMW Minis, the front-wheel drive division led by Bellerby boasting one of the strongest line-ups of the 5 Nations BRX roster.
Steve Cozens is head of the Retro Rallycross points, but switches from his Citroen AX to a Ford Escort for this weekend, and a move to the Super Retro category. Another change for the Retro RX division in South Wales is that Nigel Davey swaps his Peugeot 205 for a Triumph TR7.
See full entry list below.