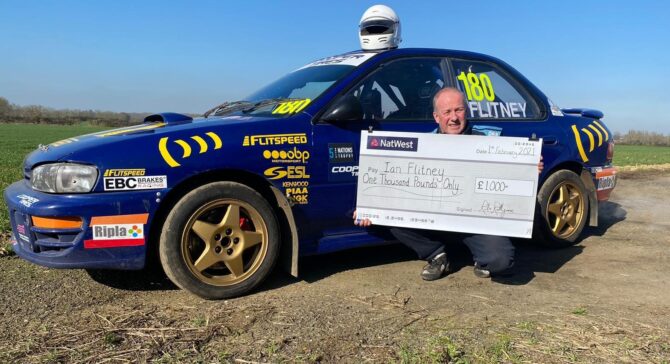 A new season; a new name for Retro Rallycross GpB/4WD
Championship to be rebranded Retro 4WD
Events to include five rounds alongside 5 Nations BRX
Group B cars will compete on a guest entry level and will not be eligible for Championship points or awards
Ian Flitney receives £1000 prize for winning 2020 title
Organisers of the Retro Rallycross Championship have announced some major changes to the class currently known as GpB/4WD which will run alongside the Motorsport UK British Rallycross Championship 5 Nations Trophy Presented by Cooper Tires. In a bid to attract cars currently competing in the Clubmans 4WD class as well as others that are in existence but not currently racing and those who find the Supercar class out of their reach the changes will come into effect from the opening round at Lydden Hill on 29 May.
Shirley Gibson, Retro Rallycross Championship: ''We have received interest from a range of competitors showing an interest in joining this exciting new class. The wonderful cars that we saw last season are expected to join us again for 2021 and we are very excited at the prospect of further growth in the coming weeks. The extended cut-off date to 31/12/1999 offers the opportunity for magnificent 4WD cars who find the Supercar class out of reach.
"Looking back through the history of the sport there are some amazing 4 wheel drive machines that were used in both European and British rallycross that would fit well into the series. There are rally cars out there that would also be a welcome addition. Along with the reduced registration fees for Retro Rallycross, the Retro 4WD Championship is an affordable option.
"We will present Group B cars once again at our events; they will not be competing for Championship points, a decision taken to offer a fairer playing field for the rest. Included in the Retro Rallycross magnificent trophy collection is the Martin Schanche award, and it will be exciting to watch the season unfold and see who will be the next holder of this wonderful trophy.''
Last year's champion Ian Flitney recently received his cheque for £1000, kindly donated by Retro Rallycross co-ordinator Shirley Gibson, for winning the 2020 championship.
Ian Flitney: "After changing from Swift to Retro Rallycross 4WD class – it was in part a little dream come true - as I would get to race against some of the vehicles I used to go and watch. A highlight at the August Bank Holiday round was having such a good race with Dave Halford in his amazing Audi Quattro. I could hear it, and occasionally see it alongside me.
"I had a big smile at the end too, to clinch second in the race has hopefully been a little reward to my two sons Dom and Jason who helped me so much to prepare the Subaru in early 2020. They turned out an absolute beauty!! I owe so much to them to even get me onto the grid, let alone go on and win the championship which wasn't even on the radar!! For 2021 we haven't done much to the car apart from new suspension, and a rebuilt engine.
"I would like to say such a massive thank you to Shirley [Gibson] for all her help since I joined Retro Rallycross and also for her amazing, generous prize of £1000. I'm sure some of it will be making its way to Waltham Tyres soon for some new boots…"