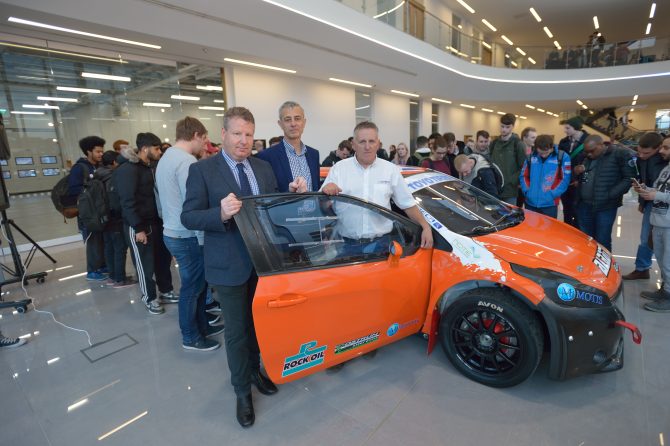 Albatec Racing and NCME form partnership for 2018 British RX programme
Albatec Racing will return to the Toyo Tires MSA British Rallycross Championship in 2018 having formed a partnership with the National Centre for Motorsport Engineering (NCME) that aims to provide career development opportunities for the next generation of motorsport engineers. The project was launched on Thursday (November 23).
Students studying Motorsport and Automotive Performance Engineering at the University of Bolton with gain experience both in class and on-event. Albatec will bring its expertise to NCME by helping students and staff to contextualise academic learning in the development, assembly, and preparation of its Peugeot 208 Supercar.
The car will be engineered at the University's brand new £13 million state-of-the-art workshops. As part of the collaboration, NCME's students will support Albatec engineers and technicians at British RX events, providing context to theoretical studies in maths, physics, and engineering. Student projects will mimic the research and development processes used in industry, helping them prepare for a career in motorsport engineering.
The team is currently considering drivers for the programme.
"We're incredibly excited to be collaborating with the National Centre for Motorsport and see this as a long-term investment for both parties," said Albatec Racing owner Andy Scott. "The UK has produced some of the finest technical minds in the business and we're eager to ensure that this continues and expands into rallycross."
National Centre for Motorsport Engineering Director Dr. Mark Busfield said; "Partnering in this manner is perfect; the strong synergy with the infrastructure, data, and hardware from Albatec and the significant number of brilliant students we have on our specific Motorsport Engineering course, within NCME gives us unprecedented advantages and value to the project. Our students can engage fully in true motorsport engineering, and work to understand performance optimisation, and continuously improve the car."