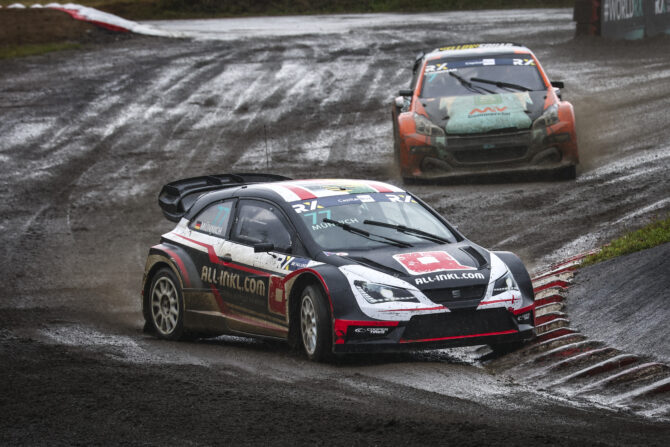 ALL-INKL.COM Münnich Motorsport joins 5 Nations BRX with Seat Ibiza Supercars for Lydden Hill World RX weekend
One of the world's leading rallycross teams, ALL-INKL.COM Münnich Motorsport, will join the Motorsport UK British Rallycross Championship 5 Nations Trophy with a two-car effort for the fifth round of the series at Lydden Hill as part of the FIA World Rallycross Championship weekend (July 22-23).
European Championship event-winner Rene Münnich and team mate Mandie August will race a pair of Seat Ibiza RX1 Supercars in the 5 Nations BRX round that supports the UK's return the World RX schedule at the Kent circuit, the pair adding the event to their 2023 Euro RX programme.
ALL-INKL.COM Münnich Motorsport will also field its all-electric Ibiza RX1e machine in the headline World RX category in the event with double DTM title-winner Timo Scheider at the wheel, while Münnich and August will join one the strongest 5 Nations BRX line-up in recent memory.
While neither Münnich or August has raced on the new-look Lydden Hill layout, both drivers competed at the circuit in 2019, racing in the Supercar category of the Titans RX weekend, in which Münnich claimed victory.
"We as a team enjoy racing at Lydden Hill, as the team has been since 2009," said Münnich Motorsport team manager, Dominik Greiner. "It will be fun for Rene and Mandie to experience the new look circuit in our Seat Ibiza RX1s. With our programme in World RX, it makes sense for Rene and Mandie to join the 5 Nations BRX grid for the weekend and we are all looking forward to it."
More Supercar entries are set to be unveiled in the coming days.
Get tickets for the event here: https://bit.ly/worldrxuk