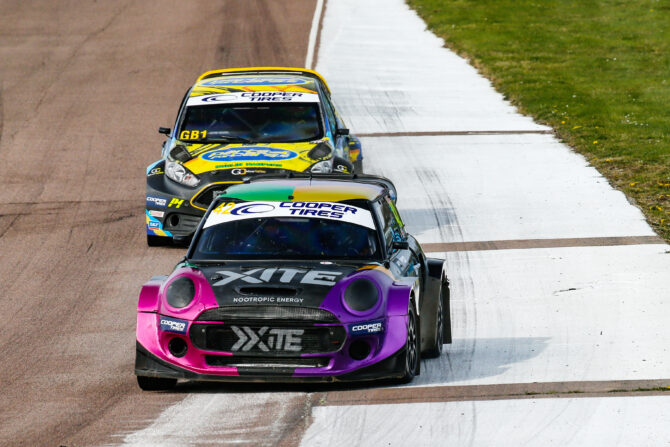 Bennett extends 5 Nations BRX lead with second rallycross career victory at Lydden Hill
Motorsport UK British Rallycross Championship
Bristol-based Xite Energy Racing driver Oliver Bennett returned to the Motorsport UK British Rallycross Championship 5 Nations Trophy presented by Cooper Tires for round two at Lydden Hill on Easter Monday and dominated proceedings to extend his championship lead.
Having claimed his maiden outright rallycross win in round one of the series on Saturday and enjoyed his day so much in front of an adoring crowd, Bennett changed his clashing commitments to return to Lydden Hill on Monday and repeated his success.
Bennett and his BMW Mini RX were pushed hard in the round two final by reigning champion Derek Tohill (Ford Fiesta), who finished second to bag more solid points for his 2022 campaign, while six-time champion Julian Godfrey (Ford Fiesta) completed the podium.
Ollie O'Donovan (Proton Iriz) was fourth, ahead of Steve Hill (Mitsubishi Evo) in fifth, the latter driver only making it to the final thanks to the amazing work of his team, the squad changing a valve spring in the engine between the semi-final and the final.
Dom Flitney (Volvo C30) finished sixth, while Patrick O'Donovan (Ford Fiesta) and Tristan Ovenden (Citroen DS3) retired with a broken gear level and broken suspension respectively.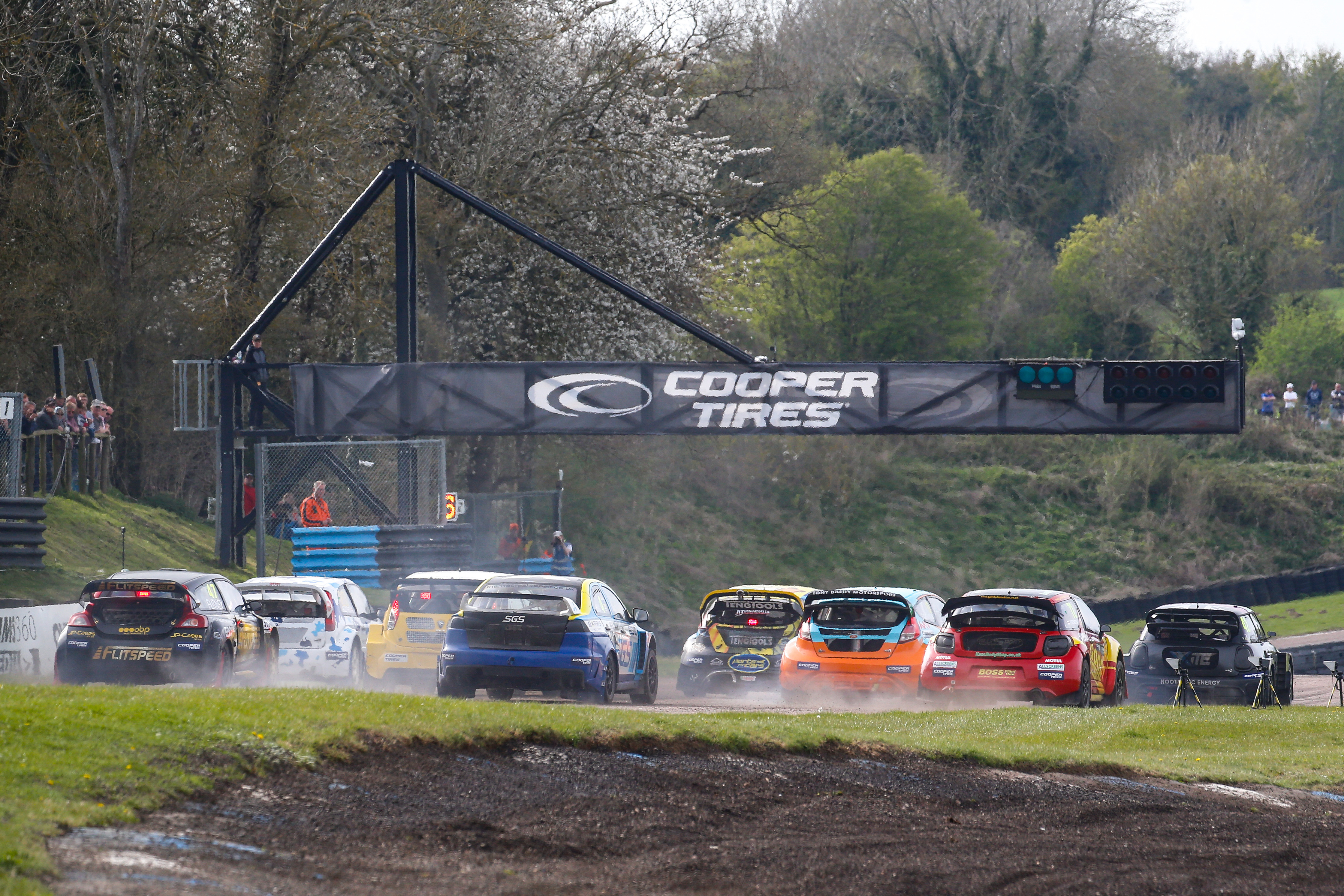 ---
Motorsport UK Supernational Rallycross Championship
In the Supernational category, it was a repeat of round one's 1-2-3, with Jason Bleasdale (Vauxhall VX220), Paige Bellerby (Lotus Exige) and Darren Bleasdale (Vauxhall VX220) completing the podium, the latter pair enjoying a battle on track in the early stages of the final. The result means reigning champion Bleasdale extended his points' lead.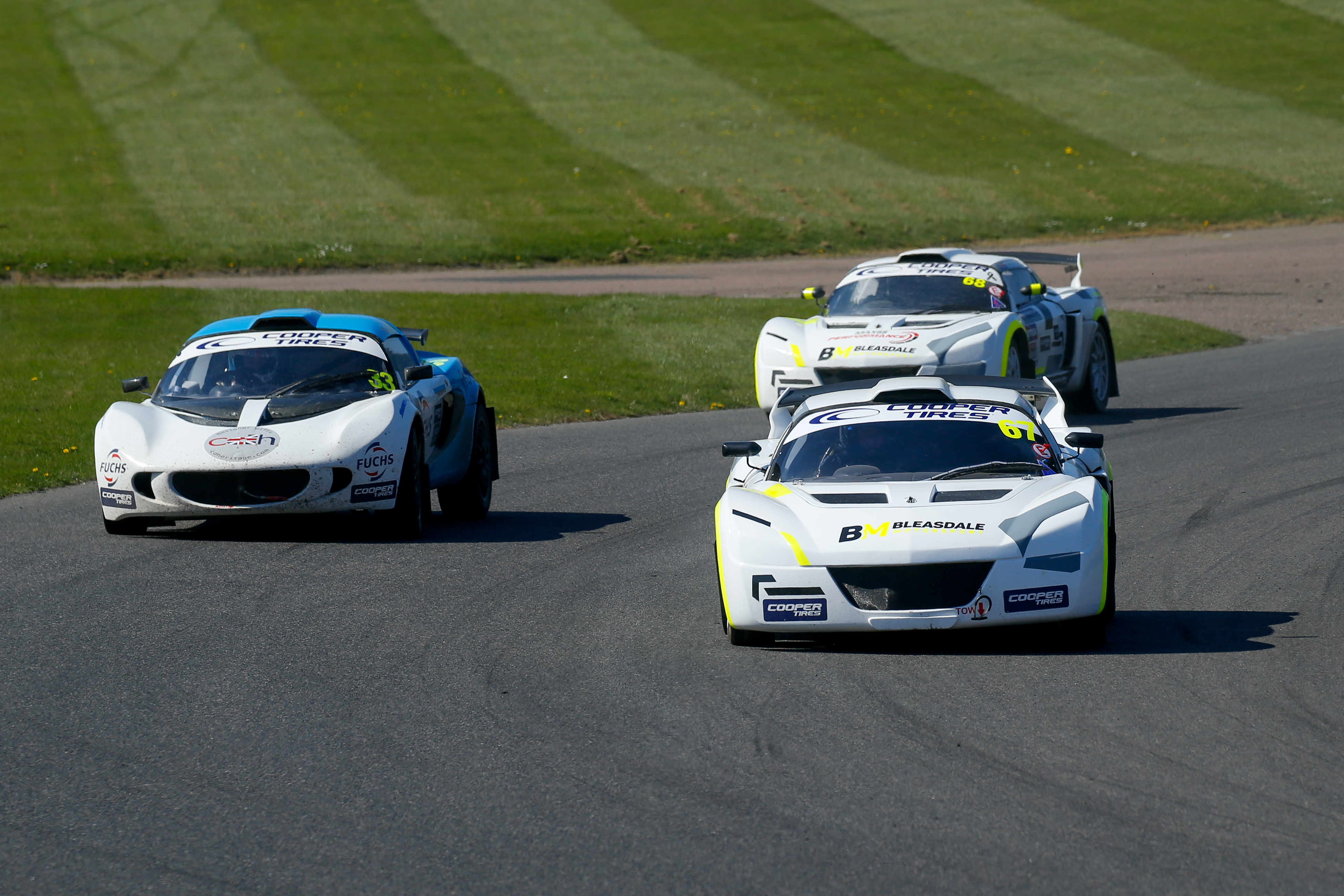 ---
Motorsport UK Junior Rallycross Championship
Owen Robbins claimed victory amid a turbulent day of racing for the Junior RX category to take the championship lead. The biggest clash of the day came during qualifying between title-protagonists Max Langmaid and Will Ovenden. Neither finished Q1 but both returned to complete the day, albeit with further dramas in the final, Ovenden's engine blowing with less than a lap to go. Max Watt claimed second with Cayden Harris scoring a maiden podium in his first ever event, with third.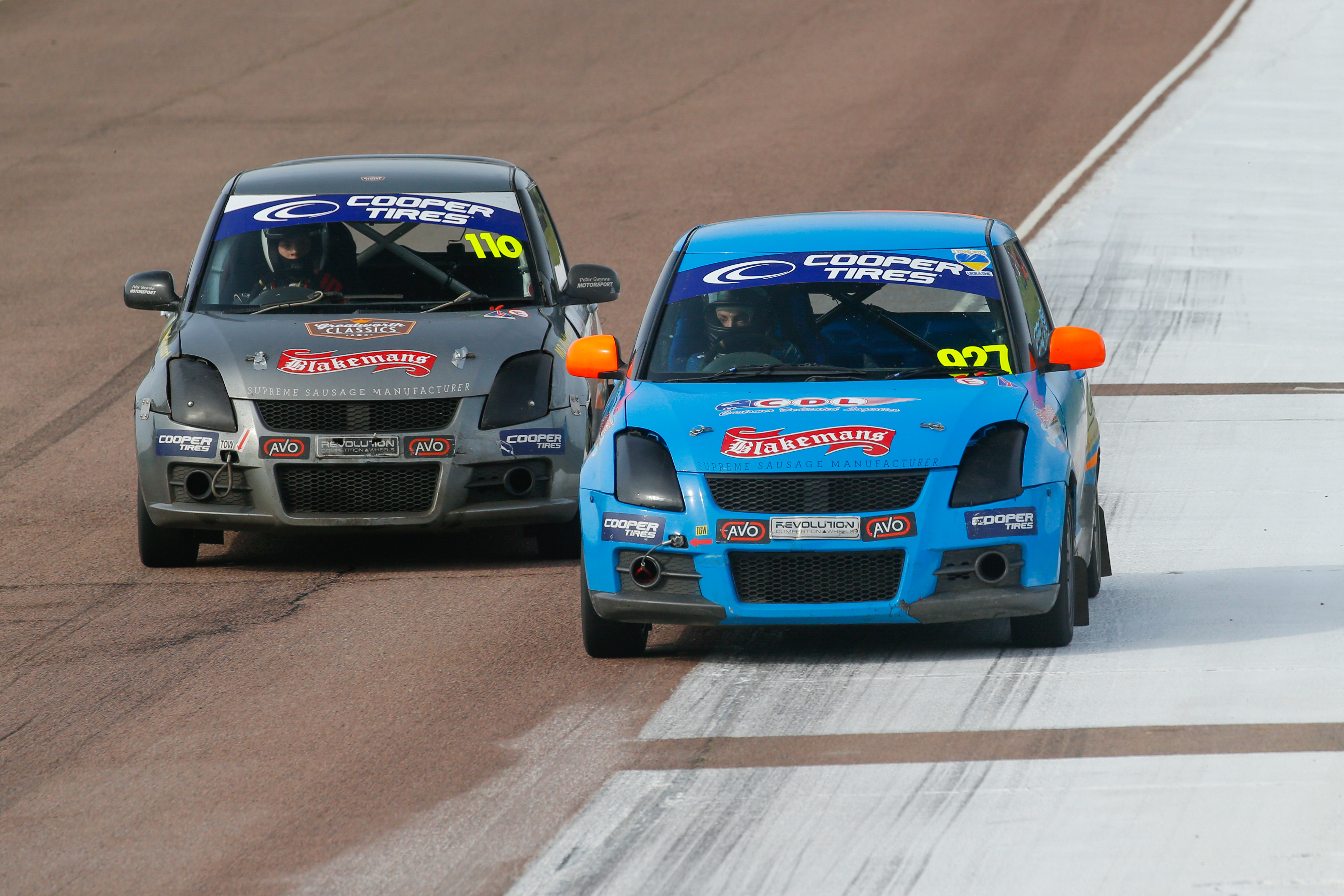 ---
BMW MINI Rallycross Championship / All4 Mini
Another repeat winner of the weekend was Dave Bellerby who crossed the line a mere 0.8 seconds ahead of Bradley Turner in the BMW Mini category. Tom Constantine bagged another trophy to finish third having finished as runner-up in round one. Craig Lomax wasn't able to repeat his round one podium after a roll into the gravel in his semi-final left him upside down.
David Bell dominated the All4 Mini category, ahead of Adrian Turner who suffered from technical problems during the final.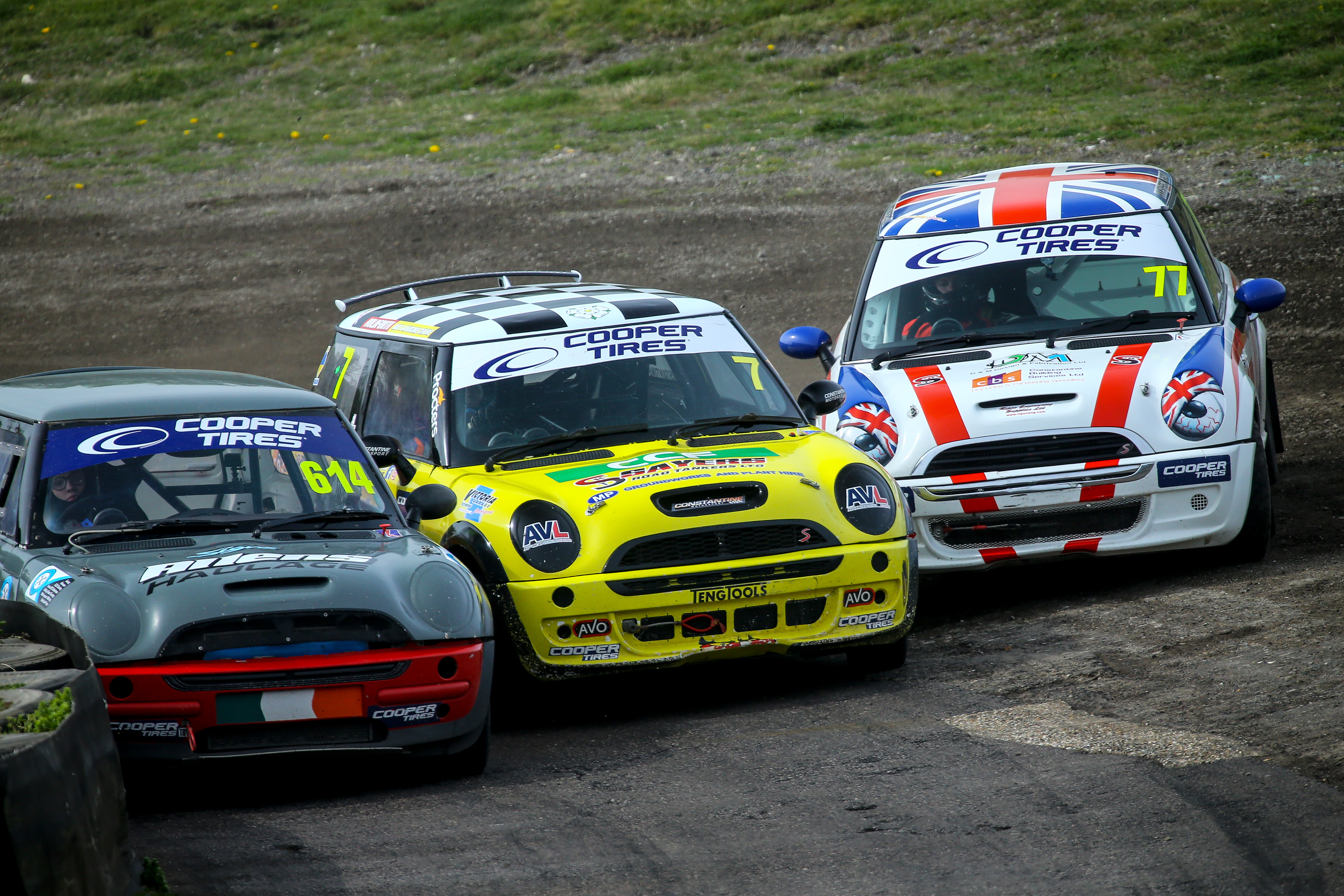 ---
Super Retro/ Retro Rallycross Championship
John Cross (Lancia Stratos) made Jos Sterkens' (Ford Escort) life hard in the Super Retro final, but couldn't unnerve the Belgian veteran who claimed a second win of the weekend, with Cross following behind in second. Richard Moroney (Ford Escort) claimed third after Vince Bristow (BMW E36) retired with engine failure in the latter stages of the race.
Nick Swift (Austin Mini) successfully returned to rallycross for the first time in several decades to hold off a strong challenge from Steve Cozens (Citroen AX) in the same Mini that Terry Moore campaigned to second place in round one. Cozens continues to lead the championship with Tony Lynch (Toyota MR2) lying second in the standings following his third-place finish in the final.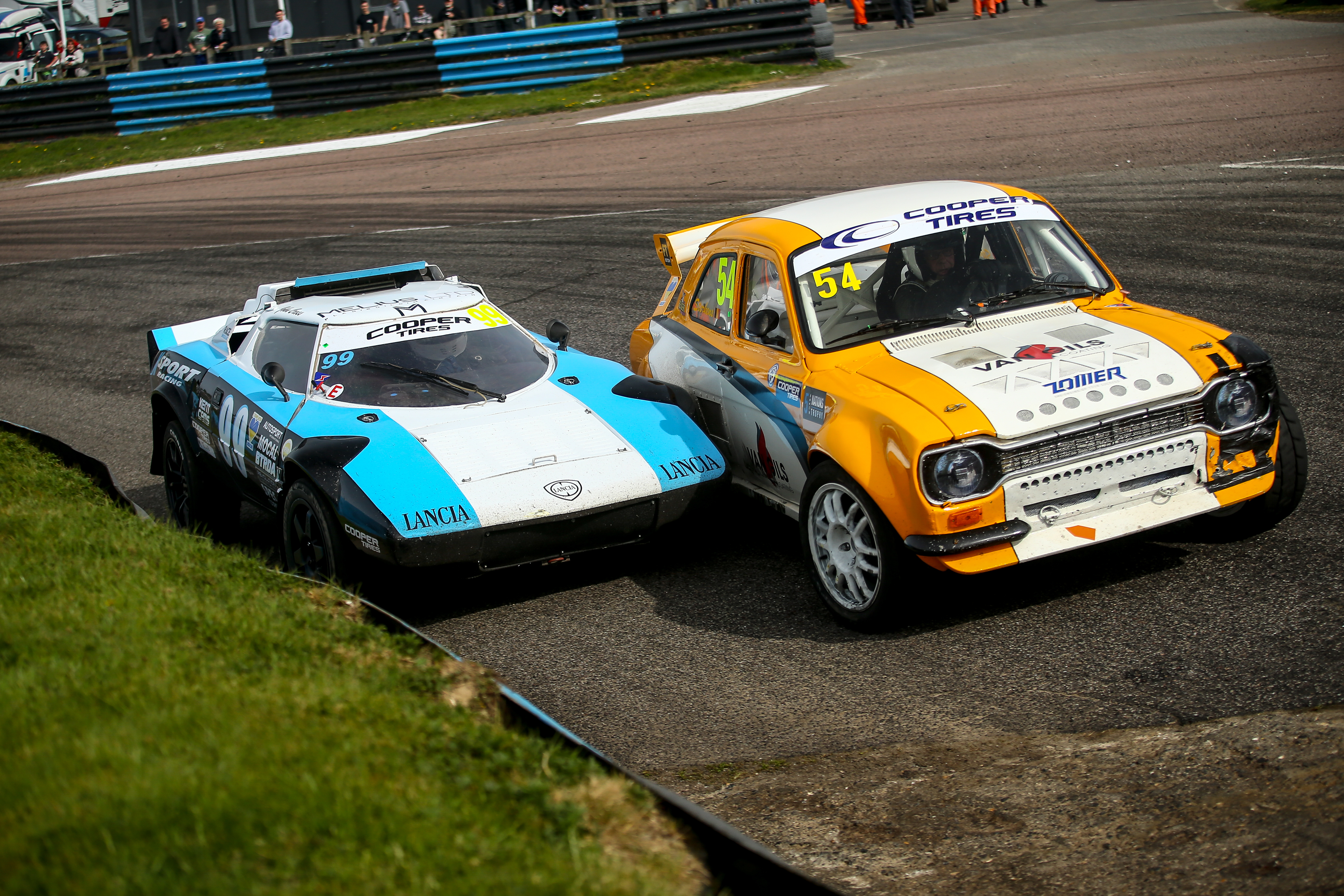 ---
Swift Sport Rallycross Championship
Max Weatherley returned to the top step of the podium in the Swift Sport class, with Saturday's winner Luke Constantine finishing third. James Constantine claimed second, one position better than he managed in round one on Saturday.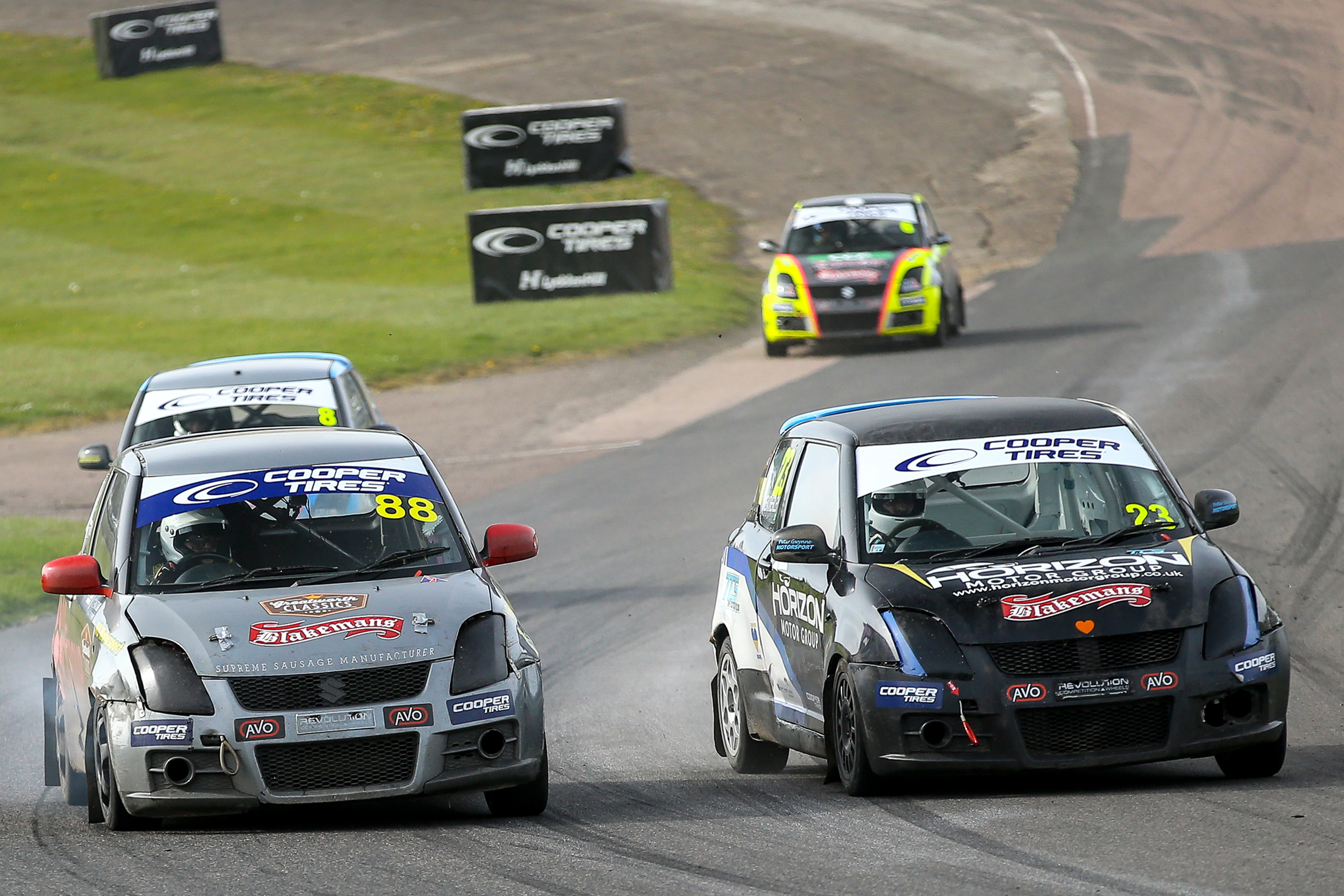 ---
RX150 Championship
Swedish driver Sebastian Eriksson claimed his second career RX150 class win, following victory in round one. Behind, rally star George Lepley and Stephen Jones had an altercation which ended in the gravel in the final stages, ending their hopes of finishing on the podium. Dakar Rally star Sam Sunderland and Ben Hardy completed the podium, Hardy like Sunderland making his rallycross debut at Lydden Hill.