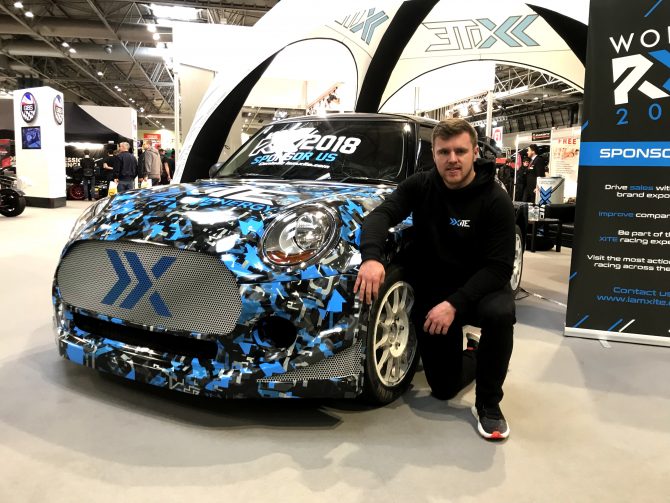 Bennett to debut Mini Cooper Supercar in British RX at Silverstone
Rising rallycross star Oliver Bennett will debut a brand new Mini Cooper Supercar in the first round of the 2018 Toyo Tires MSA British Rallycross Championship at Silverstone on March 17. 
Bennett finished third in the standings in his inaugural British RX season last year, driving a Ford Fiesta Supercar to seven podium finishes from the nine rounds. The XITE Racing team's new Simpson Motorsport built Mini Cooper was revealed to the public at the Autosport International Show on Thursday. 
"We will do the first event at Silverstone as a test event for the World RX, and we will do some selected rounds of British RX too. How much depends on the outcome of what we do with the Fiesta. We're putting a campaign together to do all of the European based World RX rounds, with the addition the USA round in Texas," said Bennett. LD Motorsports, the team that ran Nathan Heathcote to the British RX title last season, is helping with the development of the Cooper Supercar. "The Mini is looking like it will be very competitive. We have partnered with LD Motorsports to help with the development of the chassis and car with Liam Doran's vast experience and knowledge in World RX. When we put Liam in a room with Julian Smith, who owns Simpson Motorsport, we could see something very special developing."
The 25-year old believes his impressive first season in British RX last year has helped him to improve ten-fold as a driver. "I came on no end from my first race! One encouraging outcome was that overtimeI got faster; I became very comfortable with the car and strategies. We are going to have a big hill to climb in 2018, that's no unknown but what we do know is the car will be competitive, we will bring the best we can and we will make sure us and everyone involved in the process has the best time possible from sponsors to friends and rallycross fans."
Bennett is also driving his Ford Fiesta Supercar in the Live Action Arena at the Autosport International this weekend.