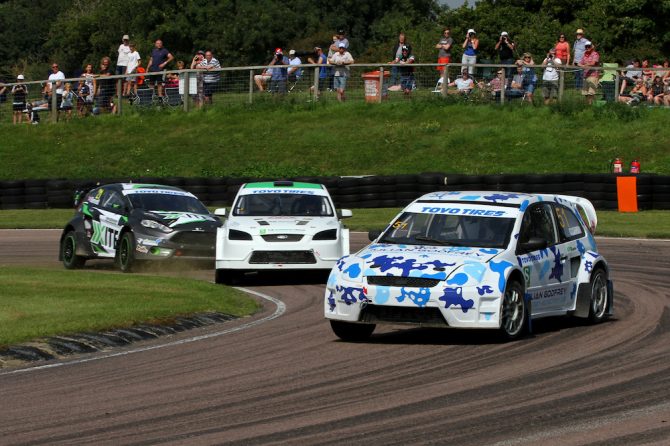 British RX title protagonists embark on crucial Pembrey double-header
The seventh and eighth rounds of the Toyo Tires MSA British Rallycross Championship at Pembrey Circuit this weekend (September 23 – 24) will play a pivotal role in the outcome of the 2017 season.
 
Twelve months ago in South Wales, Citroen DS3 racer Dan Rooke became the youngest ever British Rallycross Champion with a round to spare. But, things are considerably closer this time around. With three rounds remaining, six drivers stand a realistic chance of claiming the crown. In the nine-round 2017 season, each driver must drop their two lowest scores, but cannot drop the final round at Croft.
 
With dropped scores taken into account ahead of the Pembrey double-header, where the circuit will be run in a different direction on each of the two days, five-time champion Julian Godfrey (Heathfield) leads the series in his Ford Fiesta Supercar, thanks to a trio of victories at Pembrey (round three) and Mondello Park (rounds four and five).
 
Newcomer Oliver Bennett (Bristol) has only once finished off the podium in his OlsbergsMSE-built Ford Fiesta in his maiden campaign. However, Bennett's string of high-scoring results means that, when dropped scores are considered, second place in the series is held by reigning Swift Sport Rallycross Champion Nathan Heathcote (Ashford). Heathcote has had two low-scoring events, but finished on the podium everywhere else (including winning on his Supercar debut at Croft) and it's the Kent driver who's closest to Godfrey with a third of the year remaining.
 
Irishman Ollie O'Donovan (Iver) won round two at Lydden Hill in his Ford Focus but has been hampered by broken suspension and punctures through the year. O'Donovan raced his European Rallycross Championship specification Fiesta at the Irish double-header in July, but rolled out of the semi-finals in round five. Just days after contesting the final round of Euro RX in Latvia, O'Donovan will again race the Fiesta this weekend, the car being transported straight from Riga to Pembrey.
 
Kevin Procter (Northallerton) and Warren Scott (Buntingford) can still claim their first British RX crowns, but will need big scores from the remaining rounds and hope their rivals run into trouble. Procter has endured a number of events off the podium in recent months, but has the pace to win at any of the UK's rallycross circuits with his Ford Fiesta Supercar.
 
Former British Touring Car Championship racer Scott is competing in his first rallycross season driving an LD Motorsports run car. He came close to winning round two but was ruled out of contention by a puncture. The Team BMR owner made amends by winning at the same circuit, Lydden Hill, last time out in his Citroen DS3. Missing the Mondello Park double-header through injury means Scott cannot afford any further low scoring events.
 
Jake Harris (Canewdon) is sixth in the points before dropped scores, racing his father Steve's Citroen DS3. He sits just behind Mad Mark Watson (Barnard Castle) in the standings, Watson campaigning his former French Championship winning Citroen Xsara for the 12th season.
 
Mitsubishi Evo X racer Steve Hill (Thame) has had his best run of recent years in 2017 and is knocking on the door of a podium finish. His team will bring a number of changes to the car for Pembrey, using the remaining three rounds for development ahead of next year, while long-time Supercar racer Andy Grant (Barnstaple) returned to the series at Pembrey in June with his Ford Focus and will be back in action this weekend.
 
Paige Bellerby (Northallerton) has led the MSA Supernational Rallycross Championship since the opening round of the year with her Lotus Exige, and has a 100% podium finishing record. But, when dropped scores are accounted for, Tristan Ovenden (Canterbury) is just a point behind with his Renault Clio V6, setting the tone for a spectacular end to the season in the two-wheel drive category.
 
Reigning Champion Tony Lynch (Wigan) won round four at Mondello Park with his Ford KA, and like Peugeot 206 racer Guy Corner (Northallerton) is fighting for a place on the overall podium. Welshman Mike Howlin (Haverfordwest) is the most local driver competing this weekend with his Ford Fiesta, while Allan Tapscott (Umberleigh) will continue his fightback having missed the Mondello Park double-header with a last minute technical issue. David Ewin (Warcop) and Slawomir Woloch (London) will both race rear-wheel drive Ford Fiestas at Pembrey, while Michael Labedz (London) will campaign a front-wheel drive version. Kirk Twyman (Nottingham) will compete in his Renault Clio.
 
Tom Llewellin (Haverfordwest) returns to the circuit at which he made his MSA Junior Rallycross Championship debut last year with the Championship lead, having won all but one of the six rounds so far this season. The only other driver to claim a victory to date this year is Ole Henry Steinsholt (Norway), who won round four in Ireland. The Norwegian is just behind 2016 series runner-up Tom Constantine (Richmond) in the standings and will be joined by another Norwegian driver this weekend with experienced crosskart racer Sebastian Hoidalen (Norway) set to make his Junior RX debut. Tom Middleton (Maldon) scored his first podium of the season at Lydden Hill last time out, while Morgan Wroot (Doncaster) will also be a contender and James Constantine (Dalton-on-Tees) continues to progress with each event in his maiden campaign.
 
Pembrey's two rounds will also play a key role in the outcome of the season in the supporting rallycross championships, but it's in the RX150 Championshipwhere FIA World Rallycross Championship star Andreas Bakkerud (Norway) will make a one-off return to the series on Sunday, swapping his Ford Focus RS RX for a single-make buggy for the Welsh event. As Chrissy Palmer (Chichester) and John Ward (Dublin) continue to fight for the title, World RX television commentator Andrew Coley (Bexhill-on-Sea) will race in the class on Saturday.
 
Swift Sport Rallycross Championship leader Simon Ovenden (Canterbury) was victorious the last time British RX visited Pembrey, but on the back of three consecutive wins Rob Shield (Cleasby) has closed the gap and is now just behind Ovenden in second, in his first full season. Chris Woollett (Herstmonceux) won round one and is third in the standings, as former kart racer Max Weatherley is set to make his debut with the Peter Gwynne Motorsport team at Pembrey in the 14-driver entry.
 
Super1600 racer Paul Coney (Dartford) had his unbeaten run ended in the amalgamated Super1600 Rallycross Championship, BMW Mini Rallycross Championship and Hot Hatch Rallycross Championship class at Lydden Hill as Darren Scott (Sittingbourne) claimed his first win in the category. Coney continues to lead the points, while 2014 champion Jack Thorne (Tiverton) will make his second start of the season this weekend. Three maximum scores in the last four races have lifted Drew Bellerby (Northallerton) to the top of the BMW Mini order ahead of brothers Martin Hawkes (Stockton on Tees) and Andrew Hawkes (Stockton on Tees), Martin winning the opening two rounds of the year. Leigh-Anne Sedgwick (Paddock Wood) leads the Hot Hatch points.
 
MG Metro 6R4 racer Roger Thomas (Llandysul) will make his second appearance in the Retro Rallycross Championship at his home circuit, and will challenge for victory with reigning champion Ray Morgan (Hastings), Vauxhall Astra racer Gary Dixon (Lincoln) and Irishman Kevin Feeney (Hayes). Under 1600cc points leader Lance Foster (Washington) also leads the overall standings with his Mini Clubman.
 
Full event entry list can be found here.
 
Action gets underway at Pembrey Circuit on Saturday September 23 and Sunday September 24 at 09.00am. Adult admission £15. Children 14 and under (accompanied) are admitted free of charge. More details here.
 
Details of how to find Pembrey Circuit are available on the circuit's websitehere.