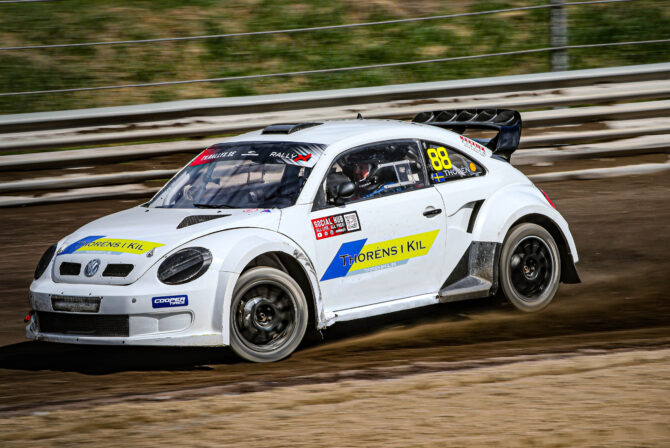 Daniel Thoren to race Eklund Motorsport Beetle in 5 Nations BRX at Lydden Hill
Swedish rallycross driver Daniel Thoren will make his Motorsport UK British Rallycross Championship 5 Nations Trophy debut at Lydden Hill in November [5-6], racing a Volkswagen Beetle run by the legendary Per Eklund Motorsport team.

The former RallyX Nordic podium-finisher switched from a Volkswagen Polo Supercar run by his own team to an Eklund Motorsport Beetle for 2022, and contested three rounds of the RallyX campaign, at Holjes and Strangnas, as business commitments occupied much of his time.

He also contested a Norwegian hillclimb event at Lillehammer last weekend with the same car and is now set to fulfil a long-time ambition of racing at Lydden Hill.

The historic Kent venue, where the first ever rallycross event was held in 1967, underwent significant revision for the Nitro Rallycross Championship event at the circuit earlier this year. Thoren will join the 5 Nations BRX roster as the series runs on the new Lydden layout for the first time, featuring a large jump after the opening corners.

The Volkswagen Beetle that Thoren will race made its debut in 2015 having been created by Eklund Motorsport, led by former Rally Sweden winner, 1999 European Rallycross Champion, Pikes Peak International Hillclimb winner and multiple British Rally Championship class champion, Per Eklund.

"The Beetle is a good solid car but I haven't had as much time to drive this year as I would have liked," said Thoren. "Just to be able to drive a Supercar can't be compared to many other things, the adrenalin you get every time I push the throttle is amazing, and almost impossible to explain to people who haven't tried it. Per (Eklund) and his team are iconic. One thing is all the experience and knowledge about racing they have, but to get support from one of the biggest legends in rally and rallycross is fantastic. I'm really looking forward to racing at Lydden, it's somewhere I've wanted to go for a long time. My target is just to have as much fun as possible. I have no idea what my chances are compared to the British drivers, but I will do my best."

More surprise entries are expected for the final double-header of the 11-round 5 Nations BRX Supercar campaign, with the Saturday evening final (round 10, November 5), set to be held under floodlights and fireworks.

Find more info on the event, and buy tickets, here.