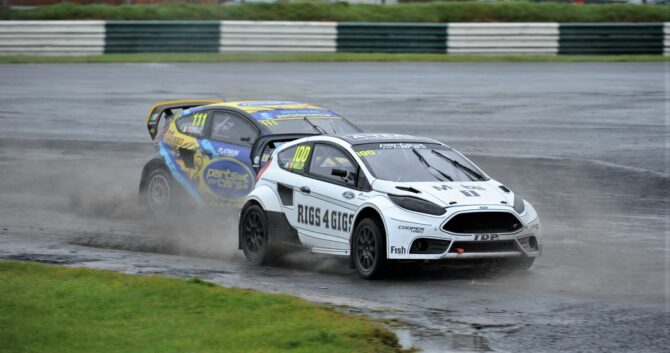 Declan Kelly plans 5 Nations BRX Supercar challenge
Former Irish champion confirms another Supercar on the 2021 grid
Dubliner set to achieve bucket list goal at Lydden Hill
Former Irish Rallycross Champion Declan Kelly will bring his OMSE Ford Fiesta to the Supercar grid in the 2021 Motorsport UK British Rallycross Championship 5 Nations Trophy Presented by Cooper Tires. Covid permitting, the Dubliner will also achieve his second bucket list goal when he competes at the Home of Rallycross, Lydden Hill in 2021.
Declan began his rallycross career in the late 80s, first in a Mini, then a Metro and finally a Vauxhall Nova. In 2007 a converted rear-wheel-drive Mk6 Fiesta caught his eye on eBay and he hastily set off to Norwich to buy it, and after converting to 4WD the car proved quick enough to win the 2014 Irish Rallycross Championship.
It wasn't long before he decided to look for around for a more powerful car and in 2019 achieved his first bucket list goal when he purchased an OMSE Ford Fiesta #018 Supercar that had been used in the Global Rallycross Championship in 2014. The Covid-19 pandemic restrictions naturally severely limited sporting events in 2020, however Declan was able to contest two rounds of the Irish Rallycross Championship last year and admitted the car is a 'rather different beast to my old car!"
"I started to look around for another car and saw a Fiesta that had been used in America by Patrik [Sandell] in the GRC. It sat in America and then got returned to OMSE in Sweden. In January 2019 I rang Andreas Eriksson, he invited me over for a chat. The deal was done and now I am the proud owner of OMSE Fiesta #018. I only did two events in the car and it's a different beast to my old car. Number 1 on my bucket list was to own a real Supercar, Number 2 is to drive it at Lydden Hill. Covid restrictions permitting, I hope to achieve number 2 real soon."
The season kicks off with rounds 1 & 2 at Lydden Hill over the late May Bank Holiday weekend May 29 and May 31, with the next round scheduled for Declan's home circuit Mondello Park, Ireland over the weekend of July 10/11.
MSUK British Rallycross Championship 2021 Provisional Schedule
May 29 - Lydden Hill, England
May 31 - Lydden Hill, England
July 10/11 - Mondello Park, Ireland
August 29/30 - Pembrey, Wales
September 25/26 - Knockhill, Scotland
November 6/7 - Lydden Hill, England
December 4/5 - Spa-Francorchamps, Belgium