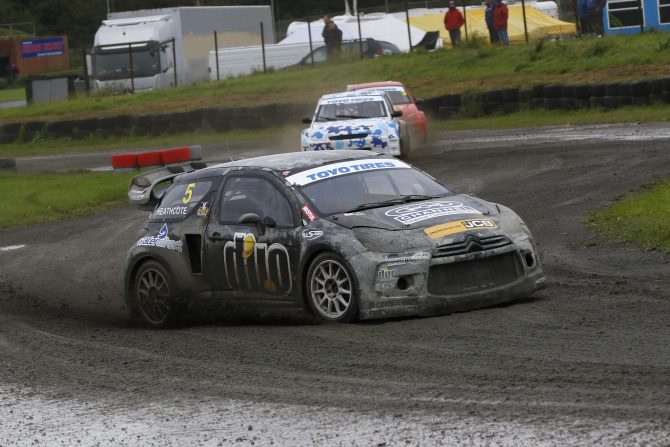 Godfrey and Heathcote victorious in Pembrey double-header
Title-rivals Julian Godfrey (Heathfield) and Nathan Heathcote (Ashford) claimed a victory apiece in rounds seven and eight of the Toyo Tires MSA British Rallycross Championship at Pembrey Circuit [September 23 – 24] to set up a mouth-watering season finale at Croft Circuit next month.

Godfrey scored his fourth win of the season in round seven, leading the final from pole position as Oliver Bennett (Bristol) and Ollie O'Donovan (Iver) battled over second position, Bennett coming out on top. Heathcote finished fourth, fighting back from mechanical problems in the qualifying stages.

The Home of Welsh Motorsport was run in both directions over the two days, and with the traditional clockwise layout being used for round eight, it was Heathcote who topped the Intermediate Classification to secure pole position for the all-important final, which he led throughout to score his second win of the campaign in his maiden Supercar season. Godfrey was second while former British Touring Car Championship driver Warren Scott (Buntingford) chalked up another podium finish in his first year of switching from circuit racing to rallycross.

With just one round remaining, Godfrey leads Heathcote by 10 points in the Championship. "It felt really good to win on Saturday. Once it dried up in qualifying we had good pace, I didn't get the best of starts in the final but was ahead by the loose and we led from there. I made a couple of mistakes at the end of the loose, but apart from that it went very well," said Godfrey. "I really liked the new Pembrey layout in the reverse direction. Second on Sunday was a good result too, I got close to Nathan but he was really fast in the wet."
 
Heathcote was delighted with his second win of the year. "It feels awesome to win again after such an up and down season, and yesterday didn't really go my way. With it being wet the track has suited me well today and I managed to get the win which is great for the team," he said. "We were quick at Croft last time, so definitely we'll try and bring the fight to Julian, hopefully get the win and see how he gets on."
 
Kevin Procter (Northallerton) fought back from air filter and turbo problems in the qualifying stages of round seven to finish fifth, but succumbed to further issues while challenging for a podium finish in round eight and wound up seventh. Jake Harris (Canewdon) also experienced an up-and-down weekend, he finished sixth in the final in round seven, but struggled in the rain-hit round eight with the slippery conditions and niggling mechanical gremlins, before crashing out of the final after breaking his Citroen DS3's steering due to contact with Procter.

Devon driver Andy Grant (Barnstaple) overcame rear differential troubles in round seven to finish sixth in the final in round eight, while Mad Mark Watson (Barnard Castle) was forced out of the weekend's proceedings in round seven's qualifying stages with steering problems.

Having finished on the podium in round seven, O'Donovan crashed out of round eight in Free Practice, sliding off the road near the end of the lap, followed by a heavy impact with a tyre barrier. The 2007 British RX Champion was taken to hospital and returned to the paddock later the same day, with damage to his shoulder, two ribs and his right hand.
 
Ovenden dominates in mixed conditions
 
Double Swift Sport Rallycross Champion Tristan Ovenden (Canterbury) dominated the seventh and eighth rounds of the MSA Supernational Rallycross Championship to move into the points lead ahead of the final round. The Renault Clio V6 driver overcame the changeable conditions across the double-header weekend to claim a maximum points haul and move ahead of Paige Bellerby (Northallerton) for the first time in 2017.
 
Bellerby finished fifth in round seven after an engine mounting broke on her Lotus Exige, and was slowed by a lack of viability in round eight that caused a last lap spin and dropped the triple 2017 winner to seventh. Reigning Champion Tony Lynch (Wigan) twice finished second in the two rounds, the Ford KA racer forced to fend off the close attentions of Allan Tapscott (Umberleigh) in round eight, Tapscott having his best weekend of the year with a fourth and third place finish with his rear-wheel drive Vauxhall Corsa. Peugeot 206 campaigner Guy Corner (Northallerton) finished third in round seven to remain in overall podium contention heading to his home event at Croft.
 
"We are really, really pleased. It's taken a lot of work to get here, and we had a trickier day in round seven but the final worked out. Round eight was really good, I got a good start and then it's just concentrating. It's so, so treacherous round the loose section in the wet, you just have to focus and it worked out,"said Ovenden. "I've learned a bit with the car, we've done a bit of setup work which has helped, but most of it is just learning what works and what doesn't."
 
Llewellin claims MSA Junior Rallycross title at home
 
The dominant force in the 2017 MSA Junior Rallycross Championship, Tom Llewellin (Haverfordwest), secured the single-make title for 14-to-17-year old drivers with a round to spare, by claiming a brace of victories at his home circuit.
 
Racing at the venue where he made his rallycross debut in 2016, Llewellin finished ahead of Norwegian debutant Sebastian Hoidalen (Norway) in round seven, but had to pass regular Norwegian driver Ole Henry Steinsholt (Norway) on the final lap of the final in round eight after his Peter Gwynne Motorsport team mate had taken an early joker. Steinsholt finished third in round seven to strengthen his position in the championship standings, while  Scandinavian crosskart racer Hoidalen ended his maiden rallycross weekend with another podium, in third.
 
"It was an awesome race [in round eight], it was really tight and I really enjoyed it because I had to work for the win. To be fair to Ole Henry he was very clean and it was a nice race with him," said Llewellin. "It feels awesome to be champion already with another round to go. Yeah it is very special to come to my home circuit and win the championship and we'll have to work on what we can do for next year now."
 
Tom Constantine (Richmond) spun on the opening lap of the final in round seven but fought back to fourth, before suffering from brake problems in the qualifying stages in round eight. He remains third overall in the points, ahead of Tom Middleton (Maldon), Morgan Wroot (Doncaster) and James Constantine (Dalton-on-Tees).
 
Simon Ovenden retakes Swift control as Bakkerud stars in RX150
 
Swift Sport Rallycross Championship leader Simon Ovenden (Canterbury) ended Rob Shield's (Cleasby) recent run of wins with back-to-back victories at Pembrey to extend his margin at the head of the standings. Ovenden led the final from the front in both round seven and eight, as Shield fought back from an off-track excursion on lap one in round seven to finish second, and repeated the result in round eight to remain in title-contention.
 
Former autograss racer Morgan Bailey (Lincoln) twice finished third for the Merlin International team and is fourth in the points, behind round one winner Chris Woollett (Herstmonceux), who finished fifth in round seven. Rob Maynard (Deal) scored his best result of the season so far with fourth in round eight, while on his debut weekend in the sport Max Weatherly finished sixth in round eight.
 
Championship leader Chrissy Palmer (Chichester) led the final in the RX150 Championship in both rounds, but suffered a puncture in the closing stages of round seven, allowing title-contender John Ward (Dublin) to claim his second victory in his maiden buggy season. Stephen Jones (Havant) twice finished on the podium, in third. He finished ahead of television commentator Andrew Coley (Bexhill-on-Sea) in round seven and then had a race-long battle with FIA World Rallycross Championship star Andreas Bakkerud (Norway) in round eight, Bakkerud claiming second at the finish. Georgia Shiels (Bolton) was fifth in both rounds.
 
Darren Scott (Sittingborne) claimed his second Super1600 Rallycross Championship victory in a row in round seven, passing points leader Paul Coney (Dartford) in the closing stages of the race, before Coney claimed his sixth win of the campaign in round eight, just half a second ahead of Phil Chicken (Barnsley), who had also completed the podium in round seven. Scott completed the top three in round eight. In the amalgamated Super1600 / BMW Mini / Hot Hatch category, Martin Hawkes (Stockton on Tees) retook the points lead in the BMW Mini Rallycross Championship from Drew Bellerby (Northallerton) with a brace of maximum scores. Rob Methold finished second in round seven ahead of Bradley Durdin (Nazing) while Bellerby and Andrew Hawkes (Stockton on Tees) completed the podium in round eight. Leigh-Anne Sedgwick (Paddock Wood) and Szymon Zatlny (London) each claimed a Hot Hatch Rallycross Championship win.
 
The Retro Rallycross Championship welcomed two new drivers to the top step of the podium in rounds five and six of the series, as Kevin Feeney (Hayes) and David Aiken (Ireland) claimed victories, but it was Lance Foster (Washington) who extended his overall points lead with his familiar Mini Clubman. Gary Dixon (Lincoln) made his first Retro RX start of the season and finished second in Sunday's final.
 
Full results can be found on the MSA British Rallycross Championship website here.

Highlights of the MSA British Rallycross Championship will be broadcast on BT Sport, Motorsport.TV and online in 2017.