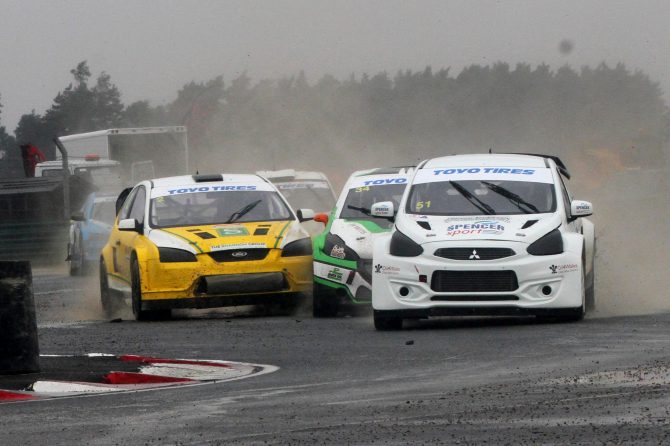 Godfrey moves into British RX points lead with Croft victory
Five-time Champion Julian Godfrey (Heathfield) moved into the lead of the Toyo Tires MSA British Rallycross Championship with victory at Croft Circuit in North Yorkshire [July 29].

Godfrey's maximum points score moved him from third to first in the battle to become the 2018 British RX Champion. Winner of the last three rounds, Ollie O'Donovan (Iver), began round six at the head of the standings but finished sixth at Croft after breaking his Ford Focus' front right suspension in the final while running third behind Godfrey and Top Qualifier Kevin Procter (Northallerton).

O'Donovan is now a point behind Godfrey, tied with Mark Higgins (Montgomery), who started third on the grid for the final at Croft in Albatec Racing's Peugeot 208 but was forced wide at turn one and lost track position to a slow-starting Procter, O'Donovan and Steve Hill (Thame).

Higgins regained a position when Hill was slowed with visibility issues on the opening lap, and then moved onto the podium when O'Donovan was dumped out of contention with his suspension problems. At the front of the race, Godfrey withstood pressure from local driver Procter to take his first outright win in Spencer Sport's Mitsubishi Mirage.

"I made a superb start in the final; got it just right with the RPM and got good traction off the line. I took it quite steady into the first corner and it worked out really well," said winner Godfrey. "I used some different tyres to some of the others, just kept it smooth, didn't make any mistakes at all and got it to the finish line. It's especially nice to win after the last visit here where the car ended up in a box. It's going to be a fight down to the last round at Silverstone at the end of the year. It's going to be really close and I'm very pleased."

Procter was delighted to end a run of bad luck with a solid home result. "I made a small mistake at the start, I didn't have the car in gear when the lights were ready to go, so I didn't get a very good start. But, I'm very pleased with the result and well done to Julian [Godfrey] and everyone that finished, it was really tough out there," said Procter. "The car's getting better and better and I think we'll almost certainly be back out next time at Lydden."

Higgins' podium keeps him in the title fight with three rounds of British RX remaining, at Lydden Hill, Pembrey and Silverstone. "I had a good start in the final and then got a hit going into the first corner which put me wide. I dropped four or five places, so was nearly in last. To recover back to third was okay," said Higgins. "The Championship's really tight at the front, but I've got to get some top scores now to really help my Championship. It's great for everybody that it is so close and we're back to Lydden next, so that will be interesting."

Hill finished fourth, with Liam Manning (Camarthen) fifth in a Subaru Impreza, making the most of worsening wet conditions in the final to catch and pass the ailing O'Donovan. Roger Thomas (Llandysul) retired at the end of the opening lap with technical issues, while Steve Mundy (Ludlow) failed to take his place on the grid due to rear axle problems with his Ford Fiesta. Andy Grant (Barnstaple) had a torrid return to British RX in his first appearance since round one. In a day blighted by gearbox issues, he failed to complete a qualifying race.

Ovenden increases Supernational lead with victory

Reigning MSA Supernational Rallycross Champion Tristan Ovenden (Canterbury) overcame the challenging wet conditions at Croft with his mid-engine, rear-wheel drive Renault Clio V6 to lead the final throughout and claim his fourth win of the season.

Ovenden took the lead from pole position of the final ahead of Paige Bellerby (Northallerton), while in his best appearance in the category, London-based Polish driver Slawomir Woloch (Epping) challenged for third in the opening corners before dropping behind Darren Scott (London) and Paul Coney (Dartford). The pair then swapping positions, but neither could overhaul Bellerby for second. Coney claimed third overall and top Super1600 Rallycross Championship honors.

"It's been really tough today. I managed to keep myself in front by getting good starts in qualifying then holding on for the rest of the laps. We've made a bit of progress with the set-up, the car got better and better, so we're pretty happy," said Ovenden. "We just take each round at a time and try and do our best, that's how we go. We've made good progress now and we're going back to circuits that we know, so hopefully we can keep it up for the rest of the season."

Solberg Hansen claims second Junior RX win to lead Championship

A record 12 drivers started the sixth round of the MSA Junior Rallycross Championship at Croft, and it was a quartet of 2018 newcomers that battled for victory in the final.

As points leader Tom Constantine (Richmond) spun out of contention at the first corner, together with brother Luke, Patrick O'Donovan (Iver) took the lead from the outside of the front row. Luke Constantine fought back to pass Marius Solberg Hansen (Norway) for second on lap two, then passed O'Donovan, but would ultimately drop to fourth in the slippery conditions with Solberg Hansen taking a second win of the campaign, O'Donovan scoring a first rallycross podium in second and local driver Ben Sayer (Northallerton) completing the podium in the single-make category for 1300cc Suzuki Swifts.

"The conditions were very hard today, especially in the final," said Solberg Hansen. "It feels very good to win and I hope to win at Lydden Hill in the next race too."

Kristiane Hvaal Engh (Norway) also passed Luke Constantine for fourth before the end of the race to make it two Norwegians in the top four, with Morgan Wroot (Doncaster), Tom Constantine and Eleanor Corner (Northallerton) completing the top eight.

Bailey, Bell and Dixon star in supporting cast

Swift Sport Rallycross Championship leader Morgan Bailey (Lincoln) delivered a champion's performance by fending off the unrelenting attentions of two reigning Champions for the entire six-lap Swift final in torrential rain at Croft. 2017 MSA Junior Rallycross Champion Tom Llewellin (Haverfordwest) and reigning Swift Sport Champion Simon Ovenden (Canterbury) fought hard to take victory from Bailey in a fair fight, the trio holding the top three positions in the final and the Championship standings.

David Bell (Ferryhill) took the lead of the BMW Mini Rallycross Championship final from the first corner in a restarted race as pole starter Kris Hudson (Harrogate) crashed out at turn one in the first attempt. Bell took control as behind former Junior RX Champion Bradley Durdin (Nazing), brothers Andrew and Martin Hawkes (Stockton-on-Tees) and Drew Bellerby (Northallerton) battled over second position at various stages of the encounter, Andrew Hawkes eventually taking the runner-up spot as Bellerby made it an all-local podium and Durdin finished fourth.

Gary Dixon (Lincoln) won the Retro Rallycross Championship final as the lead of the race changed hands several times. James Harrold (Norwich), Gary Simpson (York) and Dixon all held the advantage at various stages, while Jason Bowes (Middlesbrough) and Ian Biagi (Dumfries) also made victory challenges in lower-powered cars, but it was Dixon who claimed the win from Biagi and Harrold.

Highlights of the MSA British Rallycross Championship will be broadcast on BT Sport, Motorsport.TV and online via BARC TV in 2018. Programme times will be published when available.

Full results can be found on the MSA British Rallycross Championship website here.

The next round of the MSA British Rallycross Championship takes place at Lydden Hill in Kent [August 27].