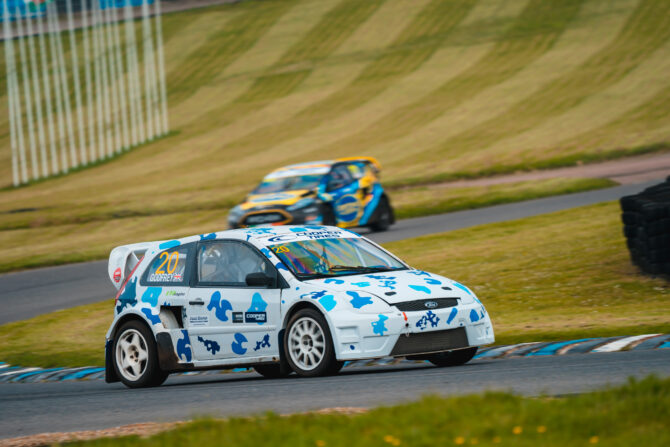 Godfrey to challenge for record-breaking 5 Nations BRX crown in 2022
Six-time champion Julian Godfrey will challenge for a record-breaking seventh Supercar crown in the Motorsport UK British Rallycross Championship 5 Nations Trophy this year.

The season will mark Godfrey's 11th successive campaign at the highest level in the series, in which he will race his familiar Ford Fiesta Supercar.

Having climbed the rallycross ranks, beginning his career in the Stock Hatch division with a Peugeot 205 before moving to Supernational and Super1600 with a two-wheel-drive Ford Fiesta, Godfrey made his Supercar bow in 2011 with the four-wheel-drive, 600bhp Fiesta he still races today, claiming the title at his first attempt. He has driven the Fiesta for all but one of his campaigns, when he switched to a Spencer Sport Mitsubishi Mirage for much of the 2018 season. He also made a one-off start in a Citroen DS3 last season.

The renowned engineer has scored 23 Supercar victories in his career so far, making him the most successful driver in the field.

Godfrey claimed victory at Pembrey in South Wales last season, but much of his 2021 effort was beset by issues and he finished fourth in the standings. He's hoping for better fortune in 2022, and is excited for the new additions to the 5 Nations BRX calendar.

"I'm going to use the same car and try to be at the front. It gets harder as more and more fast drivers come in, but I was a bit unlucky last year. In the first round a Lydden I lost drive in the final, then had a problem through the day in round two," said Godfrey. "I won at Pembrey and then had dramas again at Knockhill. I think the bad luck made my position compared to the front look worse than it was. I raced at Dreux [France] in 2012 in Super1600. The weather conditions weren't good that weekend but it's a good track and that will be a good event this year. I really like Mondello Park [Ireland]. That has been quite a kind track to me over the years so I'm looking forward to going there. I think it's still possible for me to win the championship, it is very competitive now but if I can have less bad luck than last year, I do think it's possible."

The British Rallycross Championship 5 Nations Trophy will get underway at Lydden Hill for a double-header weekend on April 16-18. See full calendar below.