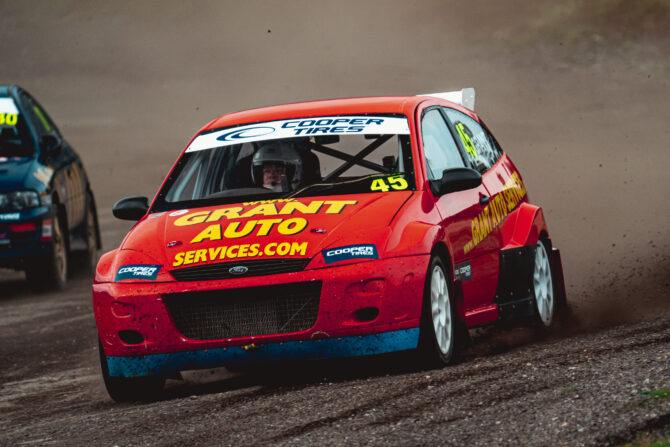 Grant makes 5 Nations BRX Supercar return for Ford Focus swan song
Devon driver Andy Grant, one of the most experienced rallycross drivers in the country, will return to the headline Supercar category in the Motorsport UK British Rallycross Championship 5 Nations Trophy this year.

A long-time Supercar competitor, Grant claimed the Retro 4WD category title last season with his Ford Focus Supercar first built and developed by 1992 FIA European Rallycross Champion Will Gollop at the turn of the millennium, before the car was later raced under Gollop's leadership by then rising star and later British Touring Car Champion, Andrew Jordan.

Grant has subsequently campaigned the car for over a decade, and has continued its development. Steps made last year to the car's handling that improved its performance, and while racing in Retro 4WD, set comparable lap times to several of the Supercar regulars.

Now, in what could be the final season that Grant races the iconic car, he is returning to take on some of the fastest cars and drivers in the 5 Nations BRX roster, starting with the opening two rounds of the year at Lydden Hill race circuit this weekend, on April 16 and April 18, as part of a bulging headline field.

"Rallycross is like a drug. Even though I'm not getting any younger, there's nothing like driving a Supercar. I really enjoyed racing against Steve Harris in his Ford RS200 in Retro 4WD last season, and our lap times compared to the Supercars were very interesting," said Grant. "I made some changes to the setup of the car in the suspension and the differentials, and it made a big difference. So we'll see how we get on a Lydden and go from there, but I have to say, this could be the last season for me in the Focus. It is still a brilliant car, but it was built 20 years ago and although I will be disappointed not to be in the mid pack and maybe even looking to sneak into the fight for the podium, it is quite different now to the cars at the front of the championship."

The full entry list for the 5 Nations BRX season-opener at Lydden Hill published imminently.