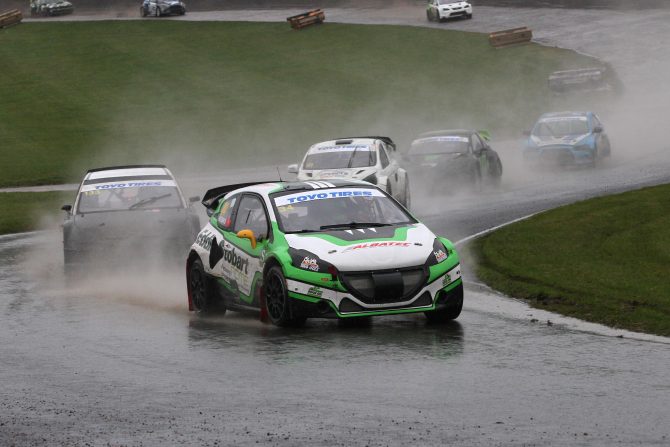 Higgins claims maiden British RX victory at Lydden Hill
Albatec Racing driver Mark Higgins (Montgomery) won the second round of the Toyo Tires MSA British Rallycross Championship at Lydden Hill [April 2], leading the rain-hit final from lights to flag.
Making only his second start at the wheel of Albatec's Peugeot 208 Supercar, three-time British Rally Champion Higgins started on pole position for the final, fended off early pressure from double MSA British Rallycross Grand Prix winner Liam Doran (Dolton) and led throughout to score his maiden victory, and with it move to second in the British RX standings.
Racing a Spencer Sport Mitsubishi Mirage RX for a second successive event, five-time British RX Champion Julian Godfrey (Heathfield) finished second in a day of changeable conditions where every one of the Supercar competitors experienced an off-track excursion during the Lydden Hill event.
Godfrey moved to second in the final when Doran retired with broken steering following contact in a battle for the lead with Higgins, and maintained the position until the end of the race, holding off former British RX Champion Ollie O'Donovan, who had qualified top in the Intermediate Classification.
Godfrey's second place means he maintains his points lead with Higgins second overall and Steve Hill (Thame) third, the Mitsubishi Evo racer retiring from the final with a broken driveshaft.
Jake Harris (Canewdon) finished fourth in his first outing of the season in an LD Motorsports-run Citroen DS3, while Oliver Bennett (Bristol) won semi-final one to start on the front row of the grid for the final, but made a slow start and fought back to fifth.
Former British RX event-winner Mike Manning (Carmarthen) made his first start in a Subaru Impreza Supercar and finished sixth.
"It's great to win, it's good to get that monkey off our back really. We've had a good day, it started off badly in Q1 when I made a mistake in the joker but gradually we've been building from there," said Higgins. "I had a nice clean race, it would have been very close if Liam [Doran] had stayed in it but fortunately we had a good run to the finish and its great points in the bag. There's a long to go and we're looking forward to next time out at Croft."
Godfrey was pleased to maintain his points lead. "It's very good points for the Championship, I'm still leading it after two rounds which is very good compared to last year when I was well down after two rounds," he said. "The car was going well today; we broke an anti-roll bar in the semi-final but in the final it was really good. I'd like to see if I can drive this car again at Croft, we'll see what happens."
O'Donovan was also pleased to score solid points with a podium finish and move to fourth in the standings. "We really needed to finish on the podium here. I wasn't going to catch Mark [Higgins], I think I may have had the pace of Julian [Godfrey] but I opted to play safe and we're really happy with third place," said the Irishman. "Lydden Hill is very slippery when it gets wet but the conditions changed a lot and fortunately I've been round here a few times so I knew where to push and where not to. It was a good day."
Roger Thomas (Llandysul) entered his second ever British RX event third in the standings, but was plagued by a misfire with his Ford Focus Supercar and didn't make it to the end of the day, while Mad Mark Watson (Barnard Castle) missed both Q1 and Q2 with a fluid leak issue but resolved the problem to finish Q3 and semi-final one.
Steve Mundy (Ludlow) made a welcome return to British RX with a freshly-built Ford Fiesta but was troubled by transmission-related issues. Kevin Procter (Northallerton) set the fastest time in Q1 but retired from Q2 with a broken gearbox, putting the former FIA European Rallycross Championship event-winner out.
Ovenden nets home Supernational win 
Reigning MSA Supernational Rallycross Champion Tristan Ovenden (Canterbury) claimed victory in the two-wheel drive division at Lydden Hill, despite the Renault Clio V6 racer having a half spin at the North Bend Hairpin early in the race and losing ground. He climbed back into the lead and extended his margin enough to be able to take the joker on the final lap and remain in front.
2017 title-contender Paige Bellerby (Northallerton) ran second in the opening laps and took an earlier joker, before fending off Super1600 Rallycross Championship driver Craig Lomax (Knottingley) for second until the end of the encounter, Lomax taking third overall and top Super1600 honours. Paul Coney (Dartford) finished fourth, coming out on top of a ding-dong battle with Guy Corner (Northallerton) in the rain-soaked final, with another Lydden Hill local, Darren Scott (London) sixth. Round one winner Jack Thorne (Umberleigh) retired from the semi-finals with technical issues. 
"It really is special to win our home event. The car actually went alright in the wet, although I was hoping that it would stay dry," said Ovenden. "I thought I'd blown it at the top of the hill, I went in too fast and ended up on the grass, but it worked out in the end and I'm really pleased."
Constantine scores second career Junior RX victory
Despite having run at the front of the MSA Junior Rallycross Championship field for the last two years, until the second round of the series at Lydden Hill, Tom Constantine (Richmond) had only previously won a single points-scoring Junior RX event, at his home circuit, Croft, in 2016. 
The young driver doubled his win tally at Lydden Hill by using all of his experience in the single-make 1300cc Suzuki Swift category to dominate the final from pole position. Round one winner Marius Solberg Hansen (Norway) finished second, with James Constantine (Darlington) completing the podium for the second event in a row, following an early joker lap.
"This feels great, we've had a slow start to the season but I just seemed to have the pace today, I'm not quite sure why, I suppose experienced counted for quite a lot," said Constantine. "With the weather deteriorating towards the final I was a bit unsure how it was going to go, but I'm really happy to win. The last two seasons we've always been there or there abouts but I think we've found what we're missing for this year." 
Morgan Wroot (Doncaster) finished fourth ahead of Luke Constantine (Richmond), both drivers spinning during the final, while Matilda Procter (Northallerton) continued to improve her pace throughout the day in challenging conditions and finished sixth. Another 2018 newcomer, Ben Sayer (Northallerton) spun into the Devil's Elbow gravel trap during the final and retired
Bailey, Durdin, Palmer and Thomas score Lydden Hill supporting-cast wins
Former autograss racer Morgan Bailey (Lincoln) put both his experience of slippery-surface conditions and a year of racing in the Swift Sport Rallycross Championship to good use to claim a maiden win in round two of the single-make series after a race long battle with points leader Simon Ovenden (Canterbury), the pair split by less than half a second at the finish line. Ryan Hadfield scored his first rallycross podium in third. Reigning MSA Junior Rallycross Champion Tom Llewellin (Haverfordwest) was spun out of contention after contact.
Another former Junior RX Champion, Bradley Durdin, won both his semi-final and the final in the BMW Mini Rallycross Championship category to score victory and move into the points lead. An early joker lap moved Durdin ahead of Martin Hawkes (Stockton-on-Tees) when he too took his joker, the reigning Champion also losing track position to 2017 Hot Hatch Rallycross Champion Leigh-Anne Sedgwick (Tonbridge), the pair finishing second and third.
For the second event in a row, triple RX150 Champion Chrissy Palmer (Chichester) was made to work hard for victory in the single-make buggy category, this time fending off the attentions of first European Rallycross star Ulrik Linnemann (Denmark) and then former RX150 Champion Leo Forster (Chichester), who finished second. Linnemann fought back from a pair of spins in the final to finish third.
Roger Thomas (Llandysul) drove in the Retro Rallycross Championship alongside campaigning his Ford Focus in the Supercar category, but it was with his MG Metro 6R4 in the Retro final that he scored victory. Thomas led throughout in the four-wheel drive machine, chased by round one winner James Harrold (Norwich) in his rear-wheel drive Volkswagen Beetle. Mark Finch (London) finished third in his maiden appearance in the series, driving a Ford Fiesta.
Highlights of the MSA British Rallycross Championship will be broadcast on BT Sport, Motorsport.TV and online via BARC TV in 2018. Programme times are available on the British RX website.
Full results can be found on the MSA British Rallycross Championship website here.
The next round of the MSA British Rallycross Championship takes place at Croft Circuit in Yorkshire [May 6].