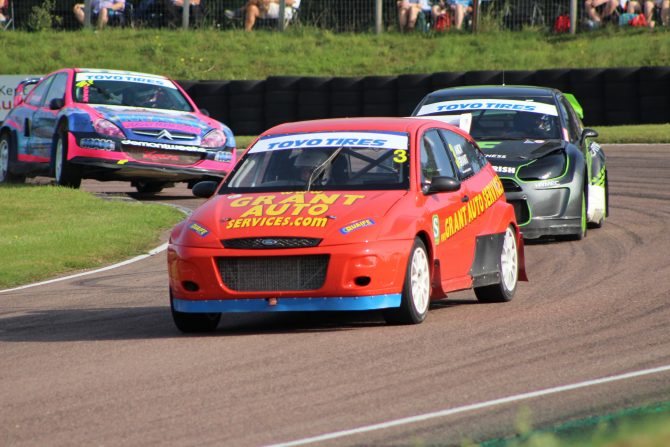 Ian Flitney and Andy Grant move in to Retro for 2020
Swift driver Flitney moves up a gear in Subaru Impreza
Supercar driver Grant 'Focusing' on 4WD/GpB
Former Swift racer Ian Flitney and Supercar driver Andy Grant have confirmed their participation in Retro Rallycross 4WD/GpB this year. Ian came into rallycross in the middle of 2018 and contested the full Swift Sport Rallycross Championship last year but jumped at the chance to drive a Subaru Impreza this season.
"Competing in rallycross was a dream come true; to move into Retro Rallycross even more so. I come from a motorsport-enthusiastic family and my first real taste of rallying was watching the 1972 RAC Rally and rallycross when VW Beetles and Hillman Imps were racing! It was amazing and I've been an avid rallycross fan ever since, particularly 4WD when the GpB machines moved into rallycross."
Ian hopes he'll be the one to capitalise on co-ordinator Shirley Gibson's very generous offer of a £1000 cash prize to the overall winner. However, also confirmed to join the class this year is Supercar driver Andy Grant, himself determined to put his vast experience to good use to claim the prize.
Grant finished fourth in BRX Supercars last year and was consistently a front runner in his trusty Ford Focus. The changes to the regulations for the 4WD class however means that he will be a tough man to beat as he switches to Retros. Don't rule him out from making an appearance in Supercars too though as he's already proved a match for the newer cars in the past.
"I've been in rallycross a long time now, and have successfully competed in BRX Supercars," said Andy. "However, my car is now eligible for the new 4WD/GpB category and I'm confident I should be able to shine this year. Maybe I'll do both classes! I also have a 2WD Corsa which is suitable for Super National too – it could end up being a busy weekend at Lydden Hill!
The 4WD/GpBs will run across three rounds; one at the Lydden Hill August Bank Holiday weekend (30/31 August), with a double-header round at Pembrey's 17/18 October event, a fitting event at a circuit which celebrates its 30th anniversary in 2020. In addition to the £1000 prize fund, the winner also receives the prestigious Kenneth Hansen Trophy, named after and endorsed by the 14-time European Champion, arguably the most successful rallycross driver of all time.