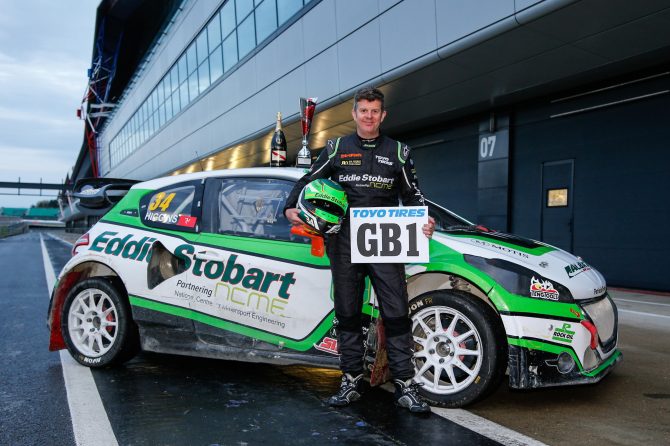 Mark Higgins secures 2018 British RX title with Silverstone triumph
Albatec Racing driver Mark Higgins (Montgomery) came out on top of a three-way fight for the 2018 Toyo Tires MSA British Rallycross Championship in the final round at Silverstone Circuit to secure the title with a dominant victory [November 4].

Three-time MSA British Rally Champion Higgins entered the final round third in the standings, five points adrift of leader Ollie O'Donovan (Iver) and a point down on five-time Champion Julian Godfrey (Heathfield). Fastest in Q1, Higgins won semi-final two to secure pole position for the final, from where he led from lights to flag to secure his third victory of the season and the Championship.

Having set a brace of fastest times in Q2 and Q3, Xite Racing driver Oliver Bennett (Bristol) qualified top in the Intermediate Classification, but a fire at the rear of his Ford Fiesta in semi-final one ended his weekend, as 2016 British RX Champion Dan Rooke (Devon) won the race to line up alongside Higgins in the final, with Godfrey on the outside of the front row and O'Donovan joined by four-time Champion Pat Doran (Dolton) on row two.

As the lights went green, Higgins took a lead he would never lose, as Godfrey slotted into second and Doran climbed to third when Rooke lost time at the hairpin.

O'Donovan took his joker first but lost time in traffic, while Spencer Sport driver Godfrey took an earlier joker than Higgins to try and undercut the race leader but the Peugeot 208 driver had enough of an advantage to maintain his lead and secure victory. Godfrey and Doran completed the podium and O'Donovan was fourth ahead of Team RX Racing team mate Rooke and Steve Hill (Thame).

"It's been a really good day, but it was open to anybody. It's been so close, there were so many permutations. It was just trying to be the one that made the least mistakes – the conditions have been really, really tricky. To win the Championship, I'm over the moon," said Higgins. "Rallycross is very exciting, you're not driving for a long time but what's happening in that time is really exciting and these cars are amazing, I've really enjoyed it. Massive thanks to Albatec Racing, the University of Bolton and of course Eddie Stobart for supporting me again. In my 30 years of motorsport, to win another MSA British Championship is fantastic."

In the final standings, Higgins claimed the title by two points from O'Donovan, with Godfrey tied with O'Donovan but classified third on results count-back.

Mike Manning (Carmarthen) and Liam Manning (Carmarthen) both qualified for the final and finished seventh and eighth. Steve Mundy (Ludlow) just missed a place in the final by finishing fifth in semi-final two, but Nigel Burke (Carmarthen) was slowed by technical issues in semi-final one and didn't make it to the flag.

Bellerby beats Champions on Supernational return

Multiple rallycross Champion Dave Bellerby (Nothallerton) deputised for daughter Paige in the final round of the MSA Supernational Rallycross Championship at Silverstone and claimed victory in her Lotus Exige.

Having secured his second successive title, Tristan Ovenden (Canterbury) qualified top of the Intermediate Classification and started on pole position for the final, but was passed by Bellerby and Super1600 campaigner Jack Thorne (Umberleigh) in the last race of the season. Working on the development of his team's Exige, Bellerby claimed victory from Thorne, who finished second in the final to secure runner-up in the Supernational points and win the Super1600 Rallycross Championship title for a second time, while Ovenden completed the defense of his crown with another podium.

"I'm very happy with today, I've really enjoyed it. The idea was that in Paige's absence we would take advantage of this event to develop the car. As the day went on I think we made some good headway," said Bellerby. "I didn't think that I would be able to beat Tristan (Ovenden) so I'm very pleased with where we ended up in the final. Everyone likes winning but the support I've had with coming back for a one-off event has been brilliant – it's really a good feeling."

Paul Coney (Dartford) finished the final fourth, just ahead of Darren Scott (London) who recovered from a roll in practice while Vincent Bristow (Hastings) finished sixth.

Constantine takes Junior RX title with Silverstone win

It was a winner-takes-all scenario at the front of the MSA Junior Rallycross Championship entering the final round of the season, with brothers Luke and Tom Constantine (Richmond) separated by a single point.

Fastest in Q1, Luke Constantine then ran into a range of technical issues including a broken sump and starter motor in qualifying, while a flu-ridden Tom Constantine didn't have a clean run either as Marius Solberg Hansen (Norway) finished top in the Intermediate Classification with a consistent performance.

Solberg Hansen and Tom Constantine won their semi-finals to take the best starting positions for the final, but it was Patrick O'Donovan (Iver) who made the best of the first corner squeeze to take the lead while Morgan Wroot (Doncaster) was spun out of contention after contact.

Luke Constantine was first to take his joker from fifth on lap one, before Tom Constantine took his joker from third on lap three. The siblings then passed O'Donovan and Solberg Hansen when they took their final lap jokers to finish first and second, victory enough for Tom Constantine to take the title.

"I'm really happy to finally get the Junior title. It's been a hard year, a hard day but it's fantastic to finish the season like this and win the Championship," said Constantine. "I've been struggling with the flu for the last few weeks, I didn't get a lot of sleep last night so I didn't know how the day would go, but it went right for me in the end. Luke and I agreed that we would just fight for the win and he pushed me all the way."

In her best performance of the season, Norwegian driver Kristiane Hvaal Engh (Norway) beat compatriot Solberg Hansen to the finish line to claim fourth, Solberg Hansen then penalised for the first corner contact that spun Wroot, elevating Ben Sayer (Nothallerton) to fifth and James Constantine (Darlington) to sixth.

Llewellin, Hawkes and Palmer take single-make support wins as Morgan claims Retro victory

Reigning MSA Junior Rallycross Champion Tom Llewellin (Haverfordwest) finished his first year of senior competition by repeating his final-round victory from 2017. Outgoing Champion Simon Ovenden (Canterbury) started on pole position for the final but it was Christopher Scott (Gillingham) who took the lead on the opening lap from Ovenden, as Max Weatherley (Faversham) pressured Llewellin for third. Weatherly made a mistake in his lap two joker, while Ovenden passed Scott for the lead at the start of the penultimate lap. When the jokers played out it was Llewellin who claimed the win. Dominic Flitney (St Ives) climbed to second while Ovenden, Scott, Nakita Abramov (London) and Weatherley completed the top six. With enough points to be crowned Champion ahead of the finale, Morgan Bailey (Lincoln) elected to sit the event out.

Outgoing BMW Mini Rallycross Champion Martin Hawkes (Stockton-on-Tees) qualified second on the grid for the last final of the year, alongside pole-starter Drew Bellerby (Northallerton), then passed lap one leader Dave Ward (Towcester) in the final to take the advantage and claim his first win of the season. Ward finished second, his best rallycross result to-date while David Bell (Ferryhill) finished third with a comeback drive in the final after a difficult qualifying to claim his second category title. Andrew Hawkes (Stockton-on-Tees) finished fourth, with Bradley Durdin (Nazeing) fifth and Frankie Helliwell (Harrogate) sixth.

Chrissy Palmer (Chichester) overcame a strong challenge from former RX150 Champion Leo Forster (Chichester) to win the single-make buggy final to cap his fourth consecutive Championship success. Forster finished second while Jami Kalliomaki (Finland) overcame technical issues in qualifying to complete the podium, less than a tenth of a second behind Forster at the line. Stephen Jones (Havant) finished fourth with Hal Ridge (Shropshire) fifth and Luke Woodham (Loudwater) sixth.

Former Retro Rallycross Champion Ray Morgan (Hastings) won the final round of the 2018 campaign at Silverstone. MG Metro 6R4 driver Rob Gibson (Leighton) took the win on track, but as Morgan was within the five second handicap given to the four-wheel drive contenders it was the Ford Escort man who claimed the victory, with Gibson second and James Harrold (Norwich) third, enough for the Volkswagen Beetle driver to beat Ian Biagi (Dumfries) to the overall crown. Gary Dixon (Lincoln), John Cross (Basingstoke) and Paul Easterbrook (Newton Abbot) completed the top six in the Silverstone final.

Highlights of the MSA British Rallycross Championship are broadcast on BT Sport, Motorsport.TV and online via BARC TV in 2018. Programme times will be published when available.

Full results can be found on the MSA British Rallycross Championship website here.