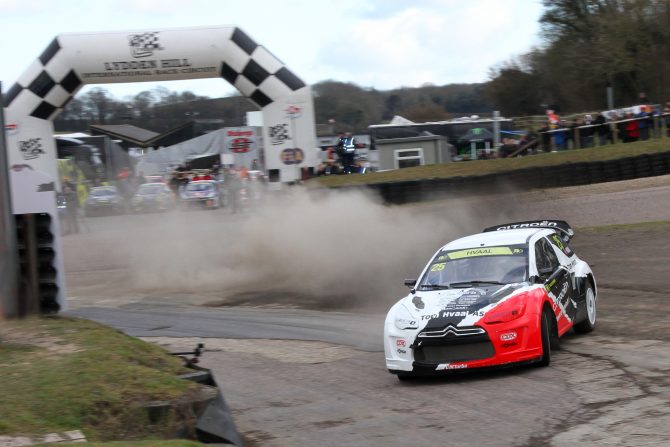 Mike Sellar confirms return to rallycross with entry into 5 Nations BRX
Sellar to drive ex-Hansen Motorsport DS3
GT racer swaps tarmac for the gravel
3000-mile round trip to collect car shows commitment to 5 Nations
It shows true commitment when a driver is prepared to complete a 3000-mile round trip to collect a car in which to compete. And that's exactly what Mike Sellar did when he headed from his Kent home to deliver a sold Porsche to Torquay and then on to Sweden to collect an ex-Hansen Motorsport Citroen DS3 Supercar to compete in the Motorsport UK British Rallycross Championship 5 Nations Trophy Presented by Cooper Tires.

Former GT racer Mike travelled from his home in Kent to Torquay where he offloaded his Porsche GT3 Cup Car, before heading to Scandinavia to collect a car he'd never even seen. The DS3 though has a good pedigree, piloted previously by Alexander Hvaal, its last outing was in Euro RX in Höljes last year, when Hans-Joran Ostreng steered it to a semi-final position where he finished fourth.
Mike is no stranger to rallycross having competed between 2004-2007 when he was the first to race a Renault Clio in rallycross, and again in a one-off appearance in Stockhatch in 2009. Since leaving rallycross the Kent driver has concentrated on circuit racing, primarily in the Porsche, but under the new BRX management structure made the decision to swap tarmac for gravel in the six-round Supercar class.
"It's going to be strange returning to rallycross after so many years away, but I'm really looking forward to the challenge, said Sellar. "The new structure of British rallycross was a deciding factor in my decision and although I expect it'll be a tough learning curve getting used to the car and racing on a different surface again, I'm hopeful that by mid-season I will be up to speed.
"The car is a proven one, it's an ex-Hansen Motorsport car, and Kenneth is renowned for building cars to a high standard. There's a fair bit of work to be done bodywork wise before the season starts, and Julian [Godfrey] is working his magic on the engine. So, once that's all completed, we'll be ready to go."
Mike's pledge to compete in 2020 further increases the number of announced Supercars to 10 with more to come shortly.