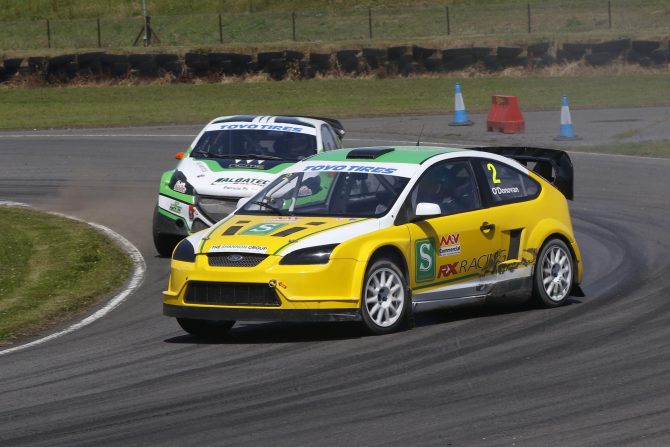 O'Donovan doubles-up at Pembrey to take British RX lead
Irish driver Ollie O'Donovan (Iver) claimed victory in rounds four and five of the Toyo Tires MSA British Rallycross Championship at Pembrey Circuit in South Wales [June 23 – 24] to take the points lead.
O'Donovan took the maximum points available from the Pembrey double-header, run on the new rallycross layout at the Welsh venue.
It was Julian Godfrey (Heathfield) and Mark Higgins (Montgomery) who dominated the qualifying stages of rounds four and five respectively, but in both six-lap finals O'Donovan took the lead of the race at the first corner in his charge to victory, driving his Ford Focus Supercar.
In round four on Saturday, with the circuit run in a clockwise direction, O'Donovan moved ahead as pole starter Godfrey and Higgins ran wide, the pair then having contact that caused Godfrey to spin and gave both cars punctures.
Steve Hill (Thame) and Roger Thomas (Llandysul) capitalised on the drama to climb to second and third, Hill challenged O'Donovan for the lead of the race when the leader took his joker and finished second, with Thomas scoring a home podium in third. Godfrey climbed back to fourth, but Higgins was forced to retire.
In round five, Higgins won each of the three qualifiers to secure pole position, but it was O'Donovan who made the best start to take the lead. Both drivers dropped behind Godfrey when they took their jokers on laps two (Higgins) and three (O'Donovan) but returned to the head of the order when Godfrey later took his joker, the five-time British RX Champion claimed the final podium position.
Kevin Procter (Northallerton) returned to British RX in round five but spun in the final and finished fifth, behind Hill in fourth but ahead of round four podium-finisher Thomas.
"I'm really happy with the results, we didn't make pole in either round and I sat on the line both times thinking it was a bit of a long shot, but we managed to take the lead and control the races. I'm delighted," said O'Donovan. "Mark [Higgins] was all over me on Sunday but I had Tony Bardy in my ear on the radio and we defended on the loose to make sure we had a good run for the tarmac, where we knew he would be quicker than me. The Focus is still a good car, we're in front in the points now and we will have to work hard to protect that in the coming rounds." 
Liam Manning (Camarthen) made his British RX debut in round four driving a Subaru Impreza, but was forced out with technical problems that couldn't be solved in time for his father Mike Manning (Camarthen) to race in round five. Nigel Burke (Camarthen) was forced out of his British RX debut in round five on Sunday with electrical problems, while Mad Mark didn't make it through practice in round four, his Citroen Xsara suffering head gasket issues.
Thorne and Ovenden take Supernational victories
Jack Thorne (Umberleigh) overcame technical problems that had blighted his MSA Supernational Rallycross Championship challenge in rounds two and three to score victory in round four at Pembrey Circuit, driving a Renault Twingo. Thorne won despite contact with Championship leader Tristan Ovenden (Canterbury) on the final lap when Ovenden made a bid for the lead. As Ovenden retired, Thorne claimed his second victory of the season in a podium lock-out for Super1600 Rallycross Championship drivers, Darren Scott (London) and Craig Lomax (Knottingley) finishing second and third. 
"We had a few teething problems with the car recently but we had a big push today, put it on the front row for the final and knew I had to get to the first corner first to stand a chance," said Thorne. "It was very tight on the joker merge and on the last lap against Tristan [Ovenden], but we did it and I couldn't have asked for a better day."
Ovenden then led the round five final from lights-to-flag, hunted down by Thorne who took his joker on the opening lap of the race having dropped to fourth at the first corner. Thorne finished second to move up to second in the standings, while Paige Bellerby (Northallerton) finished third, racing her Lotus Exige at Pembrey for the first time in 2018, having raced a borrowed car so far this season and is third in the points after the South Wales double-header.
"Round four was really dramatic, we had some problems then it all went wrong in the final, but to get victory in the final in round five is really good," said Ovenden. "The circuit is a challenge, it's been good. Things weren't looking great for the Championship after round four, but hopefully this puts us back on track." 
Family affair in Junior RX at Pembrey
The MSA Junior Rallycross Championship featured semi-finals for the first in round four at Pembrey, where a record entry of ten drivers took the start, and it was Championship leader Tom Constantine (Richmond) who claimed victory in the single-make category for 1300cc Suzuki Swifts. 
Constantine dropped down the order on the opening lap of the final but fought back to take the lead and storm to his third victory in a row. Marius Solberg Hansen (Norway) again finished on the podium in his first year in the category. Morgan Wroot (Doncaster) scored his first Junior RX podium of the season in third, ahead of Luke Constantine, James Constantine (Darlington), Patrick O'Donovan (Iver), Ben Sayer (Northallerton) and Kristiane Hvaal Engh (Norway).
"I got a bit of a rubbish start to be honest and ended up fourth by the first corner. I knew I had a lot of work to do but by the time I took my joker I came out with a clear track," said Tom Constantine. "It was a really good final, another win is great for my Championship, every little helps!"
In round five, Luke Constantine fended off early pressure from Tom to lead through the first half of the race before his brother dropped back with gearbox problems. Solberg Hansen took a lap one joker to release himself from the traffic and climbed up to second by the end of lap six, picking off those ahead as they took their jokers. Sayer scored his second career podium in third.
James Constantine was fifth, Hvaal Engh scored her best result so far in sixth and Tom Constantine maintained his points lead in sixth. Welsh driver Archie Thomas (Llandysul) was seventh but Wroot retired with engine problems.
"It was a really good race, I had a close battle with Tom at the start, then he had a problem so I managed to pull away and after that I got my head down to take the joker on the last lap to get the win," said Luke Constantine. "It's really good to win here and we got close to winning at Croft last time we were there so I'll be going for the same at the next round."
Ovenden, Hudson, Weatherley and Bellerby claim single-make spoils 
Reigning Champion Simon Ovenden (Canterbury) returned to the Swift Sport Rallycross Championship for round four at Pembrey Circuit and scored his second win of the campaign, passing points leader Morgan Bailey (Lincoln) when the leader made a mistake on the loose section on lap three and dropped down the order. As Ovenden went on to score victory, Bailey recovered to second and John Ward (Dublin) completed the podium on his Swift Sport debut.
2017 Junior RX Champion Tom Llewellin (Haverfordwest) led the round five final on the opening lap, but lost track position when he took his joker on lap two. Max Weatherley (Faversham) took the lead and maintained the advantage after taking a late joker, fending off pressure from Ovenden to score his maiden victory. Llewellin scored a home podium in third, crossing the finish line just two tenths of a second ahead of Bailey, who continues to lead the points.
Kris Hudson (Harrogate) put poor fortune from the first rounds of the BMW Mini Rallycross Championship behind him to score victory in round four after a first lap battle with David Bell (Ferryhill), who finished second to take the points lead, followed into the joker by Drew Bellerby (Northallerton), who scored her first podium of the season in third.
Bellerby then took the lead of the round five final on Sunday when Bell took his joker, the former Junior RX race-winner extending an impressive margin at the head of the field allowing her to take the joker on lap five and maintain an advantage of over five seconds to score her first win of the season, as Bell lost second to Keifer Hudson (Harrogate) on lap five, but extended his points lead with third.
Highlights of the MSA British Rallycross Championship will be broadcast on BT Sport, Motorsport.TV and online via BARC TV in 2018. Programme times will be published when available.
Full results can be found on the MSA British Rallycross Championship website here.
The next round of the MSA British Rallycross Championship takes place at Croft Circuit in North Yorkshire [July 29].