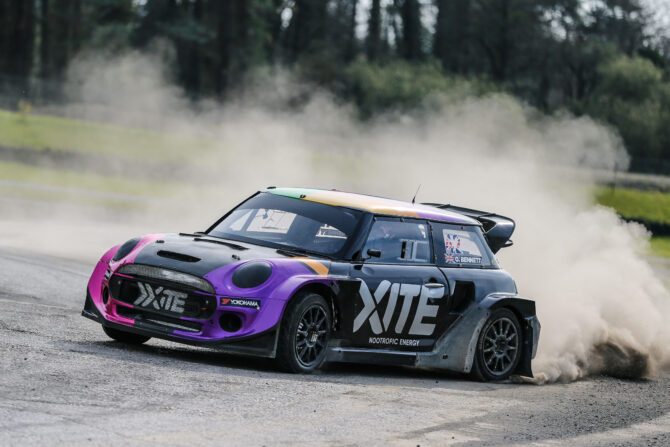 Oliver Bennett and Xite Energy Racing enter 5 Nations BRX opener at Lydden Hill
The Xite Energy Racing team and lead driver Oliver Bennett will compete in the opening round of the Motorsport UK British Rallycross Championship 5 Nations Trophy at Lydden Hill next week.

Bennett will race the BMW Mini Cooper Supercar that the team developed for the FIA World Rallycross Championship in 2018, and has subsequently been campaigned by Bennett in Nitro Rallycross last year.

The Bristol-based driver raced the Mini in the final two rounds of 5 Nations BRX in 2020 and challenged for victory against World RX regulars, and now returns to the circuit where he first tested a rallycross Supercar, in 2017, targeting a maiden career outright win.

Bennett asked his fans on social media this week if he should enter the Lydden Hill event, which already boasts a strong Supercar contingent for the first two of 11 rounds within 5 Nations BRX in 2022, and such was the response that he will race in round one. Clashing commitments mean he will not compete in round two, but will instead head straight for the airport after the first round has finished.

"The fans voted for me to race at Lydden, so a shout out to all of them on Instagram. It's always great to race a Supercar at Lydden Hill, it's a track that is really fast and flows well. It has some of the most exciting high-speed corners in rallycross so it will be nice to be there in the Mini. The car hasn't had a rebuild after being in America for Nitro RX last year, so we'll get one more event out of it now before it's rebuilt," said Bennett.

"And, we'll be back at Lydden with Nitro RX in June, so it will be good to get some seat time at the circuit. After this event my focus is on Nitro RX and electric rallycross, so seat time in the Mini will be limited from here on, so it will be really nice to get out and have a good run in it. We'll be looking to go for the win, there's obviously some good drivers and some good new cars on 5 Nations BRX, so it won't be easy, but that will be the plan, and to just enjoy it too."

The full entry list for the Lydden Hill event on April 16 and April 18 will be published in the coming days.