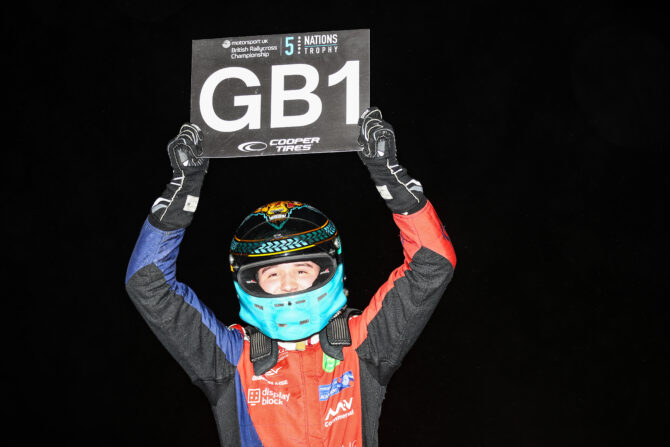 Patrick O'Donovan becomes youngest-ever 5 Nations BRX Champion
O'Donovan claimed maximum points from the event, topping the intermediate classification, winning the first semi-final in emphatic style despite stalling on the start line and having to battle his way back through the field to take the victory.
Then, in a rain-hit final, run under floodlights in front of a massive crowd, O'Donovan made the best start and ran free at the front of the order to claim the win by an incredible 38 seconds.
Title-contenders Julian Godfrey (Ford Fiesta) and Derek Tohill (Ford Fiesta) completed the podium, Godfrey having battled with fellow former champion Ollie O'Donovan (Ford Focus) in the early stages of a torrentially wet encounter.
Fireworks after the race marked both the championship win and the November 5th celebrations in the UK. Michael Sellar (Citroen DS3) equalled a personal-best result in fourth, while Swedish driver Daniel Thorén (Volkswagen Beetle) was fifth and Steve Hill (Mitsubishi Evo) was sixth. 5 Nations BRX business will conclude at Lydden Hill tomorrow, when the support classes will compete in the remaining qualifying and finals races, where two titles are still to be decided. A whole new round of Supercars will determine the runner-up position in Supercar.