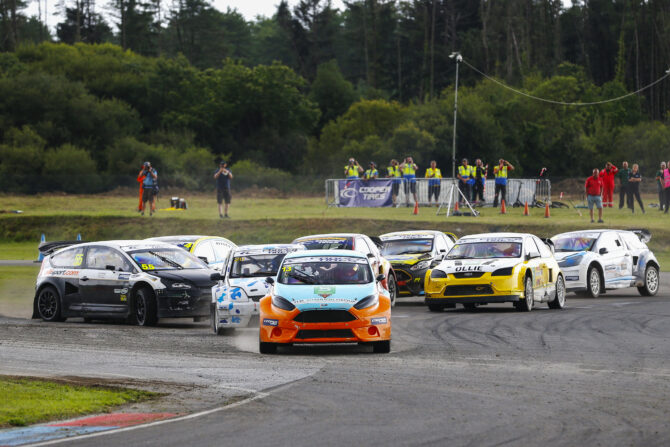 Patrick O'Donovan makes Pembrey his own with fifth 5 Nations BRX win of 2022
Motorsport UK British Rallycross Championship 5 Nations Trophy points' leader Patrick O'Donovan (Ford Fiesta) made the Pembrey Circuit his own by winning the eighth round of the series at the Welsh circuit, his fourth victory from four starts at the venue in 2022 (August 28).
O'Donovan once again dominated en route to his fifth win of the campaign, fastest in both qualifying sessions before winning the semi-final and the final from the front, only conceding the lead of the last race of the weekend when he took his compulsory joker lap a tour earlier than that of title rival Julian Godfrey (Ford Fiesta).
Six-time champion Godfrey kept his championship hopes alive with another podium finish in second, while O'Donovan's father Ollie (Ford Focus) climbed to third on the opening lap from the back row of the final grid and held the position to the finish.
Tristan Ovenden (Citroen DS3) fought back from a difficult qualifying to finished fourth, while reigning champion Derek Tohill (Ford Fiesta) finished fifth ahead of Steve Hill (Mitsubishi Evo) in sixth. Following his career best result in round seven, Mike Sellar (Citroen DS3) again made the final and finished seventh.
Former champion Nathan Heathcote (Citroen C4) qualified on the front row of the grid but suffered broken left-rear suspension from turn one contact and retired on the opening lap.
Bradley Westgarth (Mitsubishi Evo) retired with broken suspension in Q2, ending his day, while Roger Thomas (Ford Fiesta) finished fifth in semi-final two and didn't make the final.
Motorsport UK Supernational Rallycross Championship
Jason Bleasdale commandeered brother Darren's orange-liveried Vauxhall VX220 for round nine of the series following engine failure in his own machine on Saturday and took a clean sweep of points despite Paige Bellerby (Lotus Exige) putting up a significant battle. The points haul was enough to claim his second consecutive championship win in the category.
Motorsport UK Junior Rallycross Championship
Max Langmaid regained the championship lead with three qualifying race wins and second in the final, but it was Will Ovenden who made it back-to-back wins with another victory at Pembrey. Max Watts led the final early on but spun out of the lead, while Langmaid lost time behind a back-marker having taken his joker, ending his victory hopes. Owen Robbins hit trouble after being disqualified in Q2 but finished third in the final from the back of the grid, and is just five points off the leader in the tightest category in 5 Nations BRX.
BMW MINI Rallycross /ALL4 MINI Championships
Dave Bellerby clinched the BMW Mini title with another strong result, taking maximum points thanks to fastest times in each of the three qualifiers and victory in the final. He was chased hard by Ben Sayer throughout the final race, Sayer finishing second with Tom Constantine beating Dave Ellis to the line for third.
Despite a strong challenge from Edward Stallard, newly crowned David Bell took another clean sweep in the ALL4 MINI category.
SwiftSport Rallycross Championship
Max Weatherley led the Swift Sport final from lights to flag on his way to another win, while title protagonist Luke Constantine drove to second place. In a fight to complete the podium, Chris O'Hara came out on top of a hard battle with James Constantine for third.
RX150 Rallycross Championship
New champion Ben Hardy finished second to guest race ace Jann Mardenborough in the RX150 final, as Mardenborough again dominated the category, winning all but one of the races on track, W Series star Jamie Chadwick the only other driver to take a race win in round nine of the series. Nick Priddy finished third in a frenetic final.
Super Retro /Retro
Tony Lynch (Toyota MR2) dominated qualifying and the final to celebrate winning the Retro Championship title, while Dan Swayland (Ford Escort) came out on top of an early final battle with Rob Buckmaster (Ford Fiesta), who finished third with his front-wheel-drive machine.
In Super Retro Allan Tapscott (Ford Escort) took the win in the penultimate round, in part thanks to new champion John Cross (Lancia Stratos) spinning in a lap one battle for the lead with Ray Morgan (Ford Escort), who crossed the line in second, having posed a stiff challenge for the win. Nigel Davey claimed third (Peugeot 205).