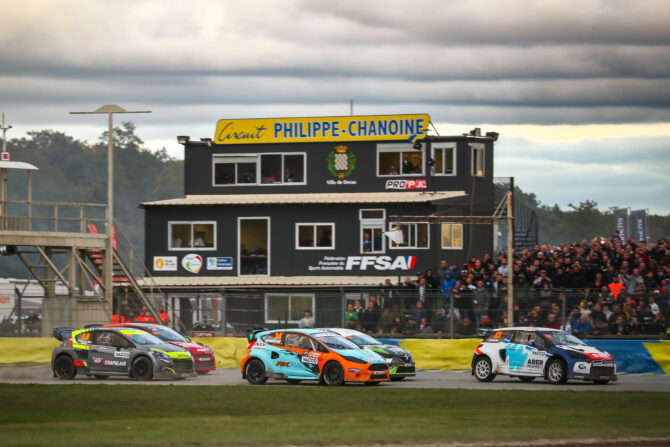 Patrick O'Donovan scoops top 5 Nations BRX honours in French encounter at Dreux
For the first time ever, the Motorsport UK British Rallycross Championship 5 Nations Trophy joined a round of the French Rallycross Championship for a thrilling weekend of rallycross action at Dreux (October 15-16).

Supercar contenders from 5 Nations BRX participated in a 34-car strong entry of top-flight machines, which included a late-evening night race for Heat 3 on Saturday, and it was Championship leader Patrick O'Donovan (Ford Fiesta) who came out on top to net his sixth win of the season and extend his series lead.

5 Nations BRX results were established by extracting registered drivers from the Intermediate and Final classifications and awarding the results and points accordingly.

O'Donovan was twice fastest of the 5 Nations BRX competitors, in Heats 1 and 3, but was slowed by a puncture in Heat 2, while reigning champion Derek Tohill (Ford Fiesta) topped the time sheets in Heats 2 and 4, but was penalised for an incident in Heat 3.

At the conclusion of the Heat stages racing on track with the best of the French Rallycross Championship drivers, 18-year-old O'Donovan came out on top, ahead of Tohill and Tristan Ovenden (Citroen DS3), to complete the podium.

Ollie O'Donovan (Ford Focus), Steve Hill (Mitsubishi Evo), Dom Flitney (Volvo C30) and Mike Sellar (Citroen DS3) completed the list of points scorers, but unfortunately Julian Godfrey (Ford Fiesta) was unable to start due to an issue at technical scrutineering.

With two rounds of the series remaining as part of a double-header weekend at Lydden Hill on November 5-6, Patrick O'Donovan leads the standings by 41 points ahead of Godfrey, with Ovenden a further five points adrift, two ahead of Tohill.