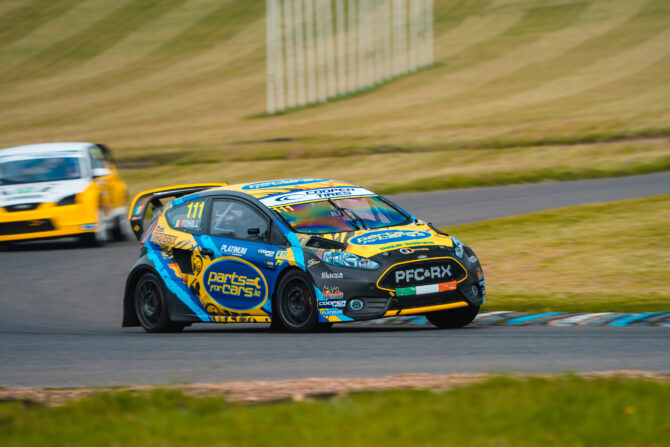 Reigning 5 Nations BRX Champion Tohill returns for Lydden Hill-season opener as GB1
Reigning Motorsport UK British Rallycross Championship 5 Nations Trophy Champion Derek Tohill will return to the series at the opening rounds of the 2022 season next month carrying the coveted GB1 number on the side of his Ford Fiesta Supercar.

The multiple European and Irish Rallycross Champion contested only his second full season in the British Rallycross Championship 5 Nations Trophy last year and after a hugely-competitive campaign, which included four event winners, he secured the title by just two points.

The PFCRX team's Ford Fiesta Supercar, which together with driver Tohill has already won the opening two rounds of the Irish Rallycross Championship this year, will be adorned with the famous GB1 number, awarded to the winner of the British crown each year, for its return to Lydden Hill next month (April 16-18).

Tohill joins a growing grid of new and returning Supercar contenders for the Lydden Hill weekend, before 5 Nations BRX then visits some of the best rallycross venues in Western Europe to form it's 11 rounds in 2022, including Pembrey in Wales, Mondello Park in Ireland and Dreux in France.

"2021 was an exceptional season for myself and the team in clinching both the Motorsport Ireland Irish Rallycross Championship and the Motorsport UK British Rallycross Championship 5 Nations Trophy outright. Both championship's prize givings have been delayed due to the pandemic and the 5 Nations BRX awards ceremony take place on the eve of the rest day between Round 1 and Round 2 at Lydden. I feel it's important to support prize givings, win or lose, so I was always going to attend, and now I'm going to bring the car and team too," said Tohill.

"Lydden Hill is my favourite circuit in the UK, LHMC always put on a good show there and the crowd appreciate and understand rallycross, so it would be rude not to compete. We will see what we do after that, the 5 Nations BRX calendar looks really good with the four rounds at Lydden, two at home for me in Mondello Park and one at Dreux in France. All of those venues have been very good to me, I have been very lucky to experience a European Championship victory in the TouringCar class at Dreux in 2012. We'll go to Lydden with the aim of enjoying the event, that's the most important objective. I have already had two Irish RX rounds this year in Ireland so there has been no proper break for us, but we had enough time off throughout the pandemic, it's time to make hay while the sun shines."

The British Rallycross Championship 5 Nations Trophy will get underway at Lydden Hill for a double-header weekend on April 16-18. See full calendar below.