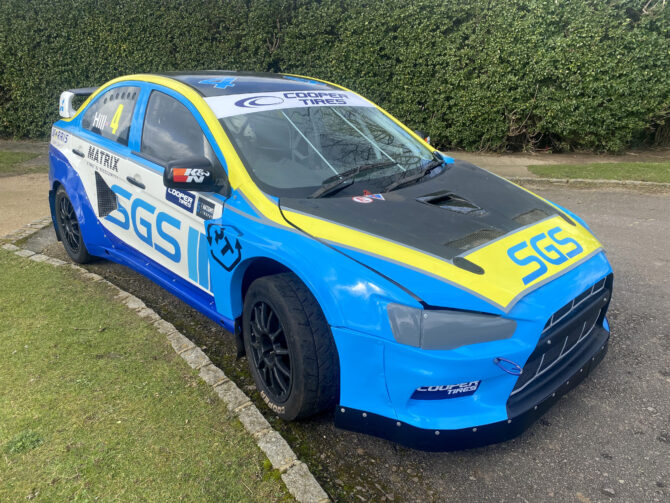 Steve Hill targets podiums in 5 Nations BRX 2022 with Mitsubishi Supercar
Former event-winner Steve Hill is targeting podium finishes in the Motorsport UK British Rallycross Championship 5 Nations Trophy in 2022 with his unique Mitsubishi Evo X Supercar.

One of the most experienced drivers in the sport, Hill will celebrate his 72nd birthday this year, but remains a front-running contender in 5 Nations BRX.

Had things gone differently for the former rally champion in 2021, he may have claimed a long-awaited maiden victory with his Evo X Supercar, but poor fortune, notably at Knockhill and Pembrey, dropped him out of victory contention.

The 038 Engineering-led team has continued developing the Evo X over the winter in a bid to improve the car's handling to better suit Hill's driving style, and the team will embark on a full-season campaign in 2022, as the headline Supercar category in 5 Nations BRX visits Lydden Hill [England], Pembrey [Wales], Mondello Park [Ireland] and Dreux [France] across 10 rounds.

"I think we can find a bit more pace this year, especially in the wet. We're working towards getting the car to turn in better without compromising traction out of the tighter corners," said Hill. "The last two seasons haven't gone as the championship planned due to restrictions surrounding Covid-19, but this year is looking much better, and we can't wait to get racing underway on Easter Weekend at Lydden Hill. I'm especially looking forward to the extra new events and the additional competition. We've enjoyed success a Mondello Park in the past and I'm very much looking forward to racing with the French Rallycross Championship for the first time at Dreux. The level only increases every year in 5 Nations BRX and it gets more and more difficult to get on the podium, but with so many points scoring rounds this year, and a lot of double-header weekends, clearly reliability will be the key, along with performance."

The British Rallycross Championship 5 Nations Trophy will get underway at Lydden Hill for a double-header weekend on April 16-18. See full calendar below.