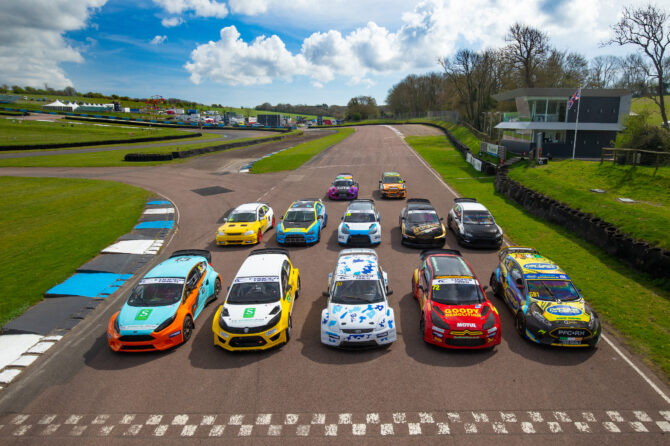 Test and Media day raises anticipation for 5 Nations BRX opener at Lydden Hill this weekend
The pre-season media and test day was held at the same venue on Thursday in the build-up to the event, where a host of teams and drivers took advantage of track time to prepare for the first double-header of the season this weekend, where…
Reigning Champion Derek Tohill returns with his Ford Fiesta, adorned with the coveted GB1 number.
Six-time title-winner Julian Godfrey embarks on a quest to claim a record seventh crown with his Ford Fiesta.
Former champion and 2021 runner-up Ollie O'Donovan debuts the world's first Proton Iriz RX at the Home of Rallycross.
RX150 Rallycross Champion Patrick O'Donovan graduates to the headline category as team mate to his father, racing a Ford Fiesta.
Nitro RX driver Oliver Bennett, who has just been announced as partnering Jenson Button in Nitro RX this year, will complete with his BMW Mini Cooper.
Tristan Ovenden (Citroen DS3), Mike Sellar (Citroen DS3) and Steve Hill (Mitsubishi Evo) return hoping to build on solid pace from 2021 and challenge for podiums and wins from the opening round.
Volvo C30 racer Dom Flitney begins his first full season campaign in the headline category.
Rallycross stalwart Andy Grant returns to Supercar action with his ex-Will Gollop Ford Focus.
Race-winner Jack Thorne competes in a Citroen C4 following victory at Lydden Hill in the final round of the 2021 campaign.
Welshman Roger Thomas aims for personal best result with his M-Sport built Ford Fiesta RX.
Bradley Sampson steps up to Supercar with self-developed Mitsubishi Evo.
A strong contingent of Supernational competitors will battle for victory in the top two-wheel-drive category, including reigning champion Jason Bleasdale (Vauxhall VX220) and former title-winner Paige Bellerby (Lotus Exige).
The stars of the future, from the ages of 14-17 years of age will race door-to-door in the Motorsport UK Junior Rallycross Championship, driving single-make Suzuki Swifts.
Stars of today, Catie Munnings (Extreme E driver) in the Swift Sport category and Sebastian Eriksson (World RX race-winner), Mike Chen (Red Bull TV presenter) and Sam Sunderland (x2 Dakar Rally winner) in the RX150 category will compete against newcomers and experienced racers alike.
Two-wheel-drive and four-wheel-drive BMW Minis feature in the MINI and ALL4 categories, classes that continue to grow in strength and popularity.
The rich history of rallycross is celebrated by the Retro Rallycross Championship, which features 22 eclectic cars from throughout the five decades of the sport.
Saturday (April 16) and Monday (April 18) feature entire individual full rounds, meaning maximum action for fans attending the event. The racing on track is accompanied by attractions for all the family off-track, and a fully accessible paddock area for fans to get amongst the heart of the event for themselves.