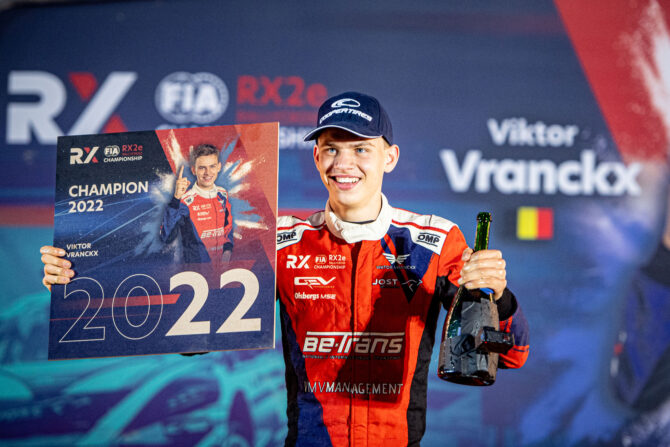 Vranckx set to join 5 Nations BRX Supercar grid with RX2e machine
Belgian star Viktor Vranckx, the reigning FIA RX2e Champion, will join the Motorsport UK British Rallycross Championship 5 Nations Trophy for a selected programme of events in 2023 with his VMV Racing team.
The 17-year-old will start his rallycross campaign with the opening rounds of 5 Nations BRX at Lydden Hill on Easter Weekend (April 8 & 10), driving the electric four-wheel-drive 250kW, 510Nm torque RX2e machine, developed in conjunction between Swedish outfit OlsbergsMSE and Spanish electro-mobility firm QEV Technologies for the 2021 World Rallycross Championship season.
Vranckx delivered an eye-opening maiden international rallycross campaign – aged just 16-years-old – in RX2e in 2022, winning two rounds from five events and claiming the title at the final round in Spain.
While his full plans for 2023 are yet to be revealed, he will compete in selected rounds of 5 Nations BRX with the same car that he raced to the RX2e title last season, starting at Lydden Hill, a venue he first visited as a child in the paddock, his family supporting several different Belgian competitors that have competed in the UK over the last two decades.
"I'm very excited to race in 5 Nations BRX at Lydden Hill, the first time an electric car will be raced in the Supercar category," said Vranckx. "I had an amazing first season in RX2e last year and I really enjoyed racing against the Supercars in the RallyX Nordic series. But, to start my 2023 rallycross season at Lydden Hill, where I went many times as a kid in the paddock to race in the Easter Weekend event will be very special for me and my family."
Vranckx's participation is expected to be part of a number of electric machines competing in the top-flight 5 Nations BRX Supercar category this year, the Belgian driver having already competed head-to-head with internal combustion engine Supercars in the RallyX Nordic championship last season.
Find the full 5 Nations BRX calendar below, while tickets to the Lydden Hill Easter Weekend event can be purchased here.