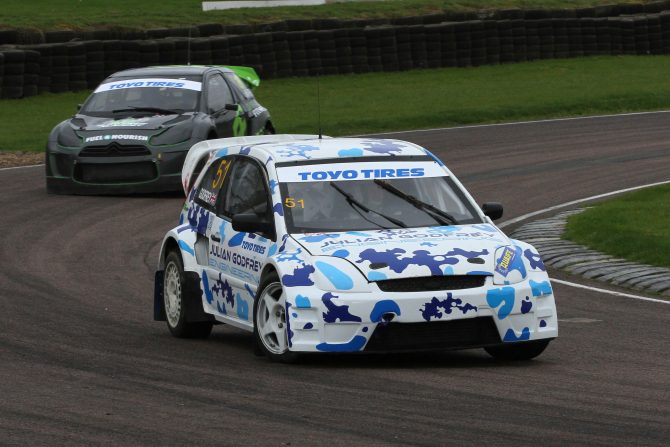 Youth Vs Experience battle set to continue in British RX at Lydden
It's a battle royal between the rising stars and established order in the Toyo Tires MSA British Rallycross Championship in 2017, with the contest set to continue in the sixth round at Lydden Hill in Kent, on August Bank Holiday Monday [August 28].
 
Five-time Champion Julian Godfrey's (Heathfeild) 2017 campaign began with technical troubles in round one at Croft Circuit followed by a crash in the closing stages of round two at Lydden Hill, and it was debutant Nathan Heathcote (Ashford) who scored an emphatic victory in the opening round of the season, before 2007 Champion Ollie O'Donovan (Iver) triumphed at Lydden Hill.
 
But, a trio of wins at Pembrey (round three) and Mondello Park (rounds four and five) elevated Godfrey and his Ford Fiesta to the top of the order. Heading into round six this weekend, Godfrey tops the standings by three points from Oliver Bennett (Bristol). At the wheel of an OlsbergsMSE-built Ford Fiesta Supercar, Bennett has impressed in his first ever season of rallycross. Fourth in round one was his only non-podium finish so far, and the former motocross rider returns to the circuit at which he has most experience this weekend.
 
O'Donovan is third in the points. He finished second to Godfrey in round four at Mondello Park and qualified top in round five, but rolled out in the semi-finals. Former FIA European Rallycross Championship event-winner Kevin Procter (Northallerton) is fourth in the standings and is targeting his first win of the season this weekend with Super2000-derived Ford Fiesta Supercar. In his first year in top-level category, reigning Swift Sport Rallycross Champion Heathcote has impressed with his pace but has been out of luck on several occasions in 2017. The Lydden Hill local has been on the podium every time he's made the final this year and is still in the title hunt.
 
Mitsubishi Evo racer Steve Hill (Thame) produced his most competitive performance of the season so far in the Irish double-header event at Mondello Park with a brace of fifth place finishes, and qualified on the front row of the grid at Lydden Hill in April, while Mad Mark Watson (Barnard Castle) is sixth in the Supercar points in his Citroen Xsara. Jake Harris (Canewdon) rolled his Citroen DS3 in testing for the Mondello Park rounds but the car was repaired in time to compete, where the newcomer continued to build on his experience and is seventh in the standings heading to his home circuit.
 
British Touring Car Championship Team BMR owner Warren Scott (Buntingford) led the final last time the British RX series visited Lydden Hill, but was denied victory by a puncture. Regardless, he still finished second and is another driver targeting a first win this weekend. James Grint (Kimpton) debuted a new Mitsubishi Mirage RX Supercar at Pembrey in May and finished fourth. He races at Lydden Hill this weekend before the Spencer Sport team heads to Loheac in France, where he will join O'Donovan in competing in the penultimate round of the FIA European Rallycross Championship.
 
Andy Grant (Barnstaple) makes his fourth start of the campaign, looking to bounce back from electrical and transmission problems at Mondello, while Pat Doran (Dolton) takes the wheel of the Citroen C4, alongside Heathcote, Scott and Harris in the four-car LD Motorsports squad.
 
Lotus Exige racer Paige Bellerby (Northallerton) heads to Lydden Hill in the same position as she did earlier in the year, leading the MSA Supernational Rallycross Championship standings. The oldest daughter of multiple rallycross champion Dave Bellerby won the opening three rounds of the season, but it was 2016 champion Tony Lynch (Wigan) and Tristan Ovenden (Canterbury) who claimed top honors in the Irish double-header at Mondello Park, Ovenden closing the cap to Bellerby in the points race with his Renault Clio V6, while Tony Lynch got his season back on track with his Ford KA after a difficult start to the year.
 
Allan Tapscott (Umberleigh) will return to British RX having been forced to withdraw from the Mondello weekend at the last minute due to suspension problems, and Todd Crooks (Royston) heads go Kent seeking his third podium of the season. Guy Corner (Northallerton) had a challenging weekend in Ireland, getting caught up in another drivers' accident, but travels South hoping for a repeat of his round two podium, where he placed second despite a substantial accident in the qualifying races.
 
Former rallycross drivers Bruce Bamber (Sherborne) and John Cross (Basingstoke) both return to the sport at Lydden Hill, racing a Honda Civic and Seat Leon respectively; Cross converting his circuit-racing car to rallycross trim to return after a break of 17-years. Paul Maybourne (Sittingbourne) will make his debut in an ex-Brian Jukes Audi TT TDi.
 
Welshman Tom Llewellin (Haverfordwest) had his unbeaten run of victories in the MSA Junior Rallycross Championship brought to an end in round four at Mondello Park, where Norwegian Ole Henry Steinsholt (Norway) claimed his first win in the category. Llewellin returned to winning ways in round five, and leads Steinsholt in the standings by 23 points heading to Lydden Hill. 2016 series runner up Tom Constantine (Richmond) has been on the podium at every event except round three at Pembrey and is third in the standings, two down on Steinsholt and three ahead of fourth placed Morgan Wroot (Doncaster) who finished second at Lydden Hill in April. Tom Middleton (Maldon) has finished fourth in all but one of the five rounds so far in 2017 and is fifth in the points, ahead of James Constantine (Dalton-on-Tees) in sixth.
 
In the supporting rallycross championships, Kent racer Simon Ovenden (Canterbury) tops the Swift Sport Rallycross Championship table thanks to a pair of wins earlier in the year, but it was Rob Shield (Cleasby) who claimed a brace of wins at Mondello Park and is now just seven points behind. Round one winner Chris Woollett (Herstmonceux) is third in the points. Lydden Hill locals Don Macleod (Deal) and Rob Maynard (Deal) are split by just four points in the battle for sixth, while Max Maxted (Rochford) finished on the podium in only his third start, in round five. Joe Booth (Maidstone) will make his rallycross debut at Lydden Hill in the single-make class.
 
Chrissy Palmer (Chichester) leads the RX150 Championship for single-seater buggies, ahead of Kirk Langley (Liverpool) and Jake Taylor (Retford). Palmer passed Langley in the last corner of the final in round five to score his third win of the season, as John Ward (Dublin) was hampered by clutch problems throughout the weekend. Ward claimed victory in round two at Lydden Hill in April and will be looking to make amends for his Irish disappointment this weekend.
 
Experienced rallycross competitor Paul Coney (Dartford) remains unbeaten in the Super1600 Rallycross Championship this season, but faced stiff opposition from Michael Boak (Jarrow) at Mondello Park and Darren Scott (Sittingbourne) at Lydden Hill in April. 2015 Champion Craig Lomax (Knottingley) is currently second in the points, while 2014 Champion Jack Thorne (Tiverton) returns to the category this weekend with his title-winning Citroen C2. In the BMW Mini Rallycross Championship, former Champion David Bell (Ferryhill) leads the order from former Junior RX racer Drew Bellerby (Northallerton), who claimed victories at Pembrey and Mondello. Martin Hawkes (Stockton on Tees) won the opening two rounds of the year and is third. Leigh-Anne Sedgwick (Paddock Wood) leads the Hot Hatch Rallycross Championship, while Polish campaigner Tomasz Marciniak (London) won round two at Lydden Hill and returns this weekend. Jason Chidwick (Deal) and Szymon Zatylny (Feltham) make their British RX debuts in a pair of Citroen Saxos.
 
Four new drivers, all campaigning Ford Escorts, will join the Retro Rallycross Championship ranks at Lydden Hill, including international rallycross veteran, Jos Sterkens (Belgium). Stephen Richards (Lynton) Gary Mason (Chatham) and Vincent Sillett (Chatham) will also make their first appearances, while round two winner Barry Stewart (Barcombe) will return to take on points leader Ray Morgan (Hastings).
 
Full event entry list can be found on the MSA British Rallycross Championship website here.
 
Action gets underway at Lydden Hill on Monday August 28 from 09.00am. Adult admission £20, reductions for concessions. Children 13 and under (accompanied) are admitted free of charge. More details here.
 
Details of how to find Lydden Hill are available on the circuit's website here.