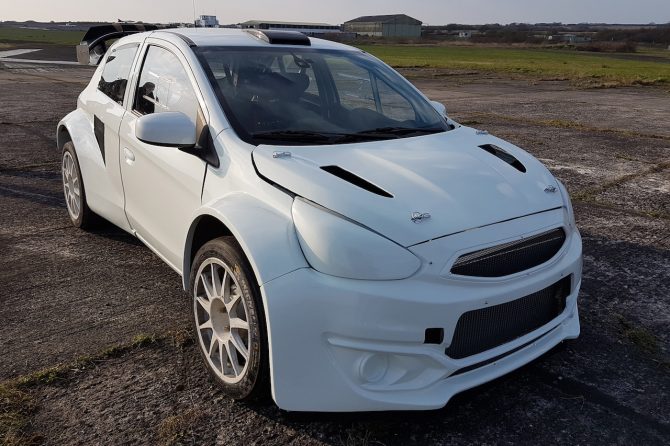 Grint gets new Mirage Supercar for British RX
British RX podium finisher James Grint will debut a brand-new Mitsubishi Mirage RX Supercar in the second round of the Toyo Tires MSA British Rallycross Championship at Lydden Hill next month (April 17).
Grint finished on the podium at the same event last year, but will make his first appearance in the Spencer Sport Mirage RX at Lydden Hill and complete the remaining eight rounds of the British RX season. The all-new car has been built by Mpart AB in Sweden and will be run by West Wales-based rally preparation team, Spencer Sport.
The Mirage RX Supercar features a longitudinally-mounted 2.0 litre engine, with a Unic five-speed transmission. The team has already begun testing the new car since it arrived in the UK earlier this month, and is targeting appearances in the FIA European Rallycross Championship and FIA World Rallycross Championship from 2018. "I'm really excited to be part of this new project with Spencer Sport," said Grint, who previously raced a Peugeot 208 Supercar in British RX and Euro RX for Albatec Racing. "The car looks amazing and I'm confident it will have the performance to match. It's been a long winter break, so I'm really looking forward to driving the Mitsubishi and getting that Supercar adrenaline rush again!"
Spencer Sport has experience of running the Mitsubishi R5 variant of the R5 in rallying, along with successful programmes with R5 Fiestas. "With rallycross becoming ever-more popular with drivers, teams and spectators, we feel that now is the right time to get involved with the sport", said Spencer Sport team manager, Charlie Jukes. "We already work closely with Mpart on the rally programme, so when James approached us about rallycross, all of the pieces fell into place to allow this new project to move forward."