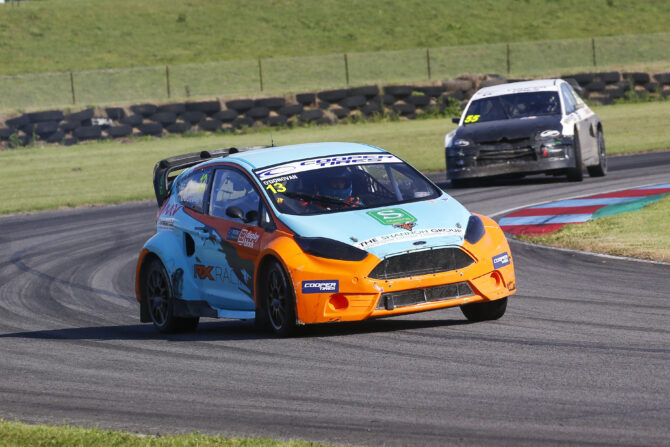 Patrick O'Donovan extends 5 Nations BRX lead with Pembrey victory
The Motorsport UK British Rallycross Championship 5 Nations Trophy returned to South Wales and the Pembrey Circuit for round seven, where after an intense day of action in baking hot sunshine, it was series leader Patrick O'Donovan who claimed a fourth win of the campaign to extend his points' advantage (August 27).
O'Donovan battled to victory in semi-final two despite dropping to last place on the opening lap, then started on pole position for the final, which he led from the front, only dropping to second position for a single lap when he took his compulsory extra-route joker a lap earlier than returning former champion Nathan Heathcote (Citroen C4).
2017 champion Heathcote built momentum throughout the day on his return to #5NationsBRX and was rewarded with runner-up position, while six-time champion Julian Godfrey finished third.
Michael Sellar (Citroen DS3) followed Godfrey into the joker on the opening lap of the final and eventually finished fourth, despite his car catching fire on the final lap, ahead of Steve Hill (Mitsubishi Evo), the latter having qualified second on the grid but got pushed off in the opening corner. In another Mitsubishi Evo, Bradley Westgarth finished sixth.
2007 Champion Ollie O'Donovan (Ford Focus) ran second on the opening lap, but was overtaken by Heathcote on lap two when O'Donovan suffered a front-left puncture. He finished the race in seventh. Tristan Ovenden (Citroen DS3) was hampered from the opening lap with a broken intercooler following first corner contact, the Mondello Park race winner making it to the end in eighth.
Reigning champion Derek Tohill (Ford Fiesta) didn't make the final, he suffered broken left-rear suspension after contact from Godfrey. Welshman Roger Thomas (Ford Fiesta) meanwhile retired from the day after the opening heat with clutch issues. His team is working on a solution for the next round on Sunday.
Motorsport UK Supernational Rallycross Championship
Mechanical troubles for Jason Bleasdale (Vauxhall VX220) ended the points' leaders charge as he was forced to pull off the track straight after the start of the final, leaving his brother Darren (Vauxhall VX220) to battle with Paige Bellerby (Lotus Exige) for the win. After a close battle, Bleasdale came out on to secure a first 5 Nations BRX victory, but just 0.6 seconds ahead of Bellerby.
Motorsport UK Junior Rallycross Championship
Owen Robbins, Max Watt and Max Langmaid took a qualifying race win each, with Robbins securing pole position for the final. Watt lost out in a three-wide turn one battle in the final, where Will Ovenden made up ground and overtook Robbins for the lead on lap three, an advantage he would retain to the finish to claim victory ahead of title contenders Robbins and Langmaid.
BMW MINI Rallycross / ALL4 MINI Championships
Bradley Turner's win in qualifying one was the only blot on Dave Bellerby's score card through the event, the championship leader then winning every other time he hit the circuit to claim another win in a strong season to extended his championship advantage. Andrew Hawkes overcame a broken driveshaft in qualifying to finish second, with Tom Constantine third.
ALL4 MINI newcomer Edward Stallard went straight to the top step of the podium on his debut in the category with a brand-new car, beating series leader David Bell and Martin Hawkes to the finish flag.
Swift Sport Rallycross Championship
Max Weatherley gained a valuable championship boost by dominating the final in the single-make Swift Sport category to extend his series lead. Behind, cousins James and Luke Constantine battled for the runner-up position, James coming out on top, while Chris O'Hara returned to the series and finished fourth. Weatherley leads the standings by four points.
RX150 Rallycross Championship
A stellar line-up brought serious challenges to the regular contenders and it was Nissan driver Jann Mardenborough who took the win ahead of double W Series Champion Jamie Chadwick. Ben Hardy finished third, the latter doing enough in the eighth round of the series to claim the 2022 title.
Super Retro / Retro
Terry Moore (Austin Mini) started on pole for the Retro Rallycross final, alongside championship leader Tony Lynch (Toyota MR2) but despite a strong challenge could find no way to overtake Lynch's Toyota, the latter securing the 2022 crown. Rob Buckmaster (Ford Fiesta) took third.
John Cross (Lancia Stratos) didn't take it easy to preserve his significant Super Retro championship lead, taking maximum points from the event and the final win, despite stiff opposition from Allan Tapscott (Ford Escort) who pushed Cross hard in his return to the series. Nigel Davey (Peugeot 205) took third when Ray Morgan (Ford Escort) spun on the final tour.