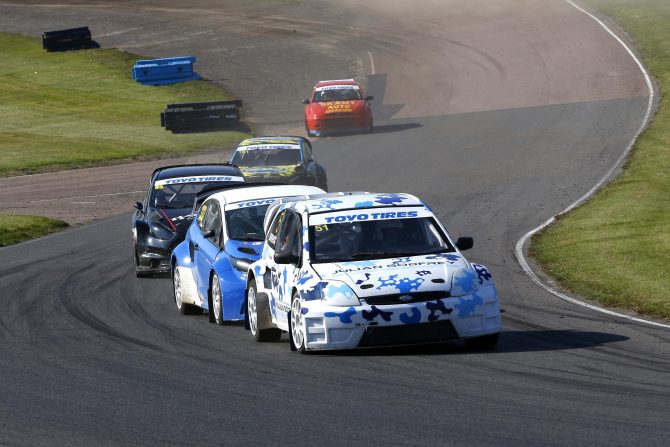 Godfrey scores Lydden Hill win to re-take British RX points lead
Former champion Julian Godfrey (Heathfield) scored his third win of the 2019 Toyo Tires Motorsport UK British Rallycross Championship season at Lydden Hill on August Bank Holiday Monday (August 26) to re-take the points lead.
Godfrey entered the fifth round of the eight-event series tied at the head of the table with Derek Tohill (Dublin), who had won his first British RX event in April at Lydden Hill, and it was Tohill who set the fastest time in Q1 to take an early advantage.
Godfrey struck back with the fastest time in Q2 and Q3 to take pole position in the final, Tohill battling in the pack to take second on the grid.
Jack Thorne (Umberleigh) make his first Supercar start in three years and immediately laid out his intentions with the fastest time in practice. He qualified on the front row for the final and was the best of the Ford Fiesta trio away from the line to take an early lead.
Tohill meanwhile was passed by Roger Thomas (Llandysul) at turn one, as Godfrey re-took the lead from Thorne on the opening lap of the race.
Steve Hill (Thame) took his joker on lap one and ran sixth, but overtook Tohill when the two-time European Rallycross Champion took his joker on lap two, the pair fighting over track position for the following two laps until Tohill re-took the advantage.
Godfrey was the first of the top three to joker on lap four, initially losing track position to Thorne and Thomas, but the five-time British RX champion moved back into the lead after they took the joker on lap five, and controlled the race to take his third win of the year.
"Today went very well, the car has been very good today and we have made some changes that have improved the front traction," said Godfrey. "I made a good start in the final. Jack got a slightly better start but he ran a bit wide and I tucked up the inside of him, we touched and it bent my steering arm. The steering wheel was really shaking so I took the joker early so I could be more careful on the last couple of laps to just get the car home. I just got it to the end. I haven't actually won that many finals at Lydden, so I'm very, very happy with the result."
Thorne finished second from Tohill and Hill who both passed Thomas in the closing stages. Andy Grant (Barnstaple) drove his Ford Focus to sixth and Simon Horton (Clitheroe) finished seventh in his self-built Subaru Impreza.
Former British RX podium finisher Oliver Bennett (Bristol) was forced to withdraw from the event after Q2 due to an overheating engine in his Ford Fiesta, while Steve Mundy (Ludlow) retired in Q2 when his car lost its left-front wheel.
Ovenden overcomes issues to maintain winning run
Motorsport UK Supernational Rallycross Championship leader Tristan Ovenden (Canterbury) dominated the two-wheel drive category final at Lydden Hill to maintain his unbeaten run through the 2019 season so far, but his day wasn't without drama.
Issues with the car starting for practice, followed by gear-linkage problems and then a jump start in Q3 made for a challenging qualifying, but the Renault Clio V6 driver qualified on pole position, made the best start in the final and drove to his fifth win from five.
"It's been great, but we have had a really hard day, the team have been absolutely brilliant. We warmed the car up, it was good as gold, then before practice it wouldn't start," said Ovenden. "Then we've had some other issues underneath, some fuel pressure problems and then it wouldn't start again. The team have been amazing. There's been high drama in the paddock, but out on track it hasn't gone too badly at all. We can't have imagined things would go so well this year."
Peter McGarry (Dublin) returned to British RX, this time with his own Vauxhall VX220 and overcame clutch problems to finish second, ahead of Darren Scott (Sittingbourne) scored another home podium, and also took top honours in the Super1600 Rallycross Championship, overtaking fellow Super1600 racer Paul Coney (Dartford) during the final.
Coney and Craig Lomax (Knottingly) finished fourth and fifth, with another Super1600 racer, Jarek Suchowiecki (London) sixth. Ovenden's closest title-rival entering the event, Paige Bellerby (Northallerton), retired from the semi-finals with a broken driveshaft, the same fate that befell Guy Corner (Northallerton) on his maiden outing with a similar Lotus Exige.
O'Donovan claims maiden Junior win
Patrick O'Donovan moved into the lead of the Motorsport UK Junior Rallycross Championship by scoring his first win at Lydden Hill.
In a hotly-fought encounter, O'Donovan passed pole started Ben Sayer (Northallerton) on the opening lap of the final, the pair exchanging positions several times during the race, O'Donovan eventually maintaining the advantage to the finish.
"It's really special to score my first victory at the 'home of rallycross.' We've had a really close day today with a lot of battles, I've been consistently second throughout the heats and I was a bit sick of it, so I just went for the move where I could," said O'Donovan. "I went for the gap and it paid off. We were bumper-to-bumper, I thought Ben was going to get past me up the hill on the final lap but I got a bump in the back from Tom (Ovenden) and it was like a little boost. It's good for the championship and I'm really happy to get a win under my belt now."
Sayer finished second, after also battling with both Roberts Vitols (Latvia), who had a spin at the chicane during the race, and Tom Ovenden (Canterbury), who delivered a best performance to date and finished third at his home circuit.
With the top five cars in the final covered by just one second at the finish line, Luke Constantine (Richmond) finished fourth ahead of debutant 14-year old Harry Garman (Southampton), as Archie Thomas (Llandysul), Vitols and Alfie Porter (Waltham Abbey) completed the final finishers.
Constantine and Bellerby take single-make wins as Simpson claims Retro RX spoils
Reigning Junior RX Champion Tom Constantine (Richmond) controlled the Swift Sport Rallycross Championship final at Lydden Hill to claim his first victory of the season. Will Layton (Banbury) closed on Dominic Flitney's (St Ives) points lead with an overtake for second position in the closing laps of the final. Layton moved ahead of local driver Max Weatherley (Faversham) in the standings, Weatherley forced to stop because of damage sustained in a first corner incident.
Drew Bellerby (Northallerton) led the BMW Mini Rallycross Championship from the front to claim victory and the Championship lead. Stephen Brown (Bamford) went one better than he did in round four to finish second after taking an early joker lap. Former Junior RX Champion Bradley Durdin (Nazing) made a return to the series and finished just behind Brown, having also battled with Dave Ward (Towcester) in the final. Points leader David Bell (Ferryhill) retired in practice with a blown engine.
Gary Simpson (York) was the beneficiary when John Cross' (Basingstoke) Lancia Stratos broke a driveshaft while leading the Retro Rallycross Championship final, Simpson fending off the close attentions of Ray Morgan (Hastings) to take the win. Phil Collard (Benfleet) finished the final in second place with Brian Hardman (St.Helens) completing the top three after Morgan's retirement.
Highlights of the Motorsport UK British Rallycross Championship are broadcast on BT Sport and online via BARC TV and the Championship's Social Media channels in 2019.
Full results can be found on the Motorsport UK British Rallycross Championship website here.