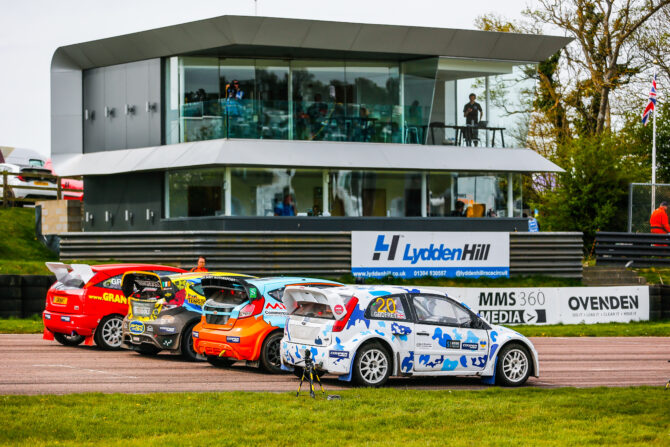 5 Nations BRX Supercars join World RX for Lydden Hill rallycross feast
The headline Supercar category in the Motorsport UK British Rallycross Championship 5 Nations Trophy will join the UK's round of FIA World Rallycross Championship on July 22-23 next year for a points-scoring round.
World RX's return to the Birthplace of Rallycross was announced by the FIA on Wednesday [December 7], confirming that the world's best rallycross drivers will once again race head-to-head at the historic venue.
In addition to the global stars in all-electric World RX machines, internal combustion engine Supercars from 5 Nations BRX will also be in action throughout the weekend, competing in a points scoring round that has been added to the existing 5 Nations BRX Supercar schedule.
The plans will allow the UK and Ireland's top Supercar drivers to race on the world stage, while also offering the opportunity for overseas Supercar participants to compete on the revised Lydden Hill circuit, with a wide loose-surface opening corner and large jump.
5 Nations BRX Supercar will now take place over seven weekends in 2023, with events in England, Wales, Ireland and France.
Hannah Rynston, Managing Director, Lydden Hill Race Circuit:
"Rallycross is at our heart as a venue so adding a round of 5 Nations BRX Supercar to the World RX weekend in July is a no-brainer for us. This will give fans the opportunity to watch the world's best rallycross drivers in the very latest machinery, while also enjoying the sights and sounds of more traditional Supercars. We have more exciting plans for the event to reveal in the coming weeks, and tickets will go on sale before Christmas."
Drew Furlong, 5 Nations BRX Championship Manager:
"It's fantastic to give 5 Nations BRX Supercar drivers the chance to race at Lydden Hill in what will be one of the most anticipated rallycross events in the world next year. The new Lydden layout was well received by our drivers last month in the 2022 finale, and it's fantastic to also be travelling to Lydden in the middle of the summer, in addition to the opening and finale weekends of our season. We will give entry priority to those drivers who are supporting 5 Nations BRX in 2023, but will also welcome one-off entrants, as we do to all our rounds, for what should be a brilliant weekend."