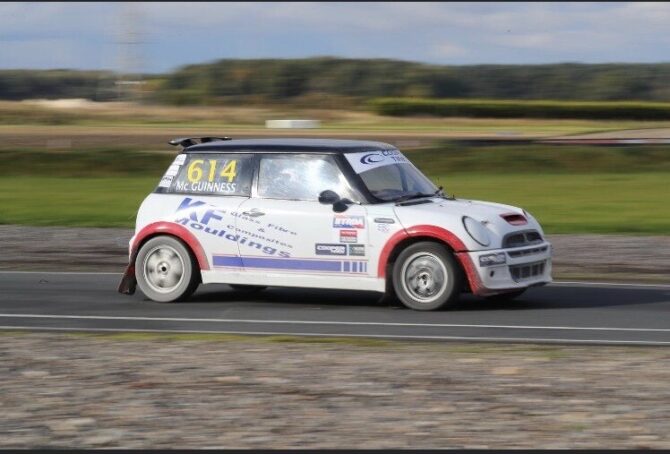 Abbie McGuinness joins BMWMiniRX grid at 5 Nations BRX
Teenager Abbie McGuinness will join the ranks of BMWMiniRX in 2021 in the Motorsport UK British Rallycross Championship 5 Nations Trophy Presented by Cooper Tires. The 17 year-old only passed her driving test last year, but has been racing since she was 11, competing in stock car racing and Ministox.
Now the Suffolk racer will move up into the big league at the wheel of a family-built and run Mini Cooper for a season in the National championship alongside a quality grid of identical front wheel drive motors. Making her rallycross debut in the clubmans championship in 2019 in a VW Lupo, Abbie was awarded Newcomer of the Year and BTRDA Star of the Future, taking her first win in rallycross at Lydden Hill's December Winterseries event.
Like many others the coronavirus pandemic brought her ambition to contest a full season to a premature halt, however she was able to race a Bell Rallycross BMW Mini in October which was enough to persuade her that was the logical step to further her career.
She will join the likes of former champion Drew Bellerby and front-runners Dave Ellis and Andrew Hawkes at the first round which gets underway at Lydden Hill over the May Bank Holiday weekend 29 & 31 May.
"I really enjoyed driving the BMW Mini in October and that helped me decide exactly where I want to be in 2021. We decided to join 5 Nations BRX as well as the BTRDA championship to get as much seat time and experience as possible.
"We'll be mainly concentrating on 5 Nations BRX, after deciding as a team, that this is the best way to move forward in my racing career. Although it's my first season in the BMW Mini, I am hoping to be competitive and hopefully score some good results."
BMW Mini RX 2021 Provisional Events
May 29 - Lydden Hill, England
May 31 - Lydden Hill, England
August 29/30 - Pembrey, Wales
September 25/26 - Knockhill, Scotland
November 6/7 - Lydden Hill, England
December 4/5 - Spa Francorchamps, Belgium