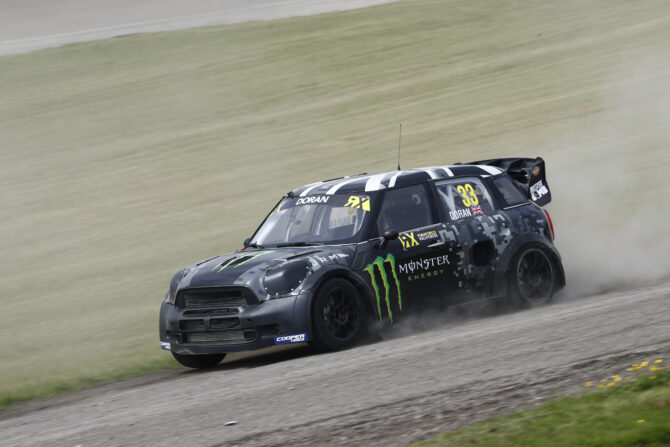 All4 Super Mini set to hit 5 Nations BRX grids in 2021
BMWMiniRX developing brand-new 4-wheel drive class for 2022
Minimum of four cars expected to showcase at BRX events this season
Mini R60 Countryman cars to be kept within financial reach of clubman racers
BMWMiniRX organisers are currently developing a brand-new class to introduce into the 2022 Motorsport UK British Rallycross Championship 5 Nations Trophy Presented by Cooper Tires.
The All4 Super Mini class will utilise the Mini R60 Countryman ALL4 Cooper S, with controlled modifications to ensure the class is competitive while ensuring build and running costs are kept to a minimum and within reach of clubman drivers.
Work is being completed on developing the regulations to offer the excitement of 4-wheel drive using the same successful format of the 5 Nations BRX BMWMiniRX R53 class. Currently, four development cars will be showcased during the 2021 season. This will provide a new alternative for the clubman competitor who wants to experience four-wheel-drive performance and express their engineering enthusiasm at an affordable cost.
It is expected that 2020 champion Dave Bell will drive one of the cars, with others being built by Adrian Turner, Tony Bell and Martin Hawkes.
The 5 Nations BRX promoter made the decision to delay the start of the 2021 season in the hope that the COVID restrictions, which brought a premature end to the planned 2020 campaign, will allow a full schedule this season. The first round will get underway at the Home of Rallycross, Lydden Hill on May 29, where the All4 Super Mini will make its first appearance.
Further information on the All4 Super Mini class and technical specification of the cars is now available from BMWMiniRX organisers Martin Hawkes and Tony Bell on: martin.hawkes@hawkesfire.co.uk or belltony1960@gmail.com
BMW Mini RX 2021 Provisional Events
May 29 - Lydden Hill, England
May 31 - Lydden Hill, England
July 10/11 – Mondello Park, Ireland
August 29/30 - Pembrey, Wales
September 25/26 - Knockhill, Scotland
November 6/7 - Lydden Hill, England
December 4/5 - Spa Francorchamps, Belgium