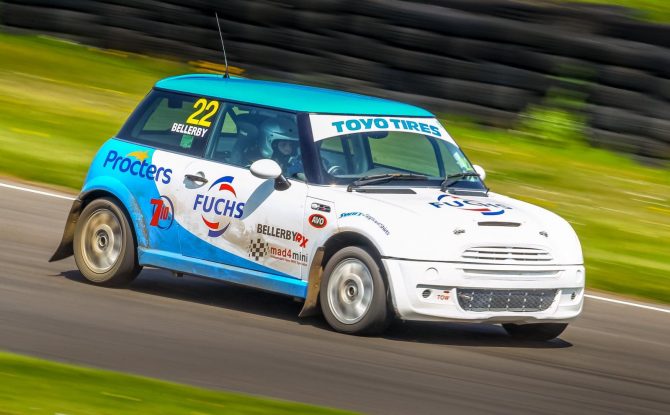 BMWMiniRX picks up pace in 5 Nations BRX
The Motorsport UK British Rallycross Championship 5 Nations Trophy Presented by Cooper Tires is due to get underway at Lydden Hill over the August Bank Holiday weekend (30/31 August) with 17 BMW Minis already confirmed to take part.
BMWMiniRX defending champion Drew Bellerby heads a significant entry that signals the start of the 2020 season following the COVID-19 pandemic which has curtailed British motorsport since March. With racing in the UK allowed to start again in August following the UK Government's directive and that of Motorsport UK, promoter Lydden Hill Race Circuit announced a four-round championship and indications are that the 2020 season will offer up a bumper entry across all grids.
Champions from both 2018 and 2017 will also contest the four events; David Bell and Martin Hawkes both looking to wrest back the title from the Yorkshire lass whose sister Paige heads the Supernational class. Also returning to the series are Andrew Hawkes, Ryan Cooper, Bradley Durdin, Dave Ward, Krysztof Kozon, Rob Methold, Leigh-Anne Sedgwick and Stratis Hatzistefanis among others, but there are a number of newcomers also moving into the class.
Darren Bleasdale, whose brother Jason will make his Supernational debut, competed in a Winterseries event in January and has committed to the entire championship. Wesley Wickens is also new to the sport, while Dave Ellis and Tomasz Chojnacki new into Minis. Moving up from the junior classes are Ben Sayer and Archie Thomas, son of Supercar driver Roger Thomas.
The Lydden Hill event will feature one round of BMW Minis, while the following three meetings at Knockhill (26/27 September), Pembrey (17/18 October) and Mondello Park (14/15 November) will all be double-header rounds.
Lydden Hill will also host the opening rounds of Supercars, Super 1600, Supernational, Suzuki Swifts, Juniors, RX150s, Retro Rallycross, and the new GpB/4WD class. Entries for the season-opener are now open, with registration forms available from the Entries Secretary, Simone Cornish on simone@lyddenhill.co.uk.