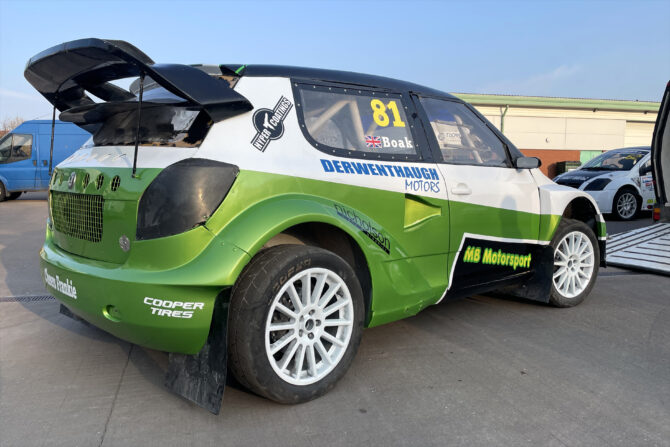 Boak chooses Skoda Fabia for 5 Nations BRX Supercar graduation with multi-year plan to challenge for title
Former Supernational event-winner Michael Boak will step up to the headline Supercar category in the Motorsport UK British Rallycross Championship 5 Nations Trophy this year.

Boak will become the first driver to campaign a Skoda Fabia regularly in 5 Nations BRX Supercar events, the Geordie driver having outlined a clear goal to learn at the highest level before challenging for overall honours.

The Fabia was most recently been campaigned in the FIA European Autocross Championship by Dutchman Adrian Boele. It will now be run in 5 Nations BRX by Boak's own MB Motorsport team, alongside customer cars in Supernational, Swift Sport and Junior RX.

Boak previously achieved success in the Supernational category and became the first driver in the UK to race a diesel-powered car in rallycross with his self-built Audi TT, while he has also won events in a Super1600-specification Citroen C2, and completed on the international stage.

The Fabia Supercar recently suffered an engine problem in its maiden test in the UK, but MB Motorsport is working to resolve the issue to be ready for the opening rounds of 5 Nations BRX at Lydden Hill next month, joining a strong line-up in the headline Supercar category.

"It's a dream come true for me to step up into Supercar. It's a natural progression to aim for the top of the sport. After always driving self-built and developed cars we wanted a car that was already developed, but still wanted something a little different. When the Fabia came up for sale it ticked all the boxes," said Boak. "This is the start of a long-term project, with the ultimate goal of being British Rallycross Champion. I know how competitive 5 Nations BRX is, so the plan for this year is to go into the season without any expectations, we have a lot to learn about the car and how best to make it work at the circuits we're going to. This is a learning season - we will compete in selected rounds, then in 2023 we hope to move further up the grid. I have looked up to Supercar since I started racing in rallycross in 2003, and the long-term goal is to fight to win the championship. We're taking things step-by-step, but we're working very hard on that dream. It's going to be special to line up on the grid at Lydden for the first time next month."

The British Rallycross Championship 5 Nations Trophy will get underway at Lydden Hill for a double-header weekend on April 16-18. See full calendar below.