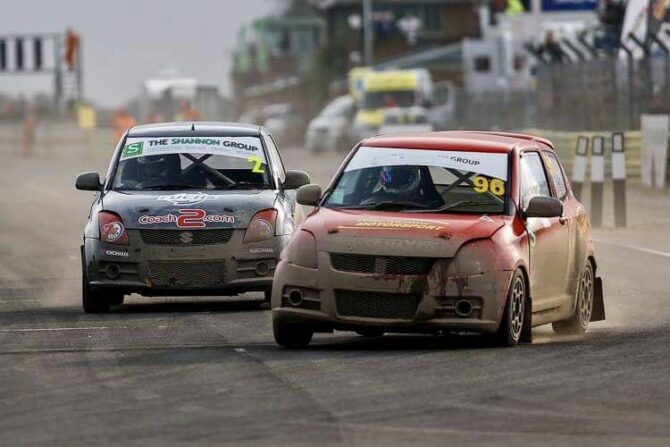 Bradley Durdin returns for Swift Sport Challenge in 2021
2015 Motorsport UK Junior Rallycross Champion Bradley Durdin will return for 2021, graduating into the Swift Sport category in the Motorsport UK British Rallycross Championship 5 Nations Trophy Presented by Cooper Tires.
A former Silverstone junior rally academy, Ginetta Junior and Autograss competitor, Bradley made the move into rallycross in 2015 winning the Junior title at his first attempt. In 2016 alongside four rounds in Swifts, he won on his BMW Mini RX debut, and since then has contested the full BMW Mini RX championship.
Now the youngster returns to Swift for a full campaign in 2021. "I'm really looking forward to getting back to racing and excited to be racing our new Swift Sport car, said Bradley. "The championship has done a fantastic job of getting us to some world class venues such as Spa-Francorchamps, as well as having some of the old school favourites including Lydden Hill and Mondello Park.
"I had a brief run in Swift Sport before making the switch to the BMW Mini RX class back in 2016. The Swift Sport class is, in my opinion, going to be the class to watch this year. It's looking like it'll be the ultimate young gun shoot out with a few of the more experienced drivers in the mix as well which should make for some fantastic racing!
"I decided to make the switch to the Swift Sport as it really is the best class in British rallycross at the moment. The class is super competitive up and down the whole the grid and allows for driver talent to shine rather than chasing the constant development of the car. There's been a lot of good drivers come from this class and I hope I can be one of them.
"The class is very well regulated technically and the way it has and continues to be promoted by the organisers is brilliant! There's always a great atmosphere in the Swift paddock. Everyone is so friendly and always up for a giggle. No matter what difficulty you may be having during the day there is always someone that is willing to help you out. It's the way racing should be!
"I'd like to thank everyone who has put their blood, sweat and tears into this new car and myself over the past few months. I think we've got a really competitive package for this year and I'm hoping we can challenge for the championship!"
Motorsport UK British Rallycross Championship Provisional Calendar
May 29 - Lydden Hill, England
May 31 - Lydden Hill, England
July 10/11 - Mondello Park, Ireland
August 29 - Pembrey, Wales
August 30 – Pembrey, Wales
September 25 - Knockhill, Scotland
September 26 – Knockhill, Scotland
November 6/7 - Lydden Hill, England
December 4/5 - Spa-Francorchamps, Belgium