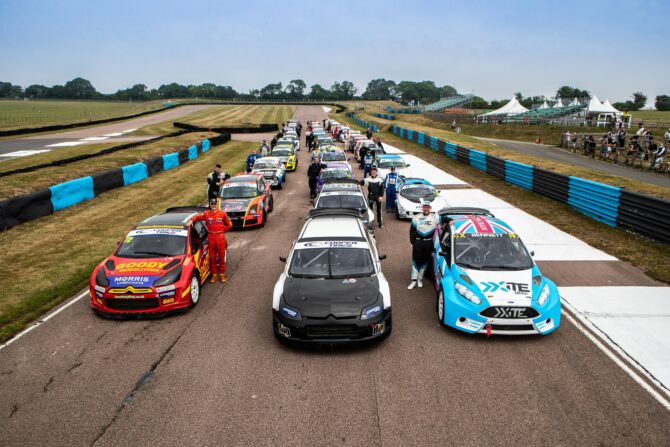 Bumper entry revealed for 5 Nations BRX
• Supercar entry into double figures for Motorsport UK British Rallycross Championship 5 Nations Trophy Presented by Cooper Tires despite pandemic restrictions across Europe.
• Former champions set to go head-to-head with six-time British Champion Julian Godfrey (Ford Fiesta), former British Champion Ollie O'Donovan (Ford Fiesta), three-time IRX champion Derek Tohill (Ford Fiesta) and reigning Supernational champion Tristan Ovenden (Citroen DS3) battling it out for honours.
• World RX and former BRX driver Oliver Bennett (BMW Mini Cooper S) heads a stellar line-up that includes experienced Supercar drivers Steve Hill (Mitsubishi Evo), Roger Thomas (Ford Fiesta), Mark Flaherty (Ford Fiesta) and Andy Grant (Ford Focus).
• Sir Chris Hoy MBE (Citroen C4), former Irish rally ace Mark Donnelly (Citroen DS3), former drift and Swift racer Dom Flitney (Subaru Impreza) and rallycross returnee Mike Sellar (Citroen DS3) make their BRX Supercar debuts.
• Former British RX Champion Pat Doran (Ford RS200) joins reigning GpB Champion Steve Harris (Ford RS200), Mad Mark Watson (Citroen Xsara), Ian Flitney (Subaru Impreza) and Derrick Jobb (MkII Ford Escort) in the new 4WD Retro Rallycross class.
• Strong field of Supernationals including vice champion Paige Bellerby (Lotus Exige), Guy Corner (Lotus Exige) and Stuart Emery (Peugeot 206), and debutant Jason Bleasdale (Vauxhall VX220) amid a diverse range of other machinery.
• Reigning champion Craig Lomax (Citroen C2) heads the Super1600 line-up, that includes a returning Darren Scott (Citroen C2) and newcomer Latvian champion Roberts Vitols (Peugeot 206).
• Swift Sport, Junior, BMW Mini and RX150 classes all boast solid entries of new and series returnees set for door-to-door action.
• Solid entry across Retro Rallycross classes that include Retro and Super Retro sees returning champions go head-to-head with newcomers.